Rev. Austin Vetter of Bismarck, North Dakota, said he ignored several calls from a Washington, D.C., area code last week because he thought they were coming from a telemarketer.
After his bishop suggested that he return the calls, however, the apostolic nuncio to the United States picked up the phone.
"He said the Holy Father Francis has named me the 11th bishop of Helena," Vetter said. "And I was silent for quite some time."
Vetter said he accepted the appointment and hung up the phone, after going over a few details.
"I knelt on the floor before the crucifix and the Blessed Mother and entrusted myself to them, asking for the graces that I'm going to need," he said.
Vetter said he initially felt numb, but that eventually wore off, and he's "been at great peace ever since."
"I promise you all of my energy. All of it. I don't know much about our diocese yet, but I am ready and willing to learn," he said during a press conference in Helena on Tuesday morning. "We need each other and that's a beautiful thing, to need one another. So I am here for you as together we give witness to the resurrection of Jesus Christ."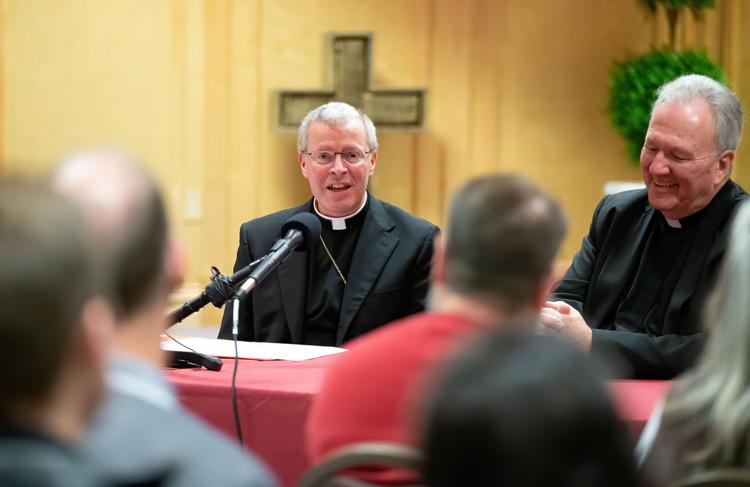 Vetter, 52, grew up on a farm near the small community of Linton, North Dakota.
You have free articles remaining.
Vetter attended North Dakota State University and Cardinal Muench Seminary in Fargo, North Dakota. After receiving his bachelor of arts degree in philosophy, he studied at the Pontifical North American College and the University of St. Thomas Aquinas in Rome.
He was ordained a priest for the Bismarck Diocese by Bishop John Kinney at the Cathedral of the Holy Spirit in Bismarck on June 29, 1993. He has served as rector of the Cathedral of the Holy Spirit and vice chairman of the board of directors of Light of Christ Catholic Schools in Bismarck.
As he starts his new role as Helena's bishop, Vetter said his priority is to "get out there, and getting to know all of you, and giving you the chance to know me."
"I'm not coming in with some agenda, that I have it all figured out," he said.
Vetter replaces Bishop George Leo Thomas, who led the Diocese of Helena for 15 years. Thomas was appointed bishop of Las Vegas in February 2018.
Monsignor Kevin O'Neill has served as diocesan administrator of Helena since Bishop Thomas' installation in Nevada.
The Diocese of Helena has 57 parishes, 38 mission churches and an estimated 45,400 Catholics.
Vetter plans to move to Helena on Nov. 15. Mass for his ordination and installation will take place at the Cathedral of St. Helena on Nov. 20.
The Associated Press and the Bismarck Tribune contributed to this story.