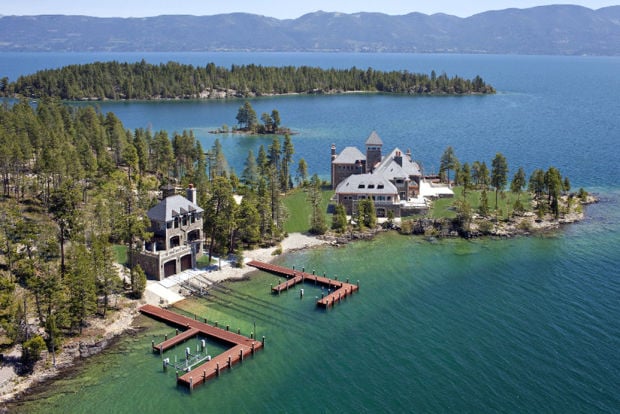 ROLLINS – You're all evidently pretty savvy real estate buyers.
Since none of you bit on the initial price for a home near Rollins that's been on the market since 2012, the asking price has tumbled by nearly 24 percent.
Now you can pick it up for a mere $59.5 million, instead of the initial asking price of $78 million.
We'll wait a moment while you go grab your checkbook.
It is, according to the Beverly Hills firm that has the listing, "currently the largest private home in Montana."
That would be more than 24,000 square feet's worth in the three-story main home … plus an additional 10,000 square feet of heated porticos and outdoor entertaining space … not to mention a guest/boathouse that measures more than 5,000 square feet.
And, it comes with its own 24-acre Flathead Lake island, and 7,000 feet of Flathead frontage.
As the Missoulian learned in 2012 when the Hurwitz James Co. first listed the Flathead property, the Shelter Island mansion was built by California commercial real estate mogul Donald Abbey.
The main home has five bedrooms, eight baths, a copper conservatory, 45-foot-high ceilings in the great room (and a second-story art gallery that encircles the great room), an indoor shooting range, wine cellar and gym.
Abbey was a member of Coach Joe Paterno's first football recruiting class to Penn State University in the 1960s, and the fullback led the nation in scoring in his junior year. He founded the Abbey Company in 1990, and is its CEO.
According to his company's website, the firm leases out more than 6 million square feet of commercial space in California, and has a gross asset value of more than $1 billion.
In addition to building a couple of jaw-dropping mansions – we'll get to the other one, which is also for sale, in a minute – Abbey, a Navy veteran, has reportedly donated millions of dollars over the years to his alma mater, his college fraternity, law enforcement efforts in California and Montana, youth sports initiatives in his native Massachusetts, and organizations that support Navy SEALs.
Abbey's island compound in Montana includes three computer-controlled tracks that take boaters from water to dry dock, either in the boat/guest house or main house, without anyone leaving the boat, stepping on a dock or touching a line.
Another eight acres on the mainland are also part of the deal, and between the main house, guest house and structures on shore, the entire estate features 14 bedrooms.
At the same time Abbey listed his Flathead vacation home in 2012, he also put his 34,000-square-foot California home on the market for $78.8 million.
Evidently he is downsizing.
"He did not build them to sell them, but maybe he'll look for something a little smaller, like 20,000 square feet," his broker, Don Hurwitz, said in an article carried online by Forbes and Zillow in 2012.
The Bradbury Estate, located in the foothills of the San Gabriel Mountains outside Los Angeles in the affluent community of Bradbury, has also recently had its price reduced, to $68.8 million.
It has seven bedrooms, 10 baths, six fireplaces, 40-foot vaulted ceilings, a 10-car garage with a 6,700-square-foot guest house above it, a huge infinity pool that takes 350,000 gallons of water to fill, a 15-person Jacuzzi and a temperature-controlled trout pond with a two-story waterfall. The estate includes eight acres enclosed inside a stone wall that took three years to build by hand.
Horwitz said it took Abbey several years, and more than $200 million, to build the two mansions. A single Italian marble fireplace in the Bradbury Estate alone cost more than $1 million.
The original $78 million price tags for both homes were chosen in part, Horwitz said, in the hopes of attracting Chinese buyers who consider 8 a lucky number. The superstition runs deep; a Chinese airline paid $280,000 to get a phone number containing all 8s, and the opening ceremonies for the Summer Olympic Games in Beijing began eight minutes and eight seconds after 8 p.m. on the eighth day of the eighth month of 2008.
The California estate still has 8s in its reduced asking price but the only 8 associated with the Shelter Island property price now comes in the amount that the price has been lowered.
It's $18.5 million less than it originally was – you know, in case that happened to drop it into your price range.