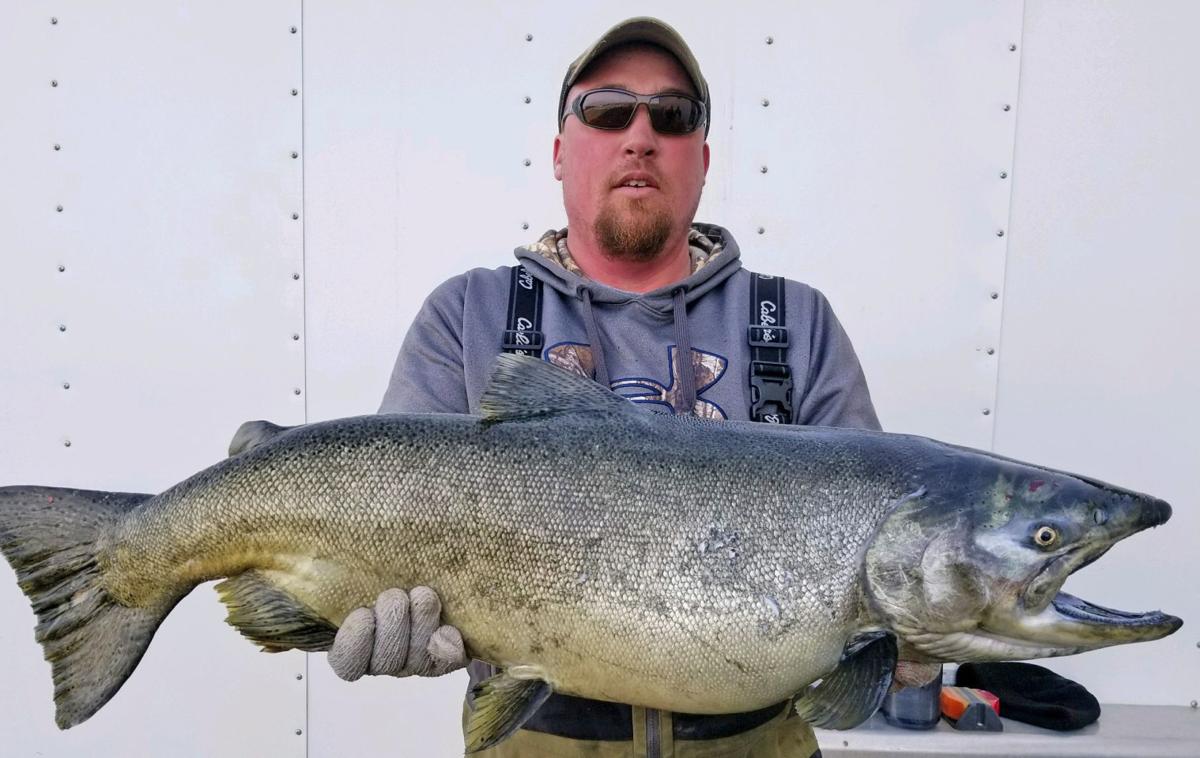 Good news for chinook salmon anglers: Fort Peck Reservoir and hatchery crews recently stocked record numbers of chinook fingerlings into Fort Peck Reservoir this spring — more than 534,000.
What's more, Heath Headley, FWP Fort Peck Reservoir fisheries biologist, hinted that the salmon fishing in 2019 looks favorable based on stocking numbers in 2017 (345,000) and 2018 (377,000) as well as with fish seen during the 2018 fall surveys.
"Crews noticed good numbers of 2-year-old male salmon that averaged a little over 5 pounds during the fall 2018 collection efforts," Headley said. "This is an encouraging sign that improved numbers of larger, older 3-year old salmon may be more abundant this year."
Initially, the outlook from the fall 2018 egg collection efforts did not look very promising. Due to fewer mature females being present in the system because of limited stockings in 2015 and 2016, FWP fisheries and hatchery personnel were only able to collect around 110,000 eggs last fall.
You have free articles remaining.
On a positive note, with the few eggs that FWP was able to obtain on Fort Peck, hatchery personnel did see a very good eye-up percentage.
"Eye-up is a developmental stage in the egg where the actual eyes are seen and gives staff good indications that the eggs have been fertilized and are near hatching," according to Wade Geraets, Fort Peck hatchery manager. "The eye-up percentage was over 75%, which suggests that the female chinook salmon were very healthy and mature and were able to produce good, viable eggs."
In addition, due to collaborative work with the Dakotas, egg numbers were increased. North Dakota was able to supply almost 400,000 eggs and South Dakota 150,000, bringing the total to almost 650,000 eggs that were then hatched and reared at the Fort Peck Multispecies Fish Hatchery over the winter.
Montana and the Dakotas have worked collaboratively for many years, including supplementing eggs when one state may be short and another had a surplus, according to Headley. In addition, these salmon are the only certified disease-free chinook salmon in North America.
"There have been some problems with the Great Lakes and Pacific Northwest salmon due to multiple diseases, including viruses and other pathogens that can negatively impact the overall health of the fishery," Headley said. "We are very fortunate that Montana and the Dakotas have been able to maintain this healthy land-locked salmon fishery."
Salmon were first introduced into Fort Peck Reservoir in 1983. Due to the abundance of their preferred forage fish — cisco — salmon have shown excellent growth, with males maturing in two to four years and females in three to four years. This is the only chinook fishery in Montana, so anglers travel from near and far in hopes of hooking one of these freshwater titans.