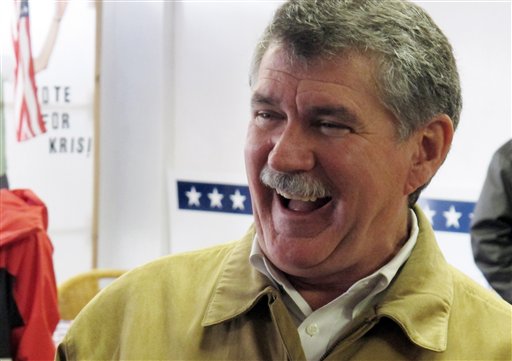 HELENA – U.S. Rep. Denny Rehberg, who had to move out of his Washington, D.C., office last week, said Monday he's still involved in the budget discussions as Congress tries to strike a tax and budget deal to avert the year-end "fiscal cliff."
Yet Rehberg, the Republican congressman who narrowly lost his challenge this year to U.S. Sen. Jon Tester, D-Mont., said he wouldn't begin to predict what may happen.
"I'm not going to pick and choose winners and losers right now, because everything has to be on the table," he said in a telephone interview from Washington, D.C. "There are going to be major changes in our tax structure, our entitlement structure. ...
"We don't know if it will occur before the end of December, or next February or March. But changes are going to have to be made."
In his first interview with the Missoulian State Bureau since the Nov. 6 election, Rehberg said House Republicans haven't taken a majority position on which tax and spending options they'll support to resolve the fiscal cliff, which is a combination of tax increases and spending cuts taking effect at the end of the year.
"That's not how it works back here," he said. "We're still trying to cooperate the best we can to get all of the options on the table."
President Barack Obama and congressional Republicans have been negotiating whether to strike a grand bargain on taxes and spending, or perhaps make a short-term deal that pushes longer-range decisions to the new Congress next year.
Rehberg said he doesn't sense that people have given up on reaching a larger bargain in the coming weeks.
Rehberg, who's leaving office after 12 years in the House, moved out of his Capitol-area office last week. But he's still working in a cubicle in the basement of a congressional office building; he chairs the House Appropriations Subcommittee on Labor, Health and Human Services and Education until the end of the year.
The panel oversees some $800 billion a year in expenditures, including $155 billion in discretionary spending.
Rehberg said appropriations may not be part of an immediate tax and budget deal, because Congress passed a continuing resolution earlier this year that takes federal spending into next April.
Yet he said he's been working with his appropriations counterpart in the Senate, Democrat Tom Harkin of Iowa, on where money could be saved in the health, education and labor budgets, if spending needs to be cut.
"That's what I've been working on," he said. "The negotiations may be breaking down, and there are good days and bad days, but the work of the appropriators continues on, and that's what I've been working on."
Rehberg, a vocal critic of the president's 2010 health reform law, said he's proposing that new entitlements in the law be postponed for a couple of years, to save money. Those entitlements, scheduled to take effect in 2014, expand Medicaid coverage for low-income citizens and create federal subsidies to help citizens buy health insurance.
"The election led most people to say, 'Obamacare is going to be implemented,' but if you delay it past 2014, you could still save a lot of money," he said.
Rehberg also said House leaders are looking at whether they might extend the 2008 farm bill through 2013. The bill expired this fall, but its programs continue through current harvest seasons, he said.
Missoulian State Bureau reporter Mike Dennison can be reached at 1-800-525-4920 or at mike.dennison@lee.net.