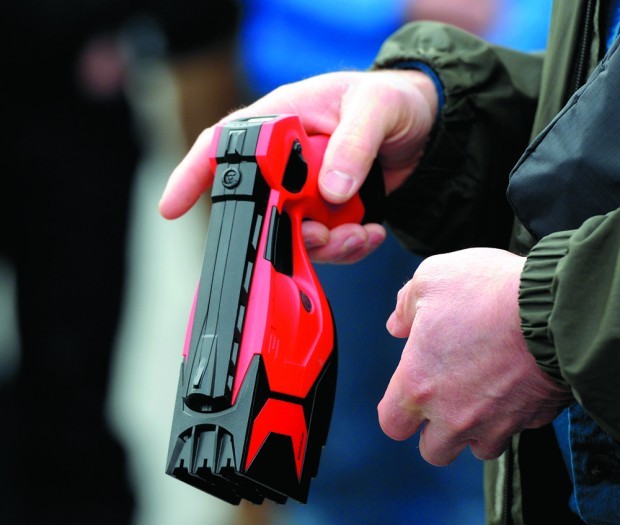 Bear spray doesn't supply "brains in a can" to survive a grizzly attack, but it appears to work a lot better than spraying bullets.
That's the conclusion researchers presented to more than 300 bear experts at the Fourth International Human-Bear Conflict Workshop in Missoula last week.
University of Calgary bear expert Steve Herrero was involved in two separate studies that looked at the effectiveness of bear spray and firearms in bear attacks. The bottom line: Ninety-eight percent of those who used bear spray walked away from their encounter unharmed, and none of the people or bears involved died. With firearms, 56 percent of the users were subsequently injured, and 61 percent of the bears died.
The caveats: The firearms study was much more extensive, with 269 incidents involving 444 hunters. The spray study had 72 incidents with 175 people, and may have included a mix of less-dangerous encounters and full-on attacks. So the two studies aren't directly linked.
Nevertheless, according to Montana Fish, Wildlife and Parks Region 4 bear manager Mike Madel, the results are pretty convincing.
"If you do all the wrong things and end up in an aggressive encounter with a bear, the next wrong thing on the list is hoping to shoot your way out with a gun," Madel said. "Still, I know a lot of bear managers who would like to rely on their firearm."
Preventing bear conflicts in the first place remains one of the best ways of preserving grizzly bears, Madel said. At the workshop, vendors and wildlife managers demonstrated numerous innovations to change bear behavior, from super-charged tasers to solar-powered electric fences to people-oriented efforts like the most effective ticket fee for illegal feeding of bears (rates ranged nationwide from $35 to $1,000).
Other studies have found hiking and hunting remain the top two activities most likely to trigger a bear encounter. Outreach efforts to the hiking community have boosted bear spray use on trails, but the hunting population has been harder to reach.
"Sometimes biologists come up with an idea, but they don't think how it will apply to the real world," said David Parker, a representative of Counter Assault bear spray. "They've suggested mounting a spray canister on your rifle. But I don't know many hunters willing to change the balance of their $3,000 Weatherby – it makes it a less accurate rifle."
Part of the challenge for hunters is the amount of gear they carry. When you've got a rifle in both hands, binoculars around your neck and an angry grizzly bear is approaching at 44 feet per second, it's hard to remember what to grab and what to drop. Few people practice the moves necessary to unholster a can of bear spray, remove its safety clip, and properly hold it to get the best spray pattern.
Parker said he's worked out techniques like spraying from the hip without removing the can from its belt holster. The move is quick and has little chance of getting the irritating spray on the sprayer.
"There's an ingrained belief that the gun will solve all problems," Parker said. "But think about it. The biggest bullet you can put out there is about half an inch around. So you're depending on half an inch to hit an animal that's very hard to kill, or putting up a 30-foot-wide cloud of protection."
Hikers tend to have a different problem. Herrero said he frequently encounters people dousing their tents and packs with bear spray like it was mosquito repellent. But while bear spray's irritating chemicals will make an attacking bear break off its charge, the oils and solvents that keep it liquid are a food source in more relaxed situations.
"We've found it works as an attractant, and it remains a strong attractant for 24 hours or more after spraying," Herrero said. He spoke of one man who laid a cloud of spray around his campsite, only to spend the night in a tree while several bears came to investigate.
During the conference, many participants swapped bear spray stories. Montana outfitter Frank Vitale told of his conversion back in 1995 when he inadvertently led a pack string on a narrow, cliff-side trail right into a sleeping sow grizzly with cubs.
He was able to get the riders off their mounts, but then a dog with the party woke the sow up. The grizzly laid her ears down and charged.
"The guy behind me had me by the suspenders, and he handed me the bear spray," Vitale recalled. "The bear was 30 or 40 feet away when she ran into a big cloud. I figured I'd been in the woods so long, I was finally going to have to wrassle one of these critters. But she just turned around and ran away with her cubs. Now I carry bear spray every time in the backcountry, and not just for hunting."