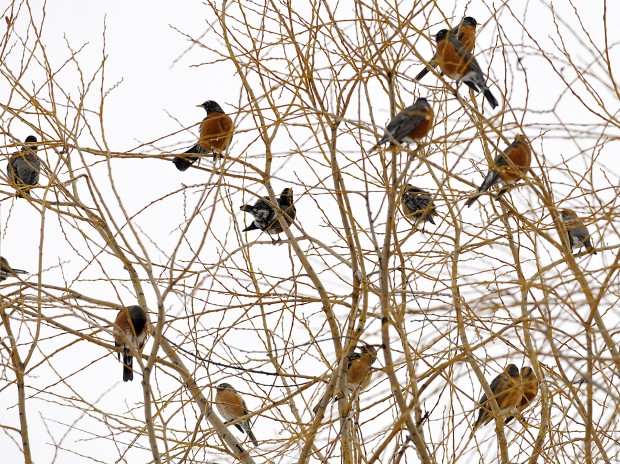 There's little not to love about the robin, especially at this time of year. But the English language owes the red-breasted songbird an apology.
We've got gaggles of geese and murmurations of starlings, murders of crows and covers of coots.
For a big bunch of robins? Nada, or at least nothing more than the generic "flock."
This is a time when we could use something better. All over the Missoula Valley and beyond, uncommonly large – ahem – rhapsodies of robins have been spotted in recent weeks.
Dick Hutto noticed one the other day, in his snow-blanketed backyard in the Rattlesnake.
"There were, I don't know, 50? One hundred? Just a huge group of robins in the top of a cottonwood, and it's certainly a weird sort of thing to see," he said Wednesday.
As director of the Avian Science Center at the University of Montana, Hutto pays attention to such things. He said usually during spring migration you'll see robins "running around on football fields looking like they're playing soccer. You don't tend to see them in trees like that, in big, huge groups."
He's not sure, but Hutto theorizes that these birds of a feather – with an occasional flicker thrown in – flock together because there aren't many gourmet worms to be had under all that snow.
"They're in a little bit of a bind, because when they're not getting a lot of energy, the risk of predation goes up," Hutto said.
Hawks, owls and the like can take their toll on a hungry songbird.
"So basically safety in numbers starts coming into play," he said.
Brian Williams, bird man for the Montana Natural History Center in Missoula, has a story that bears that out.
Williams has a new baby boy, so he hasn't had a chance to get up to Waterworks Hill much. But normally he starts seeing clusters of 100 or 200 robins up there in mid- to late February.
"One year, and I'll never forget it, I was out on Waterworks Hill and there was one of these big flocks of robins," he said. "As I walked through it a little ways I saw about 100 yards away there was a peregrine falcon sitting on a fencepost with one of those robins in its talons.
"I guess if there's 200 of them all together, you're less likely to be that one."
So the question arises, why do robins show their feathered faces so early?
There was a report of a dozen or so brave robins hanging around an orchard in the East Missoula area on Feb. 11, when even the deer shied away from the foot or so of iced-over snow.
In truth, a few robins hang around western Montana all winter. Larry Weeks of the Five Valleys Audubon Society pointed to the annual Christmas bird count that identified 35 last December and a whopping 258 in 2005.
But these robins aren't those robins.
"What I think is happening is these are robins (heading) further north, and they're just migrating through," Weeks said. "Pretty soon there won't be any more robins. Then a little later on the robins that nest around here will show up."
Hutto said there's evidence that robins and other migratory birds are flying north earlier these days. A study published in 2000 by the National Academy of Sciences found that climate changes at lower altitudes caused American robins to move to higher altitudes to breed an average of 14 days earlier than they did in 1981 – only to find those higher altitudes still covered in snow.
Hutto said robins that nest in our neck of the woods probably don't come from much farther south than Utah or Northern Arizona. (Williams said when he lived in southern Texas a robin was a rare and wonderful sight.)
"What's happening is the stimulus to move, the weather conditions, are such that they say go, go, go," said Hutto. "Then they take off and arrive at a place that's out of sync with what's happening when they were stimulated to take off."
But robins are hardy, adaptable birds. Even when they show up in western Montana too soon, they remind us of something wonderful: Spring, indeed, will come again sometime.
And like spring, the robin will show up when and where it chooses. Bird feeders hold no sway.
"They're a fun bird because they're associated in a sense with humans, and they're part of our landscape and our vegetation and our yards," Hutto said. "But they're wild too. So if you go out in the woods, there they are. They kind of show that we can have a bit of wild in our own backyards."
Be the first to know
Get local news delivered to your inbox!