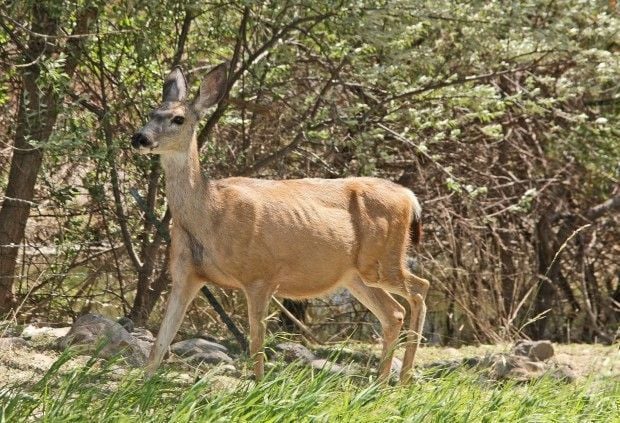 ROUNDUP - Sixty tags offered to archery hunters to thin the number of mule deer congregating in and around Roundup sold out within four hours on the first day they were offered, Dec. 15.
"The opportunity to take a buck may be why," said Neal Whitney, who works in the licensing bureau at Montana Fish, Wildlife and Parks.
Doe-only hunts held annually in the small Eastern Montana towns of Colstrip and Glendive haven't seen as much immediate interest, he added. The season in Roundup, the first ever held there, extends to Feb. 15.
Since the tags went on sale, six deer have been taken on city or county land around the town, according to Tanya Lanter, Roundup city clerk. The city is tracking the hunt's success.
Although there's been no count of how many mule deer live in and around Roundup, located on the banks of the Musselshell River, Lanter said it seems like there's easily 100 deer eating landscaping, being hit by cars and chasing the occasional walker or pet.
"There were two put down (by the sheriff) this year from attacking people or animals," she said.
Since the hunt began, Lanter said only one person had called to complain, and that caller was complaining about the hunt.
Ashley Taylor, the FWP biologist who works in the Roundup area, said she bought one of the tags but still hadn't filled it. She said the measure of the hunt's success will be in how many fewer deer vs. auto collisions there are and whether the number of calls to the city about aggressive deer goes down.
Taylor noted that it is odd to be holding a special hunt to reduce the number of mule deer in Roundup at the same time that the animals' populations are struggling in other areas of Eastern Montana. Although people have suggested trapping and transplanting deer, FWP has always taken a strong stance against the measure out of concerns about the cost and about the possibility that diseased deer could be moved.
The mayor of Roundup, Sandra Jones, made a personal appeal to the Fish and Wildlife Commission to approve the hunt during one of the group's meeting. Jones told the commissioners that as she was campaigning, one of the top issues residents asked her about was what she would do to get rid of some of the deer. The commission approved the hunt at its December meeting.
The hunt area extends about 1 mile around Roundup in all directions and is only on property owned by the city of Roundup and Musselshell County. Under the rules of the hunt, hunters must obtain permission at the Roundup city offices, 406-323-2804, from 8 a.m. to 5 p.m. Monday through Friday.
The offices are located at 34 Third Ave. W. Maps detailing the hunt area and rules are available at the offices.