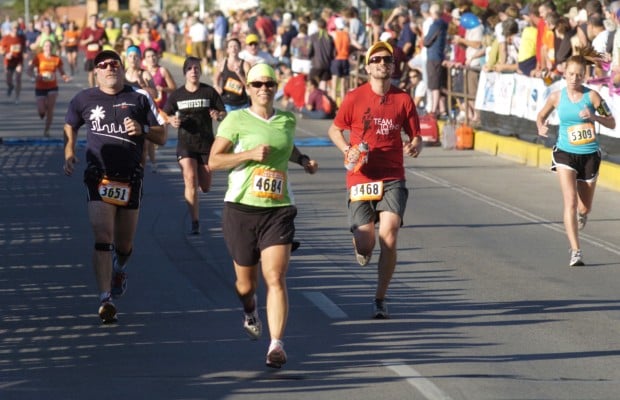 Even in the middle of winter, Missoula's marathoners are always ready to run.
Run Wild Missoula is holding a 16-week class that will prepare long-distance runners for a spring marathon. Specifically, the class is designed to lead right up to the Boston Marathon in April.
Eva Dunn-Froebig, executive director of Run Wild Missoula, said it is an advanced class that will have a rigorous training regimen. Before signing up for the class, she suggested runners should have already finished at least one marathon and be running at least 30 miles a week.
The class will be coached by Tim Mosbacher, who has taught it twice in the past. Mosbacher has been a high school track coach and has run several sub-three-hour marathons. In all, he has run 14 marathons, at a rate of about four each year.
On Monday, Dec. 17, there will be an informational meeting at Runner's Edge in downtown Missoula at 5:30 p.m. The meeting does not require registration. The actual running will begin on Thursday, Dec. 27. After that, the class will meet up to four times a week for a variety of middle- and long-distance runs.
Mosbacher said that a middle-distance run is up to 12 miles, with the long distances starting at 16 miles at the start of the class and working up to 23 miles by the end.
The cost for the class is $50 for members of Run Wild Missoula and $75 for non-members, and runners can register online at runwildmissoula.org. Non-members who register for the class are also enrolled for a one-year membership to Run Wild Missoula.
Membership in Run Wild Missoula gives athletes a discount on training courses and race entry fees, as well as discounts at local businesses. Dunn-Froebig said there currently are about 1,500 members of Run Wild Missoula.
"The class will also provide stations for the long runs, so that runners don't have to worry about carrying water or gels, they can just stop along the way," Dunn-Froebig said.
While the class is designed to prepare an athlete for a spring marathon, Dunn-Froebig said some people take it just to stay running. The class typically has about 35 runners, and she said they keep each other motivated to stay out there.
"Some people just take it to continue to run in the winter, because it's hard to stay motivated," she said.
Dillon Kato is a journalism student at the University of Montana and an intern at the Missoulian. He can be reached at 523-5251 or at dillon.kato@missoulian.com.