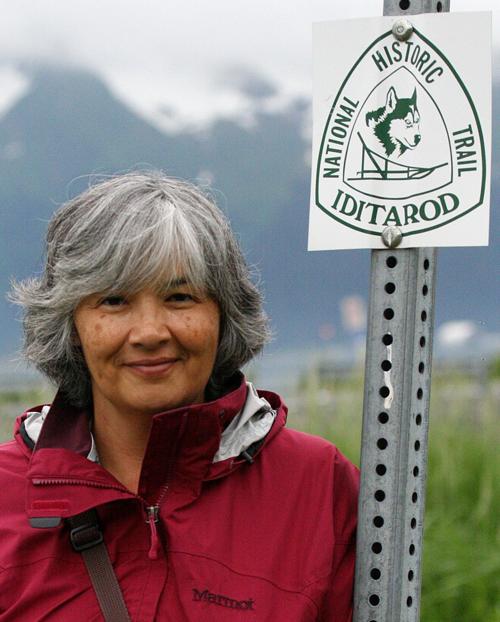 Susan Devan Harness grew up in a complicated world where she struggled to find a place to fit in.
A member of the Confederated Salish Kootenai Tribes of northwest Montana, she was adopted by white parents when she 18 months old. Harness, who spent her teenage years in Billings, never fully felt part of the white world.
During her 30s she connected with her biological family on the Flathead Indian Reservation while she was in college. Yet, Harness also struggled to feel a sense of belonging in the Native community.
"I was so excited to get that news," Harness, a writer, lecturer and oral historian, said in a telephone interview from Fort Collins, Colorado, where she lives and works. "I just really appreciate the acknowledgment of the importance of the topic and the importance of what we need to do to find out about one another."
Winners in 13 categories will be announced at a sold-out banquet on Saturday night. New this year is the Big Sky Award, sponsored by Rocky Mountain College and presented for the best book written by a Montana author.
Harness, who plans to be in Billings for the banquet, will also give a talk titled "Adopting a Child of a Different Race? Let's Talk," Friday night at 7:30 p.m. at the Billings Public Library. The event, sponsored by The Writer's Voice, is free and open to the public.
Also starting Thursday for three days, the High Plains BookFest will feature authors who will give readings and talks at a number of venues around Billings.
Finalists for the 2019 High Plains Book Awards — recognizing regional literary works from seven states and three Canadian provinces — will participate in readings and discussion panels from Oct. 10-12 in downtown Billings. 
A total of 228 books were submitted for consideration in this year's High Plains Book Awards, said Corby Skinner, Writer's Voice director and BookFest coordinator.
"At least a third of those books are from Canada," Skinner said.
This is the festival's 17th year, and the 12th year for the book awards. The number of awards has grown from two the first year; each winner is presented $500.
"What I love and applaud is those $500 awards are all provided by local organizations and individual sponsors," Skinner said.
The High Plains Book Awards was established to recognize regional literary works written by authors from or reflecting life of the High Plains, including Montana, North Dakota, South Dakota, Wyoming, Nebraska, Colorado, and Kansas, and the Canadian provinces of Alberta, Manitoba, and Saskatchewan.
For Harness, writing a memoir provided her with an opportunity "to start a conversation, not an argument," about the realities of trans-racial adoption.
"The heart of the book is when parents are thinking about trans-racial adoption, that it takes a lot more than love," she said. "It takes understanding and acknowledgment that the child comes from a different history than you have, that the child looks at life sometimes from a very different perspective than you do."
Harness, 60, lives with her husband, Rick, in Fort Collins and works as a research associate for the Tri-Ethnic Center for Prevention Research at Colorado State University. The couple has two adult sons.
Harness knew early in life that she was adopted. That was obvious by the darker hue of her skin.
In the book, she tells of a time when, at age 6, she and her mother lay on their stomachs side-by-side, looking for four-leaf clovers on the lawn, her brown arm next to her mom's porcelain one. When Harness told her mom she wished she had the same-color skin, her mother told her she'd love to have her daughter's beautiful, young, brown skin.
You have free articles remaining.
"And then she smiled," Harness wrote. "And I smiled back. But I still wanted her skin instead of my own."
As she grew older, Harness was aware of the negative stereotypes the community around her held regarding Indians, regarding her. Brown skin represented people who were stupid or lazy — or dangerous.
"That's a word that sits on the edge of my consciousness, where its edge is as sharp as an oyster shell, cutting me if I hold it against my skin too long," Harness wrote.
Harness grew up in her adoptive home with an alcoholic father and a mother who in grappled with what was eventually diagnosed as bipolar disorder.
"When you look at the big picture, I had not all that much different experience than a lot of American kids," she said in the interview.
But when you add the issues of ethnicity and all the negative issues surrounding trans-racial adoption, "that's when it starts getting heavy."
While her parents never hid the fact that she was adopted, her father told her that her biological parents had died in a car accident. Harness discovered much later the crash never happened. Her mother still lived, as did her siblings, on the Flathead Indian Reservation.
In the book, Harness recounts her difficult years transitioning to adulthood, including her attempts to fit in with Native students at the University of Montana. There she was labeled "an apple" — red on the outside and white on the inside.
"I definitely felt like an outsider by the time I got to college," she said during the interview. "If I thought I was moving outside the boundary to acceptance, I was quickly reminded I was not."
Harness eventually located her family of origin, including her biological mother. She talks in her memoir about the difficulties and the sweet moments that accompanied that, including establishing a warm relationship with an uncle and an aunt she never knew she had.
Harness is unflinching in describing her struggles along way. Since the book's publication, she has received positive responses from people grateful to have an accurate picture of trans-racial adoption.
Harness said if her parents had not only allowed, but encouraged her, to know people from the Indian community so she could have had a better mirror image of who she was, it would have made a difference.
Harness, who earned a bachelor's degree in anthropology at the University of Montana, completed work on a master's of cultural anthropology at Colorado State University in Fort Collins in 2006. As part of her master's work, she spoke to other trans-racial adoptees.
Almost all of them had heard negative stereotypes about Native people from the community in which they grew up: that they were drunks; they were violent; that the women were promiscuous. 
"We heard very few comments that were positive," she said. "And those comments were very stereotypical, that they are good musicians, that they're spiritual."
Of the 25 people she interviewed, only four ever heard that Indians are intelligent.
"If nobody tells you that and you're already a step down, it's not going to get easier," Harness said.
She believes tribes embracing trans-racial adoptees will help them.
"There are several tribes actively welcoming adoptees home, foster homes, because they realize the pain the child has grown up in not being acceptable anywhere," Harness said. "It's still in the pretty early stages, but I'd like to see it happen as a matter of course. As a matter of humanity."
After "Bitterroot" was published, her own tribe did that for her. She was welcomed home with an honor song and recognition.
"That was really amazing," Harness said. "That's what I hope every adoptee gets, something that says, 'You're one of us.'"