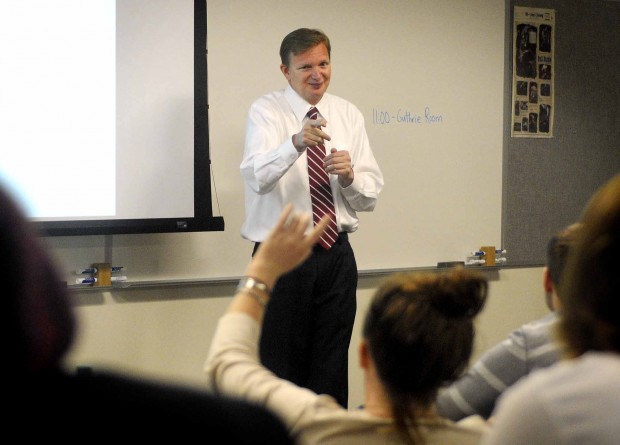 Two and a half weeks ago, Jim Messina had what he calls one of the most nerve-wracking days of his life. He'd worked hard, and thought it was going to go the way he wanted, but the long hours and stress and crisis management were finally coming down to an event he could no longer control.
It was Election Day, and Messina, President Barack Obama's campaign manager, could only wait and hope.
"I felt pretty sure in my heart about it, and the numbers all looked good, but the truth is, you never know," Messina said. "I was very clear that it was going to be one of the most consequential days of my life either way."
Messina cut his political teeth while a student at the University of Montana, working to elect former Missoula Mayor Dan Kemmis. He went on to become a state legislative aide, then a congressional staffer in Washington, D.C., eventually serving as chief of staff for his mentor and friend, Sen. Max Baucus.
The UM grad's intelligence and work ethic during Obama's 2008 campaign got him into the White House in the president's first term, where he served as deputy chief of staff under Rahm Emanuel. Messina earned a reputation as the "fixer" – a compliment if you're the person who wants the problem fixed; not so flattering if you're the problem.
When Messina was tapped to run Obama's re-election campaign, he moved from Washington, D.C., to Chicago. And the perpetual student also took to the road to meet with the CEOs of several major U.S. corporations, including Apple's founder, the late Steve Jobs.
"It was one of the best things I did in the entire election cycle … meeting with people about what had changed since the 2008 campaign," said Messina. "Getting advice about new technology, and just how you tell your story. … A lot of people were nice to open up their doors and answer a lot of my dumb questions, and it ended up being pretty important to what we ended up building in the next year."
And what they ended up building was an unprecedented social media strategy that reached millions of potential voters – a strategy that Messina believes both political parties will study, learn from and use in future campaigns.
"Things like targeted sharing that allow you to go into your Facebook or email and have us match our lists with your world so you can lobby your friends," said Messina. "I think that's a technology that campaigns will use for a very long time."
Money, of course, was also crucial to the Obama campaign's success; they spent well over $1 billion. The other side spent the same, although Messina insists his side was mostly small, individual donations. Messina considers the Citizens United court decision, which allows corporations to spend unlimited amounts of money, one of the worst things to ever happen to our democracy.
"That kind of ability to spend unprecedented amounts of money can drown out other people's voices," he said.
He says this is especially true in state and local races, where candidates don't have the power of a presidential campaign to raise the number of individual donations needed to counteract deep corporate pockets funding the opposition's negative ads.
Messina has some free advice for Republicans as they continue their post-election soul-searching.
"You cannot continue to lose young voters under the age of 30 two to one, lose Latino and African American voters by unprecedented margins, and want to be a majority party," said Messina.
The day after the election, Obama went to campaign headquarters in Chicago to thank Messina and his staff and volunteers. In a rare show of emotion, Obama teared up reminiscing about his own early days as a community organizer. The 43-year-old Messina describes it as one of the most amazing moments of the entire campaign.
"And I remember being an undergraduate here at UM, and not knowing my place in the world, and being a young community organizer, organizing mobile home parks in Missoula, and wanting to just be part of something bigger than me. And you know, I got to do that, the president got to do that – lots of people here in Missoula are going to get to do that, because of a good education, because they're going to work hard, and because of the opportunity this country offers. And that was a reminder to everyone that this is still the greatest country on Earth, and we can still make it if we try."
Messina is waking up in a giddy mood these days (despite the pain of watching the Cats beat the Griz) and enjoying a well-earned vacation. He says he wants to continue to serve the president, but he's not sure in what capacity.
He has said that serving as Obama's campaign manager was the most important thing he would do in his life. I'm guessing that's the only recent prediction he's wrong about.
Sally Mauk is news director at Montana Public Radio, KUFM, in Missoula. She writes a twice-monthly column for the Missoulian.