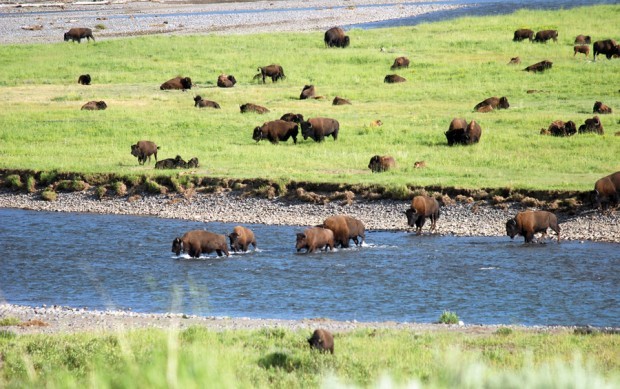 I can easily recall the first time I heard a bull elk bugle. I was several miles inside a northwest Montana wilderness when I was startled by the piercing whistle. At first I couldn't place it – it was not like anything I'd ever heard growing up in Kansas. And when I realized what it was, it still didn't seem quite right that such a high-pitched shriek should be coming from such a large mammal. I was thinking it should be, well, a little more masculine.
I was, of course, beyond thrilled.
And it seems I have Teddy Roosevelt to thank.
In the late 19th century, humans tried – and nearly succeeded – to exterminate many of Montana's wildlife species, elk and bison in particular. We've spent a lot of time and money since, trying to remedy the effects of that wanton killing.
Noted conservationist, hunting ethics advocate and retired state wildlife biologist Jim Posewitz is an encyclopedia of information about the early history of the wildlife conservation movement, a movement driven largely by hunters alarmed they had nearly shot themselves out of business.
According to Posewitz, President Theodore Roosevelt, who was an avid hunter, was one of the first to recognize that the market killing of wildlife was decimating what had once been an abundant resource.
"In fact, that resource was once described, for variety and abundance, as exceeding anything the eye of man had ever looked upon," said Posewitz. "And we reduced that to a boneyard in a very short period of time."
In 1887, a handful of men led by Roosevelt, George Bird Grinnell and Gifford Pinchot formed a club of hunters dedicated to the restoration of wildlife in America. The Boone and Crockett Club remains in existence today, headquartered in Missoula.
"It was probably an environmental achievement that was unprecedented in human history," Posewitz said. "And it was done primarily by hunter organizations."
The success is indeed remarkable. Posewitz says when Teddy Roosevelt entered the White House, Montana had 5,000 elk. By Franklin Roosevelt's presidency that number had grown to 15,000. It stands at around 150,000 today. There are other wildlife success stories ranging from Bighorn sheep restoration to the revival of more controversial species like the grizzly and the wolf.
For Posewitz, there's one iconic species missing: wild, free-roaming bison.
"Layer by layer, species by species, wildlife restoration creates this conservation pyramid,"said Posewitz, "and we're lacking the capstone; missing this one piece – and that is to put wild, free-ranging buffalo back out on the landscape."
More than 90 percent of bison in America today are in commercial herds, and there are only three wild, free-roaming herds left, one of which is in Yellowstone Park. It's a stunning change from the 19th century, when 25 to 30 million bison blanketed the American plains.
No one is advocating bison restoration on that scale but Posewitz and others believe public lands – like the Charles M. Russell National Wildlife Refuge – and some tribal lands, can easily accommodate wild bison. The state has been holding meetings this month to gauge public support. Opposition comes mainly from ranchers and livestock owners worried their cattle operations will suffer from bison who may wander onto private land and damage their fences and pastures.
Posewitz points out Montana has a long history of wildlife and livestock successfully coexisting, and he's convinced potential problems can be worked out.
"We've come from a pretty dismal place with wildlife," said Posewitz, "to where Montana as late as the 1880s, was nothing but a boneyard for wildlife."
"And this morning, if I walked out onto Montana's Capitol lawn, 128 years later, we could find deer pellets," he said. "We have deer in our cities, bears in our orchards, and we have goose dung on every golf shoe in Montana. That's a remarkable record of achievement."
For Posewitz, wildlife restoration is a "moral responsibility."
"I mean if there was ever a heinous crime committed against wildlife on a continent, it would have to be what we did with the buffalo. And I think there's a moral component to this that says we can, and we should, restore that animal, in at least a few remnant wild populations."
Someday a young woman from a state not blessed with abundant wildlife may be hiking in Montana's CMR, spot a herd of wild bison thundering across a bluff, and be beyond thrilled.
Sally Mauk is news director for KUFM, Montana Public Radio, in Missoula. She writes a twice-monthly column for the Missoulian.