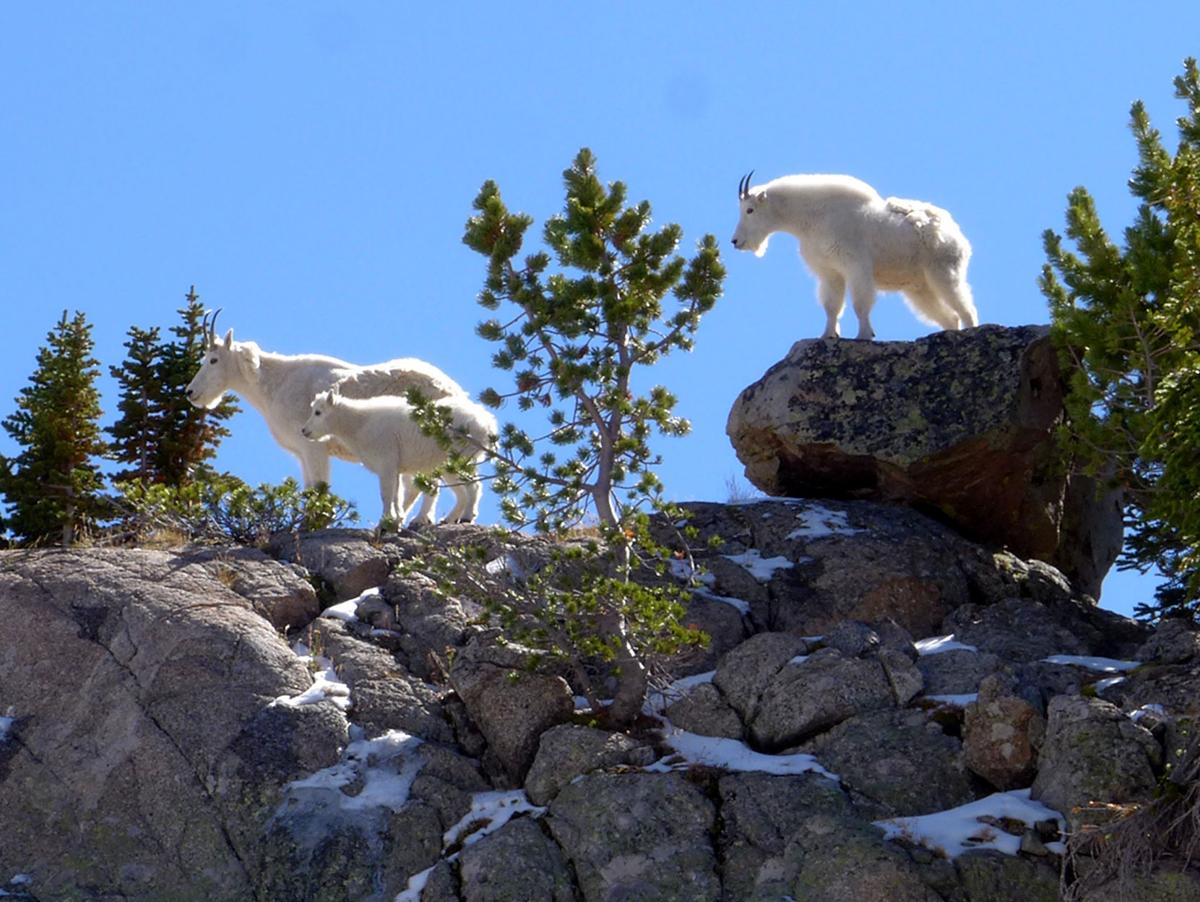 On the tourist's charismatic megafauna checklist, logging a mountain goat doesn't present much of a challenge.
An easy drive to Glacier National Park's Logan Pass or over the Beartooth Highway usually suffices to get a selfie with the shaggy white beasts, which often wander the parking lots or trails with an imperious nonchalance for the thrilled bystanders. They lounge on snowfields, or occasionally thrill the telephoto lens investors with some vertigo-inducing cliff wandering. Their kids are adorably fluffy.
But what if almost everything we thought we knew about mountain goats was wrong, or at least woefully incomplete? What if beyond those easy-to-reach concentrations, Montana's mountain goats actually struggle to stay on the landscape? What if those casual family groups actually seethe with struggles over personal space, enforced with needle-sharp horns that can gore forward even as they appear swept backward?
A research roundup released this fall from the Montana Department of Fish, Wildlife & Parks pokes into many mountain goat mysteries and concludes that they face some serious challenges. A legacy of over-hunting and a future of changing climate and fragmenting habitat may be much harder to balance than any crumbling rock ledge.
"It's quite an investment and energy expenditure to get where goats live," said Mike Thompson, FWP Region 2 wildlife manager. "And when you get there, there aren't many that live there in one place. You're looking at steep glacial cirques. It's a few peaks and a pretty narrow part of the landscape, then you go a ways to get to another few peaks to find another group. We don't know as much as we need to."
Mountain goat populations in western Montana have dropped from an estimated 625 in 1950 to 285 in 2017. Their local bands range from about 130 in the Bitterroot Range to 10 or fewer in the Rattlesnake Wilderness north of Missoula.
With such small numbers, researchers have difficulty modeling basic population dynamics, breeding success, family group behavior and territory. That makes it hard to know if a particular group is expanding or shrinking, staying in traditional breeding grounds or exploring new country, and what mix of age classes are present.
"For all us biologists, we all use different kinds of technology to observe them," said Region 2 wildlife biologist Liz Bradley. "Some fly with a helicopter. That didn't work well in my country because goats hide from aircraft and it's heavily timbered. For me, it worked out better to count them from ground."
Bradley has been concentrating on the mountain goats of the Great Burn area along the Montana-Idaho border, especially a group hanging around the popular trails to Heart, Dalton and Pearl lakes. Those goats show signs of getting habituated to human presence, probably due to their attraction to salt from human sweat and urine.
"They're actively coming into campsites," Bradley said. "The Forest Service has put up a kiosk with educational materials asking people to haze goats out of the campsites, and to take bathroom breaks away from the campsites, to keep their dogs leashed and reduce the potential for conflict. Mountain goats are potentially dangerous to people, and dogs can be attacked. There was a person gored by a goat in Olympic National Park. We want to keep people safe and keep goats safe as well."
Observations of mountain goats in the Trout Creek drainage south of Superior showed evidence of some brutal confrontations, such as deep scars in the neck and underbody. Bradley suspects the wounds come from fellow goats who clash over feeding or breeding space.
Mountain goats are native to high-altitude mountain landscapes west of the Continental Divide in Montana, and have been successfully introduced to some ranges east of the divide. One point of frustration for goat researchers is the relative success those artificial populations are having compared to the steady declines observed in original bands.
"We've overharvested them," Thompson said. "Up in the Rattlesnake, people pot-shot them. When that road (the Rattlesnake Corridor Trail) used to be open, people could drive up there and if you had a tag, it was a lot easier than it would be nowadays."
And unlike fellow ungulates like deer and elk, mountain goats reproduce slowly. A fawn or calf that makes it through its first year of life has a good chance of reaching breeding age. But a mountain goat kid remains high-risk for its first two years. Thompson said in such small family groups a poached animal or a youngster knocked off a ledge by a passing golden eagle can have a big impact on future population growth.
In response, FWP has greatly limited mountain goat hunting permits, with only one tag available by lottery drawing in western Montana. More opportunities exist among the eastern populations, where numbers are stronger. But those are almost all transplanted goats.
"When we put mountain goats in suitable habitat where they've not existed before, they exploit a part of the landscape other species haven't impacted historically," Thompson said. "Meanwhile, their native ranges depend on a few harsh, rocky, feeding sites. If goats will survive in the exact same spot, after a while that vegetation is only so productive."
And since mountain goats rarely if ever descend to valley bottoms to search out new high country, they wind up trapped in islands of habitat. Warming summers and rainier winters mean fewer year-round snowpacks for them to use — a resource new research shows to be vital for regulating heat stress in summer.
"Mountain goats do well in places with large contiguous habitat — and there's a lot of really good goat habitat in Glacier and down through the Bob Marshall Wilderness," Bradley said. "The Great Burn is more fragmented, and so is the Rattlesnake. In those isolated populations, if they decrease, we're less likely to see any rescue effect of a neighboring group crossing over."
Be the first to know
Get local news delivered to your inbox!