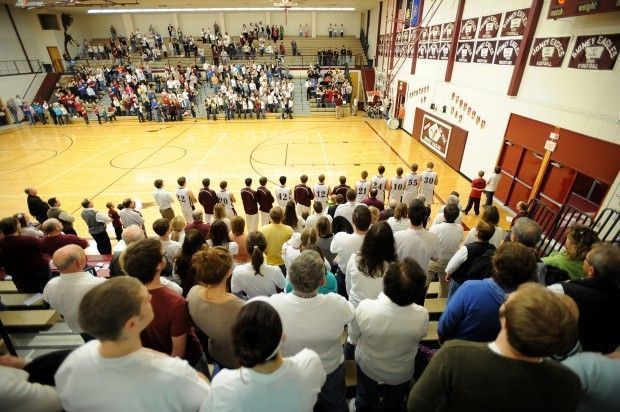 SIDNEY — It almost felt like normal basketball game Saturday afternoon as the Sidney High School Eagles took on the Billings Central Catholic High School Rams.
The crowd was loud and cheered thunderously for the Sidney boys as they prepared to take the court just after 4 p.m. But before the game started, there was a silent pause.
"Please rise and pause for a moment of reflection for Sherry Arnold and her family," announced Jeff Mead, the school's athletic director.
The crowd fell silent, many looking down and removing their hats. The moment passed but the crowd stayed quiet. Gary Arnold, Sherry's husband, and the Arnold family were sitting in the stands, all wearing white. The school band played the national anthem and then Mead kicked off the game.
It was probably just as Sherry Arnold would have wanted.
Varsity head Coach Dan Strasheim said playing Saturday was important act for his boys.
"They wanted to play just to be active," he said. "But also for the community."
Arnold was a big fan of the team and she attended all the home games, he said. The members of his team understood that Arnold "would have wanted them to go out and play today."
For the same reasons, it was important for Central High fans to find a way to somehow show their support.
"We as parents were feeling at a loss," said Anne Nichols, a team parent. "We wanted to show respect for everything they're going through."
She and other parents struck on the idea of wearing small, maroon ribbons pinned to their shirts. Sidney High's school colors are maroon and white
On the drive up to Sidney, Nichols' son Joey cut dozens of little strips of ribbon and passed them out to parents and players when they arrived at the school. Walking into the game, parents and team members filled the visiting team bleachers, all wearing the deep red ribbons.
"It's hard to know what to do to show support," Nichols said.
The community has been through so much, she added. "No one wants to be in that situation."
Community members around town and at the game also expressed a sense of bewilderment with how to process the tragedy. News Saturday morning that two men had been arrested and charged with aggravated kidnapping in connection with Arnold's disappearance last Sunday seemed to change slightly the tenor of the tragedy.
Sidney has seen explosive growth over the last 18 months as the Bakken oil field in neighboring North Dakota has come online. Dozens of companies and thousands of workers from all across the country have come into the area.
Some see Arnold's disappearance reflected in the oil boom.
"It's kind of scary," resident Johnny Steinbeisser said. "It's a big deal here for our little town."
Already, he sees people acting more cautious and less likely to go walking alone or after dark.
"We didn't lock our doors ever," he said. "Now, we're locking them."
Sidney High senior Brook Lawrence, and former student of Arnold's, said she's been surprised by the whole thing.
"It's not anything any of us would have expected," she said. "I won't go anywhere alone now."
Tina Montgomery, whose son plays for Sidney, is seeing the same thing. That change, coupled with the tragedy surrounding Arnold's disappearance, has hit the community hard, she said.
"It's pretty much burst our little bubble," she said.
Some in the community are warning people not to be too quick to judge.
Gordon Torgerson, whose son is a senior on Sidney's team, said it's easy to draw conclusions and blame it on the influx of new people to the town.
"I don't think you can point a finger at those folks," he said.