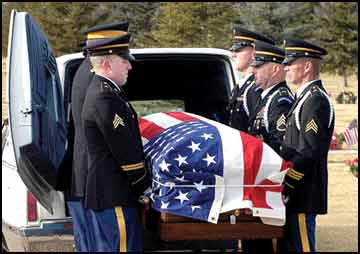 HELENA -The chaplain's words hung in the winter air as he gently sprinkled a vial of dirt over the flag-draped coffin of Army Pvt. Daren Allen Smith at the Montana State Veterans Cemetery at Fort Harrison on Saturday.
"I commit his body to the ground, dirt to dirt, ashes to ashes, dust to dust," Chaplain Ken DuVall slowly intoned as more than 100 mourners looked on. "The Lord bless him and keep him, the Lord make his face to shine upon him and be gracious unto him, and give him peace."
Smith, 19, died Dec. 13 in Baghdad, less than two weeks after being deployed to Iraq with the 4th Brigade Combat Team. His cause of death remains under investigation, but is being termed "non-combat related" by the military, which can mean anything from an auto accident to friendly fire, according to Maj. Garth Scott, public relations officer for the Montana National Guard.
Smith's body was flown into the Butte airport Thursday, and a memorial service was conducted there Saturday. The funeral procession then drove from Butte to Helena, where Montanans unfurled flags over Interstate 15 and lined the streets to show their respect to the fallen soldier and his family.
"Our son is in the National Guard, and is here helping his dad with the flag," Linda Nolan said, pointing toward her husband, Jim, and their son, Pierce, at the South Helena interchange. "We want to be a part of this for the young man's family, and to support them any way we can."
Mourners paced along the road into the Fort Harrison cemetery as they waited for Smith's hearse to arrive, their faces reddened by the 20-degree temperatures and crisp northeast wind. Some were friends of Smith, others only knew his name. Some were veterans of previous wars, others too young to know the dangers of battle. Yet when the line of cars pulled into the cemetery, all stood at attention as the sun dropped behind the clouds.
A riderless horse followed the hearse, a silent testament to Smith's training with the 5-15 Cavalry Warlords.
Smith's grief-stricken family and friends declined to talk to the media, but in his obituary they described him as a cool-headed, honest guy who loved to get dirty and wrestle with friends and dreamed of becoming a film producer. He grew up in Butte but moved with his family to Helena in 2000, where he attended Helena Middle School and Helena High, graduating in 2006.
"He was the kind of guy who would do anything for you," said a teary-eyed friend, who declined to give his name. "He was just a great guy."
As the graveside service concluded, the quiet stillness was broken by the soft whinny of the horse and the snap of the blowing flags. Smith's mother, Debbra, was given the folded flag that had been draped over his casket, and as she laid a bouquet of red and white flowers on his remains, four balloons - a red one, a white one, a blue one and a star-shaped green one - drifted into the skies.