While many Helenans know the stories of Hollywood actors Myrna Loy and Gary Cooper and country music star Charley Pride, how about Ward Ramsey?
All of them, it turns out, had a Helena connection.
You can learn more at 10:45 a.m. Wednesday, Sept. 18, when Helena author Brian D'Ambrosio talks about his new book "Montana Entertainers: Famous and Almost Forgotten," at the Montana Historical Society, 225 N. Roberts.
"We do have a rich connection to the arts, so I did want to share that," said D'Ambrosio in a recent interview over a cup of coffee at the General Mercantile.
Helena and Butte were particular gold mines of hidden talent, it turns out.
In fact, there are so many delightful surprises in D'Ambrosio's book of some 80 bios, it's hard to even know where to start.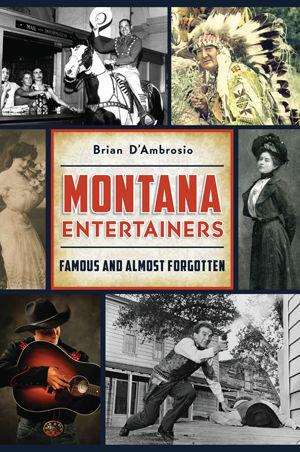 The stories span decades, from early actors such as Chief Many Treaties, a Blackfoot who was born in Montana as William Malcolm Hazlett in 1874, to contemporary stars such as Colin Meloy, front man for The Decemberists.
Some careers were the mere flights of a firefly flashing, while others dazzled crowds and lit up Broadway and movie marquees for decades.
Chief Many Treaties appeared in at least 39 films between 1931 and 1948 and was a leader and spokesman for Native Americans in film.
A 1934 news article about the six-foot actor said he was on "a verbal warpath" denouncing film directors who cast actors of other races impersonating Indians.
"It's getting so the 500 real Indians of the film city can't get a job in Hollywood anymore," he said.
Ah, but back to who was Ward Ramsey?
Turns out he was born John Doane Sutphen Jr. and lived on the street that runs past my house!
A World War II fighter pilot in the South Pacific, he flew between 80 and 100 missions.
But when he returned to Helena and did a series of jobs — policeman, bartender, Montana Club manager — he was bored.
Thanks to some Montana Club connections, he was picked up by a New York ad agency and caught the eye of Universal Studios.
They changed his name to Ward Ramsey and he appeared in at least nine films, said D'Ambrosio, including "Pillow Talk" with Doris Day and Rock Hudson and "Cape Fear," with Gregory Peck and Robert Mitchum.
Alas, it was a fight with dinosaurs that likely did in his film career.
He was cast in the lead for the 1960s Universal science fiction thriller, "Dinosaurs!" which was panned by the critics as "junk."
Another actor with a Helena connection was Will Mahoney, who was born here in 1894.
He went on to find fame in Australia as a stage and vaudeville actor.
For a time, he was one of the highest paid variety actors in Australia, according to D'Ambrosio.
Then there was Thomas Wilson, who was born in Helena in 1880, but by 1900 was living in Illinois.
He was in 254 films between 1915 and 1963, sometimes appearing in blackface and playing black characters.
But he also performed minor roles with some of Hollywood's greats — appearing as a boxing coach in the Buster Keaton comedy "Battling Butler" and as a policeman in Charlie Chaplin's "The Kid."
You have free articles remaining.
Surprising stories
One of Montana's truly fascinating stories is that of Julian Eltinge, "the country's first and most famous female impersonator," said D'Ambrosio.
Born William Julian Dalton, in Massachusetts, he moved to Butte when he was 7, in 1888.
It was there that he became fascinated with show biz while hanging out with friends at Caplice Hall, a dance hall and theater.
"My first ambitions to mix in the theatrical game were registered then," he said in an interview.
He took his first theater job as an usher in Butte, and later took the stage name "Eltinge" from a Butte buddy.
By 1904, Eltinge made his first Broadway stage appearance as a female impersonator.
Two years later he was performing at London's Palace Theatre and giving a royal command performance at Windsor Castle for King Edward VII.
According to comedian W. C. Fields, "Women went into ecstasy about him. Men went into the smoking room."
Another story that fascinated D'Ambrosio is that of Taylor Gordon, who "went from the son of a former slave in White Sulphur Springs to Harlem Renaissance adulation and fame."
An acclaimed singer, Gordon toured internationally and also appeared in plays on Broadway.
However, years later as his career faltered and he struggled to make a living, he suffered a mental breakdown in 1947.
He returned to White Sulphur Springs in 1959 under the care of his sister Rose and was the inspiration for Ivan Doig's character Monty Rathbun in the novel "Prairie Nocturne."
Ah, but there are so many, many more memorable "Montana Entertainers," among them Lucille Ball, Steve Reeves and George Montgomery.
All found film fame and had spent at least part of their childhoods in Montana.
And some of Hollywood's most famous entertainers chose to make their homes in the Treasure State — among them Henry and Peter Fonda, Jeff Bridges and David Letterman.
Art as salvation
But it's the struggling or unusual artists who first got their creative spark in Montana that particularly caught D'Ambrosio's eye and made him want to write the book, he said.
"I tried to put in people who were a little different, such as Bill Bowers, from Lolo," who is gay and went on to study with internationally famous mime Marcel Marceau.
Bowers is now considered one of the greatest living mimes, said D'Ambrosio.
"My theory is that I'm a mime because I'm from Montana," said Bowers. "Montana is the classic big, quiet place, and I came from the classic stoic Montana family."
D'Ambrosio also wrote of Michael Smuin, the son of a Missoula Safeway butcher, who went on to become an acclaimed, Emmy Award-winning ballet dancer.
D'Ambrosio wants to share these stories particularly with young people.
These stories matter because "geography's not destiny," he said.
"We have an epidemic of suicides and self-harm by young people who feel trapped and isolated."
He wants them to hear about "some of the faces that come from Montana who went on to follow their own dreams."
"Nothing matters more than ... kids following their pursuits and their loves."
For many of these artists, their art was their salvation, he said.