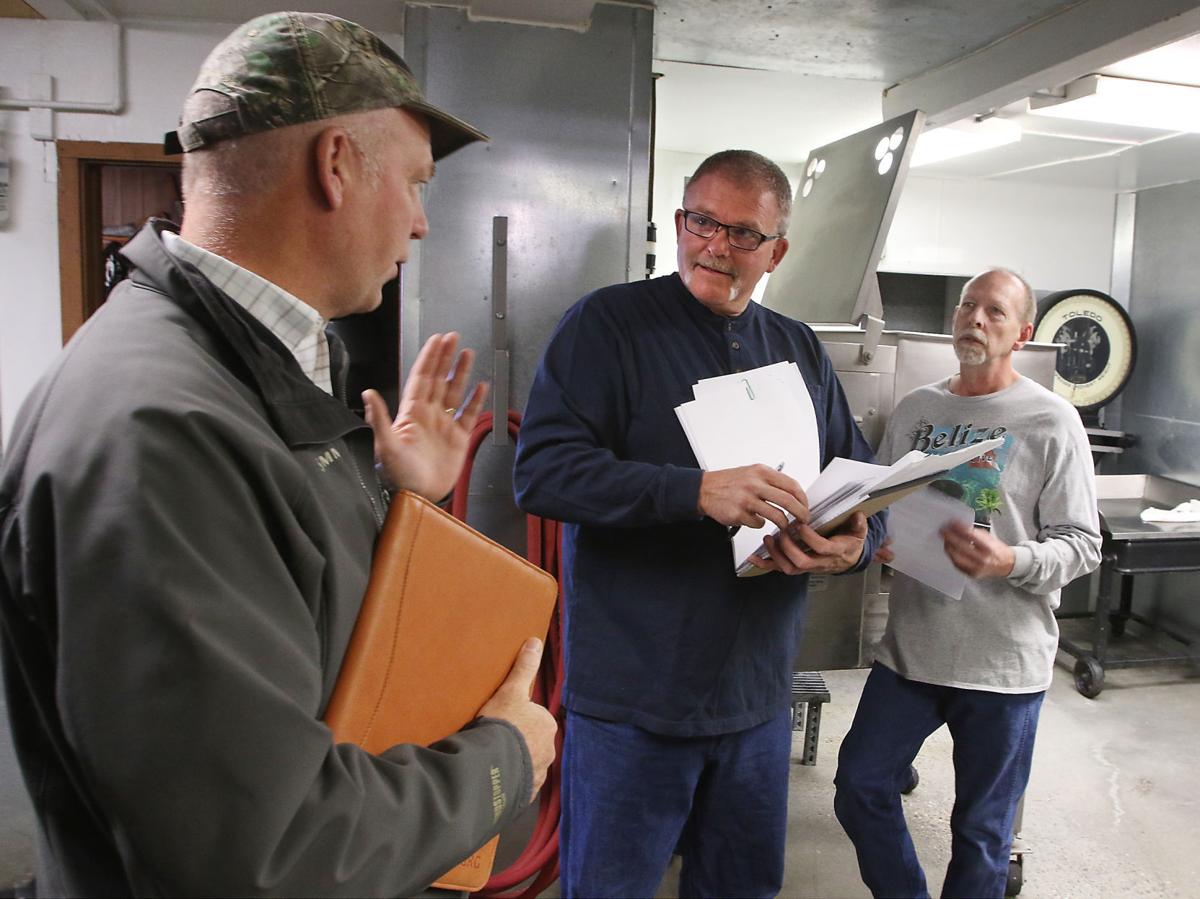 Montana's entire Congressional delegation, dissatisfied with the Food Safety & Inspection Service's defense of the way the agency has treated Montana meat plants, has banded together to demand an outside investigation.
The Montana Standard published a series of articles this fall outlining a pattern of agency harassment against Riley's Meats in Butte and other plants.
In a rare jointly signed letter to the Inspector General of the United States Department of Agriculture, Sens. Jon Tester and Steve Daines and U.S. Rep. Greg Gianforte escalated their concerns about what they termed "alleged misconduct" within the agency.
They are seeking an investigation of FSIS from the powerful Inspector General's office, which is tasked with promoting "economy, efficiency, and integrity in U.S. Department of Agriculture programs and operations through the successful execution of audits, investigations, and reviews."
Tester said Friday, "An independent investigation will shine light on USDA's practices and hopefully bring some closure to this issue ... I'm pleased the congressional delegation is united together as we stand up for Montana businesses."
Daines said, "USDA and FSIS need to address these concerns in a public manner. This investigation must be open, transparent, and accountable to Montana taxpayers and ensure Montana small businesses are able to succeed."
Gianforte, too, weighed in Friday: "I'm committed to getting to the bottom of this, and I'll continue pressing for answers, transparency, and accountability so that what happened to Bart (Riley) doesn't happen again. I encourage anyone who has been the target of an overreaching federal regulator to contact me."
The stories showed that Dr. Jeffrey Legg, Montana frontline supervisor for FSIS, frequently demanded meat processing facilities to make changes not based in federal regulations. Most of those demands — called "Legg regs" by many in the industry — required prohibitively expensive modifications to plant equipment and operations.
The stories showed that after Bart Riley, proprietor of Riley's Meats in Butte, complained to the agency about Legg's practices, the agency's investigators themselves concluded that at least six allegations of "willful harassment" and "intentional acts to intimidate or torment" Riley were true and seven more were either partially confirmed or possibly true. And yet the agency decided that no disciplinary action was needed.
The stories documented that a pattern of such non-regulation requests being made to Montana plant operators continued for more than a decade after Riley's initial complaints.
After the stories appeared, Tester, Daines, and Gianforte all wrote letters to FSIS and later to Agriculture Secretary Sonny Perdue demanding an investigation.
An internal review followed, and in early December, staff members from the state's congressional delegation were briefed on the results — which disputed the points made in The Montana Standard's stories.
Yes, allegations of harassment were substantiated, the staffers were told — but the allegations themselves, an FSIS spokesman said, were not serious enough to warrant discipline.
The FSIS spokesman told the congressional staffers that the agency concluded Riley fabricated one of his complaints against Legg — a conclusion contradicted by physical evidence.
In one of The Montana Standard's stories, Riley related that Legg had told him he had to build a lockable, heated office for FSIS inspectors, which Riley did. Shortly afterward, Riley, reading the federal regulations, discovered that the requirement for such an office did not extend to non-slaughter plants like his. So, he said, he took a chainsaw and a sledgehammer to the office that night, demolishing it, and left the part of the door with the lock on the inspector's desk. Not one thing was said to him by the inspectors, he said, "because they knew I'd been lied to."
The agency told congressional staffers that investigators spoke with the FSIS inspectors who worked in the plant at the time, and the inspectors had no recollection of the incident, which led agency investigators to conclude it had been fabricated.
Physical evidence of the office construction still exists in Riley's plant — the holes in the floor and ceiling where bolts to support the office walls were drilled, and even paint that had extended beyond the now-demolished office walls.
When told that he made the whole thing up, Riley said, "That's ridiculous. You can still see the marks where it was in the floor and the ceiling.
"Nobody ever called me" from the agency during the recent review, Riley said. "How can they say they investigated this when nobody even called me and talked to me about it?"
The FSIS spokesman provided no documents or other physical evidence to buttress their characterization of the Montana situation with the delegation's staffers.
"It is clear that an external investigation is necessary to resolve allegations and prevent the occurrence of any additional FSIS issues in our state," the letter to USDA Inspector General Phyllis K. Fong said. "That is why we respectfully ask that you review the alleged misconduct and report your findings to America's taxpayers."
The letter continued, "In response to a complaint filed with FSIS in 2006 by Bart Riley ... FSIS responded that some of Mr. Riley's allegations were substantiated. However, FSIS did not publicly enumerate which allegations those were and what, if anything, was done to mitigate or correct the situation. Our offices pressed FSIS for additional information on this report as well as other documents pertaining to their internal review ... and were repeatedly told that information could not be shared."
Tester, Daines, and Gianforte wrote, "We most recently called on Secretary (Sonny) Perdue to review this matter. We are pleased that USDA performed an additional review, but we are frustrated by the internal nature of the review and the lack of documentation provided in a transparent manner."
The FSIS spokesman, in discussing with congressional staffers the on-the-record claims made in the initial stories about Legg's behavior by a retired FSIS inspector, attacked the inspector's credibility. The inspector, Rick Toot, retired after a 37-year career with the agency and had multiple letters of commendation in his file — including some signed by Legg.
The Montana Standard sent several questions to FSIS headquarters the week before Christmas. A spokesman said they were received but that because of staff being on leave for the holidays, a quick response was unlikely.
A spokesman for the office of Inspector General Fong said Thursday that "OIG will assess the request (from the Montana delegation) and respond to the Members."
Riley said last week, "Legg has been allowed to be judge, jury, and executioner. ... He does it his way; he answers to no one. He doesn't follow the agency's regulations, and I've proven that. He breaks the rules, but the agency backs him up.
"None of the people defending him have ever come out to meet me or to see Riley's Meats.