A $9 million settlement between Custer County District High School and sexual abuse victims of James "Doc" Jensen, a longtime athletic trainer for the school recently convicted of multiple sex crimes, was announced Wednesday. The move caps more than a year of legal wrangling that exposed "The Program" and put Jensen in prison.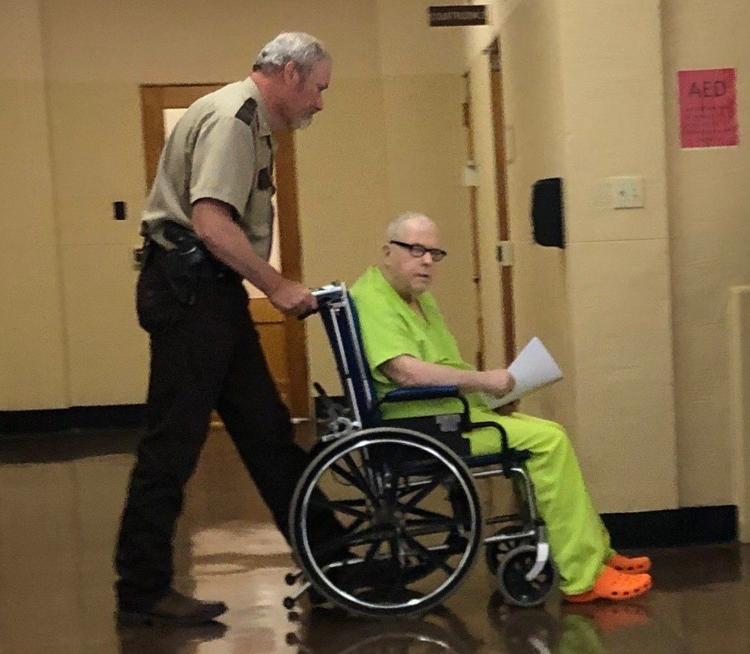 You have free articles remaining.
Sept. 21, 2018: Attorneys file a suit against the school district and Jensen on behalf of 18 victims who said that Jensen groomed them and systematically abused them, and that the school should have been able to stop the abuse but failed. Jensen, when reached by the Gazette, admitted to some of the abuse.
Sept. 22, 2018: State and Custer County investigators scramble to launch an investigation into Jensen, but state charges for the abuse detailed in the lawsuit seem unlikely because Montana's statute of limitations has passed. Investigators set up a hotline for additional victims to report abuse. 
Sept. 24, 2018: Fred Anderson, a state legislator from Great Falls who worked as a principal at Custer County District High School during Jensen's tenure, tells the Great Falls Tribune that he first heard about allegations against Jensen in 1998 after a parent's complaint. He said Jensen was terminated, but didn't know additional details. He later declined to speak with The Billings Gazette.
Sept. 29, 2018: Victims of Jensen say that abuse continued after he left the school, and that school officials warned no one about any concerns about Jensen. Victims said Jensen merely told them he was retired, and still conducted "The Program" from his home. 
Oct. 15, 2018: Lawyers for the school file a response to the original civil lawsuit, denying that they knew about Jensen's abuse and cross-suing Jensen for fraud. The filing doesn't deny that abuse occurred, but argues that the district should not be held liable.
Dec. 13, 2018: Jensen is arrested on child porn charges filed in Custer County. Pornographic images of boys as young as age 9 were found on Jensen's computer.
Dec. 18, 2018: More victims join the suit against Jensen, raising the total to 31. The filing also includes a 1997 memo the school issued to Jensen after parent complaints, which includes barring him from working one-on-one with students. 
Dec. 21, 2018: Federal charges of coercion and enticement of a minor to engage in sexual activity are filed against Jensen, who is already in jail on state child porn charges, which he pleads not guilty to the same day. He goes on to plead not guilty to the federal charges in an intial hearing one week later.  
Jan. 16: A bill that would remove the statute of limitations on misdemeanor and felony prosecutions of child sex crimes is introduced at the state legislature, with strong support from those involved in the Jensen lawsuit — including Jensen's daughter, who told legislators that "a system set up to protect (Jensen) more than the students" helped Jensen escape prosecution. Bills giving victims more time to bring criminal cases or civil claims for childhood sexual abuse, prohibiting sexual contact between school employees and students, and to increase the mandatory minimum sentence for a number of sex crimes are all influenced by the Jensen case.

Feb. 12: As Jensen tries to plead guilty to federal charges, a judge raises questions about the fed's case against Jensen. U.S. Magistrate Judge Timothy Cavan questioned whether federal investigators established that Jensen's use of the internet — which was cited as a means of "interstate commerce" that made the case federal — related directly to coercion or enticement. Cavan delays finalizing the plea until a later hearing. 
Feb. 18: Additional documents filed by federal prosecutors accuse Jensen of contacting underage boys online while masquerading as a teenager himself, to the point that a relative accused him of having "high school-aged boyfriends all over the country." The documents also cite instances of sex abuse that occurred in North Dakota and California. 
March 12: Jensen pleads guilty to federal charges in Missoula after requesting a change of judge, and his plea is accepted. 
March 22: A victim of abuse testifies during a deposition that he told coaches at least 12 times that Jensen was touching him inappropriately as the civil lawsuit unfolds. District lawyers deny the accusation. 
May 5: Gov. Steve Bullock signs a bill eliminating the state statute of limitations for prosecuting child sex crimes. The bill, which ended up as a composite of several proposals, also extends from 21 to 27 the age deadline by which a victim of child sexual assault has to file a lawsuit against their abuser and says mandatory child abuse reporters can be charged with a felony for failing to report child sexual abuse.
July 26: After an apparently-botched 2002 investigation, federal and state prosecutors declined to file charges against Jensen, according to documents filed by Jensen's defense lawyer in sentencing arguments in federal court. Two of Jensen's victims also told the Gazette they were visited in 2002 or 2003 by investigators, including the FBI. "At the time, I remember very much feeling like I was in trouble, more than anything," one victim said. 
July 30: Jensen, now 79, is sentenced to 12 years in a federal prison specializing in prisoners with significant medical needs. The sentence could have an additional three years of supervised release. 
Aug. 22: An Iowa-based insurance company sues the Custer County District High School, trying to get off the hook for potential payments from the Jensen case. Attorneys for the school said that such a move wasn't unusual.
Aug. 28: Jensen is sentenced to 20 years in prison for having child pornography on his computer. He had pleaded guilty to the charges about two weeks earlier.