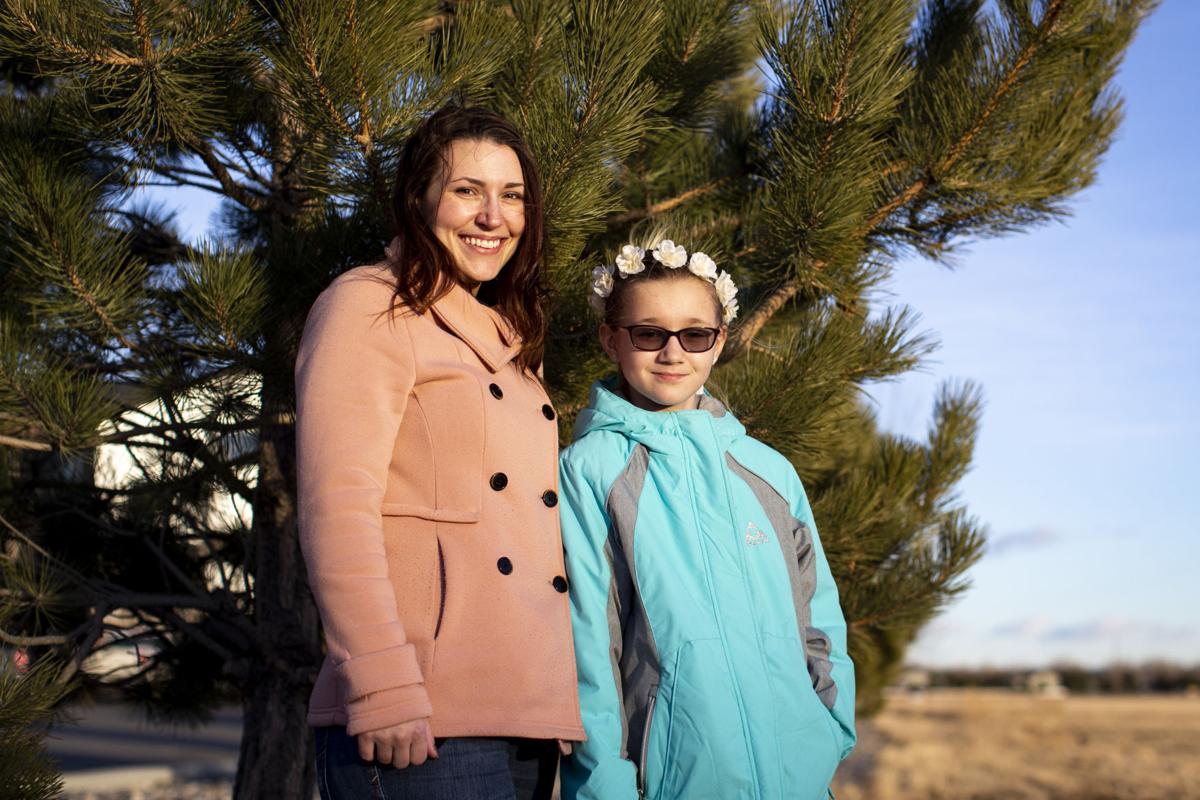 The most violent attack on the national Capitol since the War of 1812 has some Billings teachers adding insurrection to the lesson plan.
In the days after a rally in Washington, D.C., escalated into a deadly riot that had members of Congress sheltering in place, local teachers and parents didn't shy away from the facts or fears that emerged from the Jan. 6 melee.
"For me looking at my students, I saw shock the next day. Real, authentic shock," said Ryan Gage, who teaches American government and AP government at Billings Senior High School.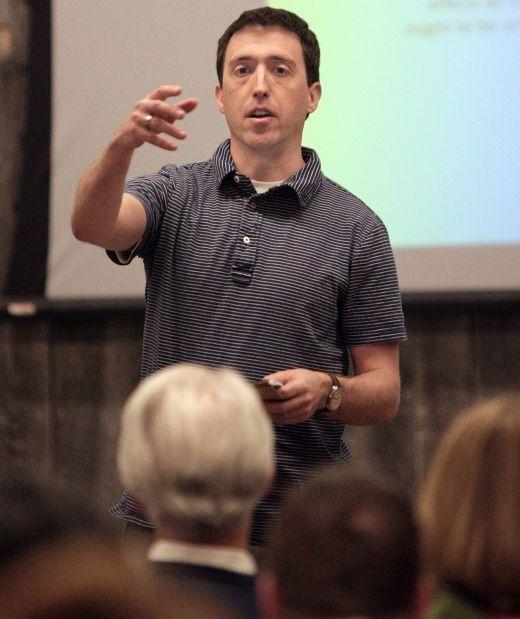 The rally, held in support of President Donald Trump's failed effort to halt the confirmation of President-elect Joe Biden as his successor, drew thousands from across the country to the nation's capital. The fervor stemmed from unfounded and unproven accusations that Biden won the election through voter fraud, which the current president has proclaimed since the Associated Press projected his opponent as the winner back in November 2020. Trump spoke for more than an hour Jan. 6 before telling those in attendance "…if you don't fight like hell, you're not going to have a country anymore."
By the end of the next day, five people were dead, among them a U.S. Air Force Veteran and a U.S. Capitol Police officer. A subsequent investigation has led to prosecutors filing dozens of charges ranging from curfew and gun violations, to disorderly conduct and sedition.
The United States House of Representatives voted Wednesday to impeach Trump a second time on a charge of incitement of insurrection, a first for any president in American history, and only the most recent in a dizzying stream of national crises that have unfolded during the past year.
Gage, who is going into his second decade as a teacher, said in clinging to the moment-to-moment reporting the historical significance of what happened at the Capitol can be lost. By the time rioters had broken into the building, classes in Billings had ended for the day and he would not face his students until the following morning. He had a few extra hours to prepare, his past experience in facing students on Sept. 11, 2001, coming to mind. 
"It was this reckoning after hearing all this rhetoric, this vitriol, that some of my students even engaged in it to some extent. We've committed to or bought in to this notion that it's all rhetoric, and that it's all just going to be rhetoric," said Gage.
When rhetoric turned to reactionary violence, Gage said some in his class still defended the rally. All agreed, however, that what happened in D.C. marked one of the most shocking events in contemporary American history. While addressing the concerns of his students, Gage didn't think he was alone in comparing Jan. 6 to Sept. 11.
Gage said the terrorists who hijacked Flight 93 shared the same goal as those who joined the mob in the Capitol with zip-tie handcuffs, Molotov cocktails and pipe bombs: the disruption of the U.S. government. Whereas the former attack inspired unity within the nation, he said Jan. 6 has only galvanized political tribalism.
"It definitely made them [the students] think about how horrific that act was … It is very easy to look back on that day and say, 'They got back to business by the end of the night.' But the fact of the matter is, we'll be dealing with what happened last week for a long time," Gage said.
Gerald Boschert, who teaches ancient and world history at Eileen Johnson Middle School in Lockwood, took a break from lecturing on ancient Greece on Jan. 7 and opened his class with a brief talk on what occurred in the Capitol. Many of the students, he said, came to class unaware.
"I don't know if they really did not see it, because many don't watch old-fashioned television, or if they did see it and just don't comprehend it. But, I tried to explain to them why it was such a dark day," he said.
That conversation led to a question from one student of whether their teacher thought there would be more riots, which he said he doubted. However, without trying to scare his students, Boschert said he'd never been so scared for the state of the Union. Misconstruing the events of Jan. 6, he said, has only contributed to that concern.
"Look at the facts. See what you see, and don't let anyone twist and lie to you about what happened," said Boschert, who has been teaching for nearly 25 years.
Back in Gage's classroom, the students are preparing to enter into his course's Mock Congress. He said Jan. 6 has helped them realize the power of words "as they're repeated over and over."
While the discussion on the attempted coup at the Capitol lent itself to a discussion on civil discourse among his students, Gage hoped the lessons from the day would extend well beyond the classroom.
"I would hope to God that everybody would see what happened Jan. 6, regardless of the last four, eight, or 20 years. Students, parents and Americans should start looking in the mirror and asking themselves, 'What can I do to peacefully try to help somebody else move on, and come together?'"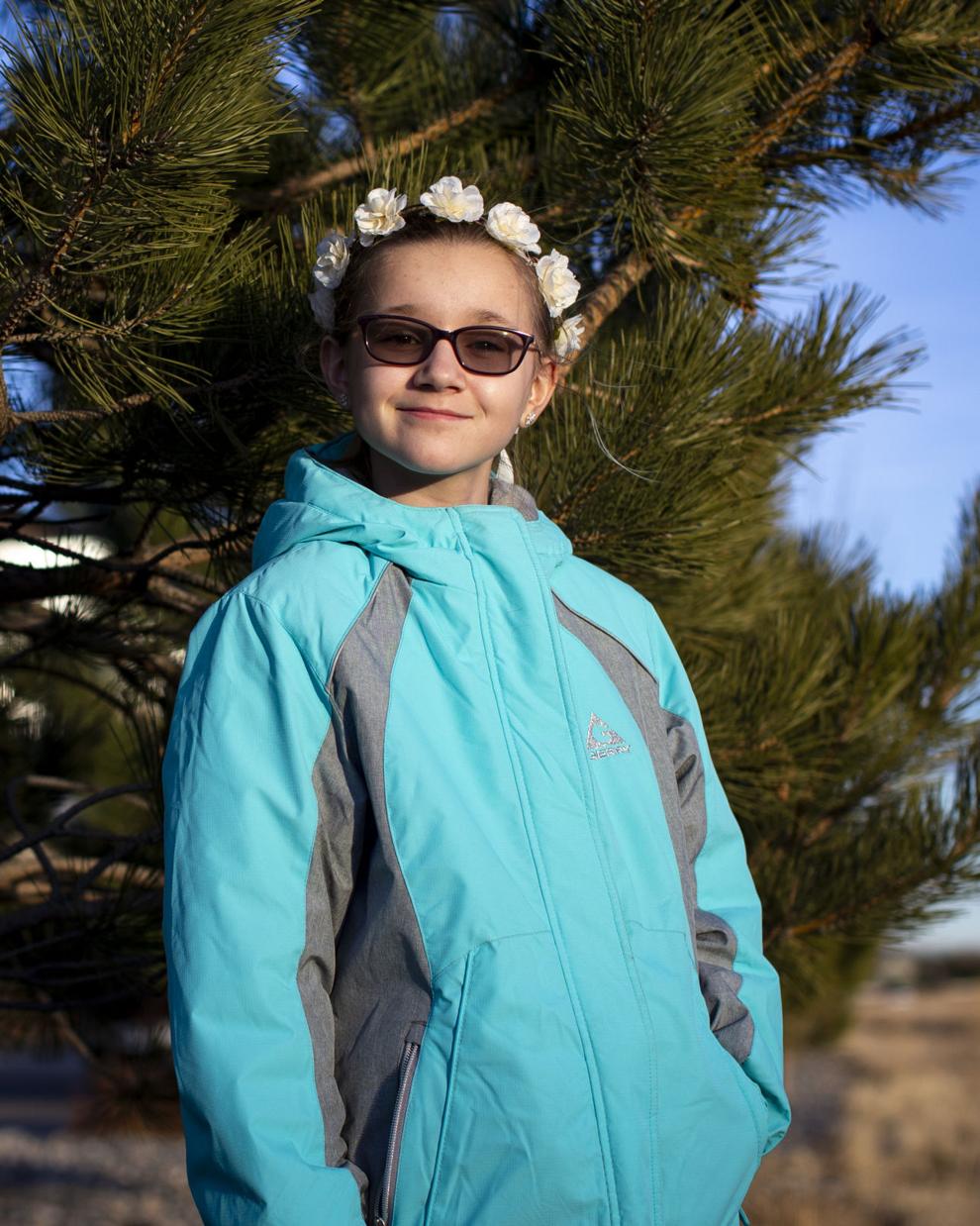 A letter from a child
A 10-year-old Billings girl asked herself that question three days after the chaos in Washington, D.C.
Of the many images and videos of the insurrection that went viral, one showed a Washington, D.C., police officer pinned against a door by a flood of people. Emma Jablonski saw the footage of the officer calling for help, his mouth bloodied. She asked her mother, Johnna Jablonski, what she could do to help.
"We sometimes play the news in the background, and we were following things pretty closely since Wednesday. We didn't even intend for Emma to see that video, but when she saw it, she just started to know why it was happening," Johnna Jablonski said.
In explaining the video, and the context surrounding it, Jablonski said she only used the facts. She told Emma that there was a rally that turned into a protest. It's OK for people to voice their opinions, but during that protest some people ended up hurting others. Jablonski asked Emma what she thought they could do to help the officer, and Emma said she wanted him to know she cares.
"Things like the riot in D.C. are something that our kids are witnessing, and it's really important to ask how they feel about it. What they see, they keep in their hearts and minds, and they're a lot smarter than we give them credit for … Emma deserved to know what was happening, and make her own decision about how she felt," Jablonski said.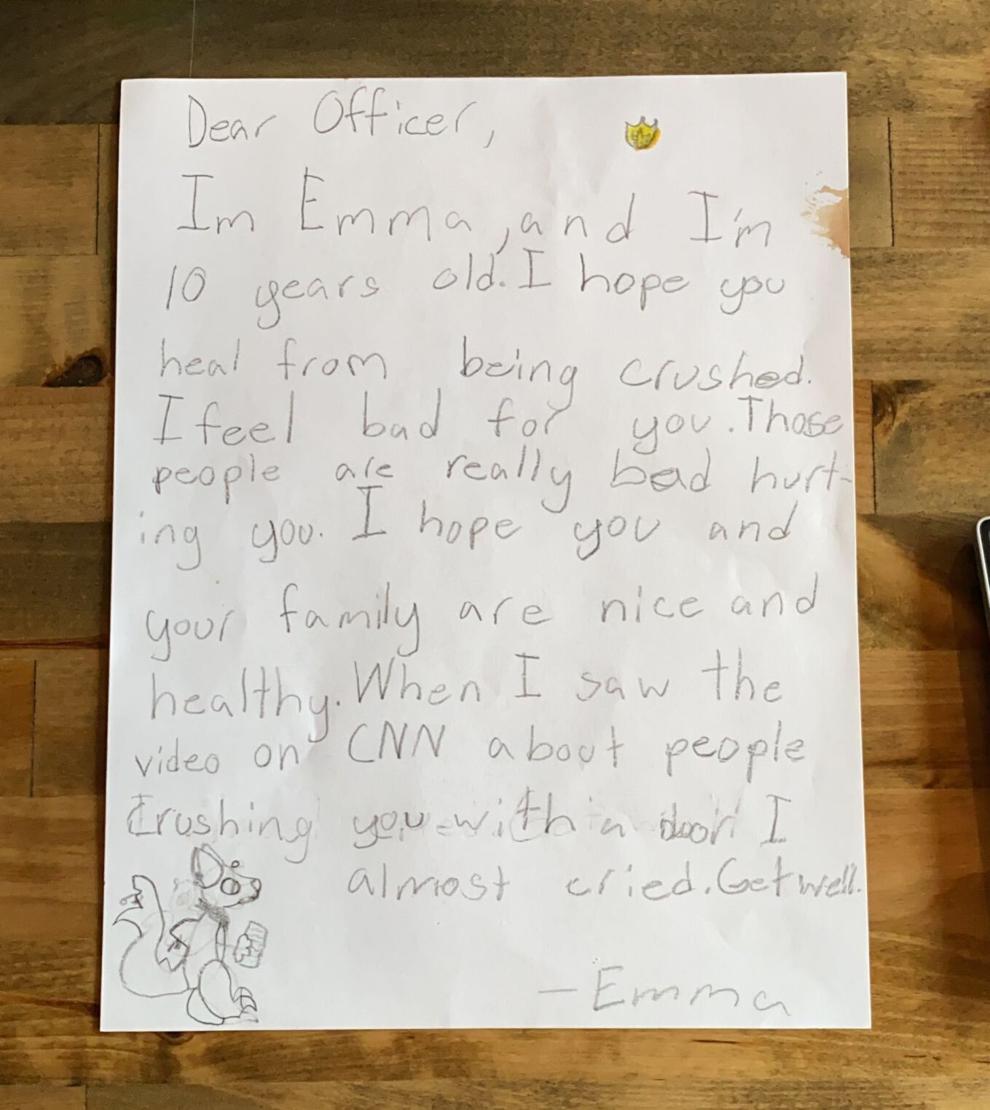 Emma wrote a letter to the officer.
With her thoughts on paper, it was up to Emma's mother to find the officer and send the letter. A few tweets later, and Emma's letter became as viral as the video that inspired it. The Metropolitan Police Department has provided the Jablonskis with the injured officer's address, and the two managed to chat earlier in the week via Zoom. The officer, Daniel Hodges, can expect a care package of huckleberry jam, a hat and "other Montana stuff" picked out by Emma to arrive along with her letter.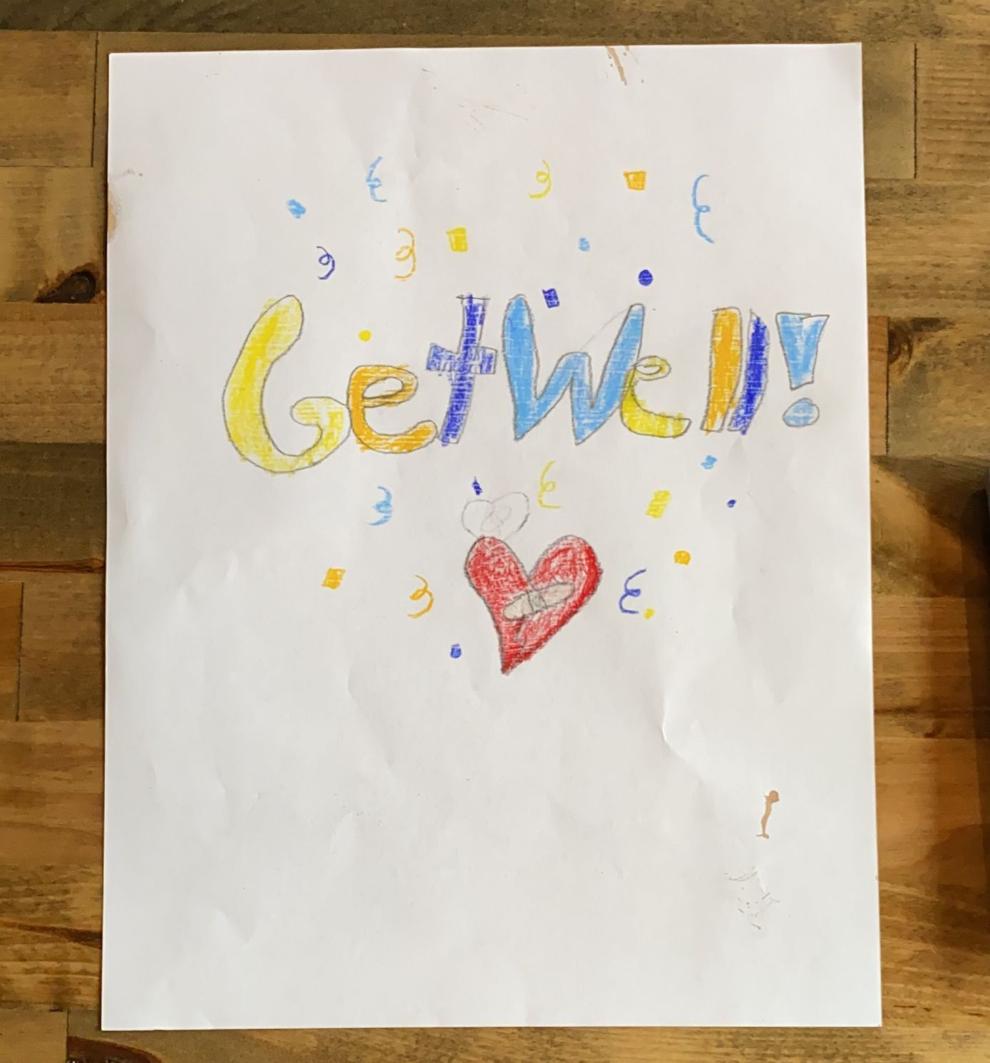 "This is a little girl from Billings, Montana, who has reached so many people and that far away. It's built a confidence and hope in her and in a lot of people who need it right now," Jablonski said.