ALBERTON — Cobwebs are gathering on the 1880s jewelry display case in Dan Miller's shop. He's placed a dropcloth over much of the massive piece; it's been there so long dust has gathered in the creases.
Standing in the threshold between the cold space and his well-kept home, Miller leaned his head slightly toward the furniture. He'd be masterfully restoring it if not for the severe and chronic pain that dominates almost every minute of his life.
"I just can't," Miller said. Looking around to the rest of the untouched tools — a planer, sanders, a bandsaw — his eyes watered not from the sawdust that should hang on the air of this space, but from years of frustration.
"The shop's just a mess because I can't take care of it properly," Miller said.
Miller, 57, is a man who lives to take care of things. He prides himself on being a husband and father who works hard to give his family what they want. He's a fine woodworker, top-level craftsman and home-builder trained in a way not many are these days.
But the amount of time he spends being all those things is drastically reduced, or eliminated, because of the debilitating pain he suffers as a result of injuries from falling 14 feet onto some boulders at a home construction site a little more than 20 years ago.
For years after the accident, Miller rose up to a large daily dose of opioids, 400-500 milligrams. It was enough, he said, to manage his chronic pain and allow him to work. Two years ago, after more recent guidelines, his team of physicians stepped that down to 90 milligrams a day.
It's not enough for Miller to live the life he wants. And now, his doctor wants to look at halving his prescription. That would bring it in line with newer recommendations from the Centers for Disease Control and Prevention saying anything more than 50 milligrams is dangerous to the patient's health and can more than double the risk of an overdose death.
A modernized approach to opioids emphasizes the drugs as a last resort, moving patients away from them as quickly as possible after the start of pain treatment, whether acute or chronic. Lower treatments to start, shorter prescription duration, counseling on risks of long-term use, moving to other medications and therapies and managing expectations might all help the next generation in chronic pain. But it doesn't mean much for Miller today, or tomorrow.
"Opioids seem to be the only ones that help me," Miller said. "I tried other stuff, and we settled on that because that's the only pain relief I got."
U.S. history with opioids
The United States has struggled with the use and abuse of opiates for centuries. Doctors freely used opium to treat soldiers during the American Revolution and later in Civil War battlefield hospitals, according to Smithsonian. By 1895, about one in 200 Americans were hooked on morphine and opium powders, Smithsonian reported.
In the 19th century, a wave of regulations and restrictions drastically reduced the amount of opioids in circulation. Over time, addictive attentions turned to other more available drugs, but opioid abuse has again cycled back toward epidemic status.
Providers in the United States wrote a quarter of a billion prescriptions for opioids in 2013, enough to provide every American adult with his or her own bottle of pills, according to the CDC. In Montana, drug overdose deaths have doubled since 2000, with more than 700 deaths in that time from prescription opioid overdoses, according to the state health department. 
During the 2013 legislative session, the Montana Medical Association brought forward a concept to study prescription drug use and abuse, said chief executive officer Jean Branscum.
Part of the outcome was to develop an education program for physicians, with an eye toward family medicine doctors in rural practices who may not deal with a lot of people who have chronic pain.
At the end of the process, one of the outcomes was a website to educate doctors and patients on recommended dosage, released in 2015. It provides tools to providers based on information gathered from their own community, pharmacists, dentists, law enforcement and a wide group of stakeholders.
Early data show the effort may be working. In 2013, doctors in Montana prescribed about 83 prescription painkillers for every 100 residents; by 2016, that number was just below 70.
Encouraging data for the state, though, also looks like struggle for patients and physicians like Miller and his doctor.
"Conversations have been really difficult with patients," Branscum said. "It puts individuals who are suffering from chronic pain in this middle ground. They may have taken opioids for a long time. It may be very difficult for them, and they need to have a conversation to really understand the dangers around that. It's having a conversation with their physician on if the risks outweigh the benefits, or the benefits outweigh the risks."
Finding doctors who treat chronic pain in Montana is also becoming increasingly difficult after actions by the Montana Board of Medical Examiners against doctors accused of over-prescribing opioids, with two physicians suspended since 2014, according to Montana Public Radio.
'Grief, depression and pain'
Opening his camouflage pill carrier, full of orange bottles with blue lids, Miller pulls out the long- and short-acting morphine he takes twice a day.
"I hate pills," he said. "I've never taken pills in my whole life (before getting hurt)."
After his initial accident, Miller was in a wheelchair. He and his wife sold the dream home he'd built for the family, with a custom playroom and individual bathroom sinks for each daughter. Doctors told Miller he'd likely never walk again, so he couldn't live in a house with stairs.
"The best thing they figured we could do is start off on some painkillers," Miller said. "And that made my life again."
He re-learned how to walk, starting in a pool with water about 5 feet deep. As his ability improved, the water level dropped until he was back on his feet.
"I was fortunate. I was able to do things still. I could do some little jobs, have some level of life," Miller said. "As long as I got my blood test every few months and make sure my organs weren't being damaged, it was OK. I never really walked around like I was doped up."
Before the first time doctors scaled back his pain medication, Miller had liquid morphine. That acted so quickly he could get his shoes on about 20 minute after taking it. Now it's 2½ hours after his first pills of the day before he can get dressed. He takes four a day, a short- and long-term together twice a day.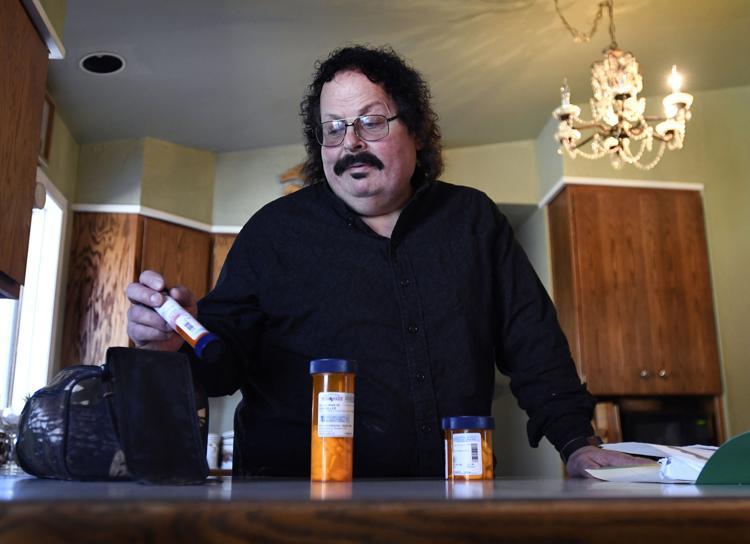 "I have to put my damn shoes on with a pair of pliers," Miller said.
The morning pill wears off by early afternoon. No matter how much pain he's in, Miller won't take his second dose until 5 p.m. Otherwise he has no chance of making it through the night. 
"If you take them at 1 or 2 o'clock that afternoon, you're in hell until the damn morning," Miller said. "You just sit there and watch the damn clock."
Sleep doesn't come easy for Miller. His body, even though it's been in pain so long, still craves being physical, and he just can't ever do enough to get tired.
Not being able to work also contributes to Miller's sleepless nights, his family's finances filling his mind.
"You're worrying about money at the same time your back, your knees are screaming," Miller said. "It's a combination of grief, depression and pain."
Miller did, and wants to do again, light renovations and furniture building. A carved wood sign outside his home advertises "Uncle Dan's Shop."
This last year was hard for work because he's been in too much pain to take on many jobs. Some customers who know him and value his craftsmanship are patient, deciding the long wait is worth the quality. 
"I have work if I could do it. It's just frustrating as hell. I have money just sitting there," Miller said. "I work every day until the pain makes me stop."
Alternatives
It's likely that if Miller were hurt now, instead of two decades ago, doctors would have used a different approach with pain management. He's not alone.
In January, a report from the National Council on Compensation Insurance found that Montana lags compared to the rest of the country in protecting hurt workers from opioid reliance. While the CDC suggests limiting first-time opioid prescriptions to three days or fewer, the report found in 2016 about 40 percent of injured Montana workers were still taking opioids for injuries from six years earlier or more. Nationally, those numbers drop to 15 percent.
Now the approach when first prescribing pain medication is to provide the lowest dose right from the start, Branscum said, and limit prescriptions to three days or fewer.
Montana does not limit opioid prescriptions by law. A bill in the 2017 Legislature would have capped first-time opioid prescriptions at seven days, but it died in the process over concerns of limiting what doctors can do to treat their patients.
Increasingly, physical and other therapies are being recognized as a good way to control pain and complement medication, Branscum said. Those are hard to access in rural communities like Miller's, something Branscum's association is working on.
"Some of the issues that come up with prescriptions, and just learning more about that, is even at low doses we now know that taking an opioid more than three months really increases the risk of addiction by three times," Branscum said. "Connecting individuals with acupuncture, a physical therapist, movement, there are different therapies coming out showing they also are effective and obviously are far less risky."
Miller said he's attended seminars about the risks associated with opioids at the direction of his doctors.
"They just go to the statistics and people dying from addiction," Miller said. "They're blowing it up out of proportion. They don't have much information on the people who follow their prescription. All the stuff the public is seeing in the media is people who don't follow their prescription."
He said he is not naive about addiction and draws a clear separation between people who abuse opioids and the strict regimen he follows.
"I respect what they say and always follow everything," he said. Miller is a disciplined, serious man. But there's also the fear of running out at the end of the month. Pharmacies are strict about not filling opioid prescriptions until they are due, and being without medication for days means unimaginable pain, he said.
"I'm sure at some level I'm addicted to them," Miller said, remembering what it felt like to lower his dosage the first time. "I was a crazy man."
At those seminars, Miller has asked presenters over and over about what happens to people who have their pain pills taken away and become addicted to pills they buy off the street. He has yet to get a satisfactory answer.
In his own home, Miller has a stockpile of pills from the "old days" before his dosage was cut initially. 
"I've followed what I'm supposed to do all these years and even now when things are bad I haven't touched them," Miller said.
He equates the supply to a pack of cigarettes his wife kept around even though she's quit smoking. "It's not that she needed them," Miller said. "I keep them there to say they're there because I don't know. It's mental. I don't believe in taking them."
Miller's doctors did not return calls to discuss his situation. But Miller said they share his frustration.
"They're being told by the federal government this is what you're allowed to give patients," Miller said. "In a lot of respects, our rights, our doctor's rights are being taken away. The doctor needs to be able to decide what's best for that particular patient, not some people umpteen states away."
'Sick of hurting'
A few months ago, Miller and his wife had to put down a beloved horse late at night in the middle of a blizzard. It was a tragic situation that got him thinking about his own life.
"The animal is suffering. What do you do that's the right thing? You help take it out of its pain," Miller said. "That got me thinking about me. In this last year, I'm so sick of hurting so much I didn't want to be here. My wife worried about me. Life has become not much of a life anymore. I dread waking up because I don't just wake up. It's in pain. That's how I wake up, in pain every day. I have to because my body's screaming. I have to get the damn pill."
When people suffer, Miller said, they often go quiet, too defeated to do anything. He doesn't want to do that. "I'm not going to be silent."