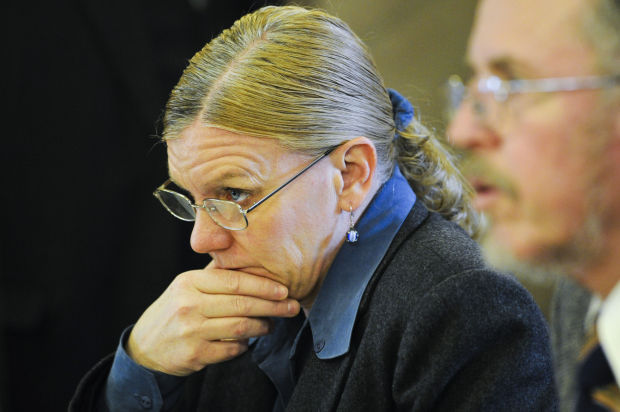 HELENA – Republican state Sen. Jennifer Fielder says she sees "a lot of hopelessness" in her northwestern Montana district – and that is why she's leading the charge in Montana to transfer management of most federal lands to the state.
Fielder represents rural, forested Sanders and Mineral counties, where logging and other work in the woods once provided a good living for many. But those days have waned, and Fielder believes it's largely because of federal land management policies.
"It was the pain that I see families experiencing as a result of bad public management," she said in an interview last week. "Poverty, and loneliness – people who have no family, because relatives have left to find work. …
"People just don't feel like there's anything that can be done to make it better. I can't subscribe to that attitude, that there is nothing we can do."
Fielder, elected in 2012, has become the leading figure in Montana for a regional movement to transfer national forests and some other federal public lands to the state for management.
She's pushing several bills at the 2015 Legislature on this issue, including one to create a legislative task force to study the issue directly, with $35,000 in state funds.
State management of these lands – some 25 million acres in Montana – would be free of restrictive federal policies and allow more logging and other activity that helps the local economy, Fielder and others say.
"The goal is better management, that improves access, environmental health and economic activity," she says. "The accountability (for the feds) is so far removed from the place that's impacted by the decisions."
While Fielder says the land transfer is only one idea, and that she's pursuing other proposals to improve federal land management, it's the transfer proposal that has stirred a hornet's nest of opposition.
Conservation groups, led by the Montana Wildlife Federation and Montana Wilderness Association, say it's an unrealistic, divisive approach that won't solve the problem. Late last week, the Montana Wood Products Association agreed, calling on Fielder to drop her campaign.
Even if Congress or a court might agree that Western states should manage federal forestlands – a long shot, critics say – the states can't afford the cost, and would end up selling some of the lands into private hands.
Critics of Fielder also say it's an approach that uses fear and resentment to blame federal policy for broader economic woes – and ignores collaborative efforts to foster more logging or better forest policy.
Fielder was a key figure in Sanders County meetings in 2012 that criticized national forest plans for the area, says Doug Ferrell of Trout Creek, a retired homebuilder who has been a board member for the Montana Wilderness Association.
"The general focus of these meetings and her approach is to talk about these horrific threats off in the future coming from the federal government, and if we don't get together and stop them, we're all going to be in trouble, and she's going to be in charge of keeping the feds at bay," he says. "It's all about fear. That's what she's selling."
Fielder, who has a degree from Western State Colorado University in recreational planning and has worked developing parks, trails and playgrounds, says she got involved in the forest-plan debate because she thought the Forest Service hadn't really involved the public.
She made presentations on the proposed plans in 2012 at several public meetings sponsored by the Sanders County Natural Resource Council, a local group that's accused the Forest Service of closing roads and shutting down activity to protect grizzly bear habitat.
Fielder and her husband, Paul, bought property near Thompson Falls in 2001 and moved to the area in 2007 from central Washington when he retired, Fielder says.
Former state Sen. Jim Elliott, a Democrat from Trout Creek, says the Fielders supported his unsuccessful campaign in 2008 for a local House seat. But the couple later started supporting Republicans, Elliott says.
Fielder says she didn't know much about either political party when she started getting involved, but decided after reading their respective platforms that the Republican Party reflected her views.
"When I read the two (platforms), I could see, without a doubt, that the Republican Party reflected the core American values that made this country great: life, liberty, the pursuit of happiness, personal responsibility …" she says. "The purpose for government is to defend our rights."
Fielder won a three-way race for an open state Senate seat in 2012, winning 56 percent of the vote.
She defeated Democrat Mark Sheets, a retired high school science teacher and a former city councilman in Thompson Falls, and a Libertarian candidate.
Sheets says in his campaign, he promoted working with the Forest Service, other agencies and groups to approve timber sales, making sure they were done right so they wouldn't be challenged in court.
"Her approach was pushing that you were going to be locked out of the forest, that you would lose access to the forest," he said. "She was very anti-federal on everything."
Fielder says environmental groups dominate the "so-called collaborative process," and that after a compromise is reached, "the environmentalists bring litigation for the other half of the cookie."
"The average person, the local people, don't stand a chance in the collaborative process," she says.
At the 2013 Legislature, Fielder sponsored a resolution that led to a study of federal land management in Montana. The resolution didn't mention transferring federal lands to state management, but Fielder sat on the panel and supported making it part of the discussion.
Fielder also won election as vice-chair of the state Republican Party in 2013, nominated by Sen. Debby Barrett of Dillon, who is now president of the Montana Senate.
Barrett says she was impressed by the job Fielder did as a freshman senator, working on the lands issue and representing her district.
"There's not economic benefit from the forest up there anymore," Barrett says. "It's a problem and she's searching for how to address that. … She has educated herself and she's educating other people on the issue of getting the stewardship of our lands taken care of, because they're just going to waste."
The state Republican Party endorsed the federal land transfer idea at its convention last summer, almost unanimously approving a resolution written by Fielder.
Fielder believes that when lawmakers, including Congress, examine the benefits of state management of public lands, they can't help but support it.
"I'm in this for my people," she says. "My constituents are people who want to work and can work, and who know how to do a good job in the woods. But we're locked out. The federal government has been locking up the land."