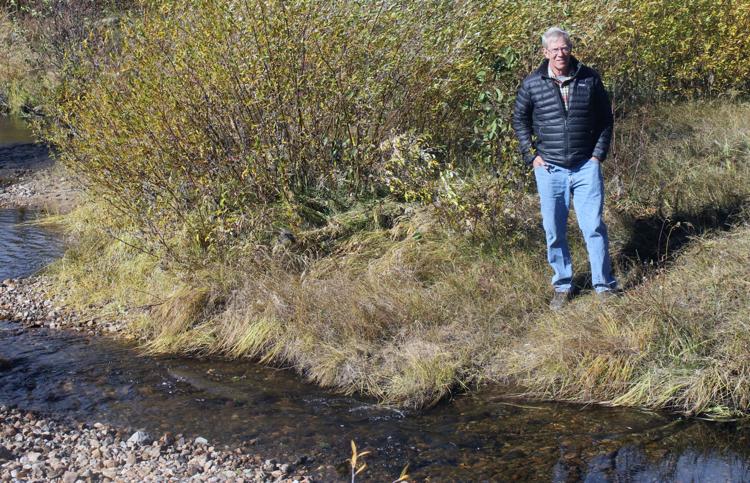 Fred Burr Creek looks pristine.
The clear water flowing down the gentle slope of a mountain 6 miles east of Philipsburg gurgles its way along, as meandering and sun-kissed as any blue-ribbon waterway in Montana.
Fred Burr Creek, part of the Clark Fork River watershed, contains a form of mercury, called methyl mercury, that is dangerous for people to consume. Methyl mercury moves up the food chain and resides in fish tissue. Fish, Wildlife and Parks has a fish consumption advisory for Fred Burr Creek. (See information box.)
Fred Burr Creek is not the only drainage causing a mercury problem in a valley heavy on charm and beauty, filled as it is with peaks and valleys covered in conifers and gently rolling farmland and the honey-aired quiet that blankets Montana's rural landscapes. (See information box.)
But Fred Burr Creek contributes nearly ten times more mercury to the Clark Fork River than any other tributary, according to a report compiled by a local group, Granite Headwaters.
Made up of ten board members, a technical advisory board of nine, and one part-time contract person, Granite Headwaters is trying to tackle the problem caused by an old silver stamp mill that operated more than 100 years ago. They have support from multiple partners, including Trout Unlimited, which is supplying $36,450 through in-kind support, and the Granite County Conservation District, which is acting as a fiscal sponsor and also providing some in-kind support. Granite Headwaters even has a sizable chunk of money — $500,000 — from a state agency.
But what the group, based out of Philipsburg, doesn't have is access to the old mill site itself, which Granite Headwaters and state officials say is the likely cause of the problem. The site sits on Town Pump co-owner Dan Kenneally's land.
Kenneally said the Environmental Protection Agency already took action years ago and he sees this new effort as unnecessary.
"EPA already cleaned it. It seems like a waste of time, effort, and money to regurgitate the whole thing," Kenneally told The Montana Standard last week.
Trout Unlimited project manager Rob Roberts, whose time TU is donating to the project, said EPA came in to clean up a water-quality problem in the early 2000s that stemmed from a developer digging up tailings on what is now Kenneally's land. EPA confirms this. But that work was not about cleaning up the Rumsey Mill site.
"The problem is some people in the community thought, because EPA signed off on this cleanup activity, that that was the Rumsey Mill cleanup. Now we know that's nowhere near the case," Roberts said.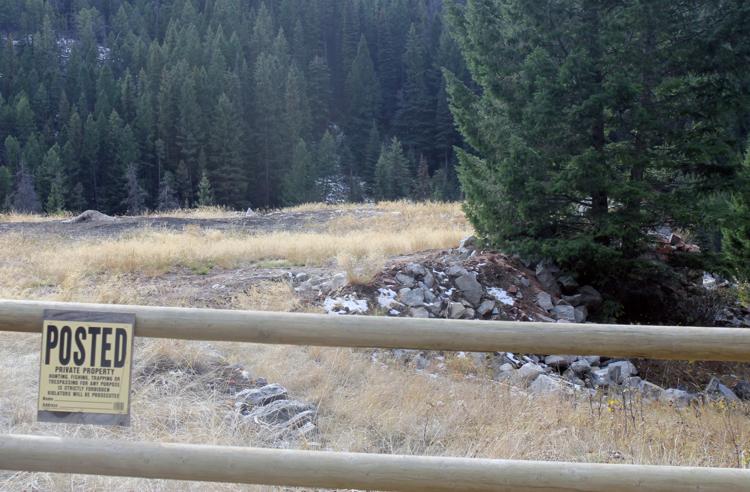 All that's left of the old mill site now is a round, somewhat barren area where some yellow grass patches mix with bald spots. Just below it, the soft tinkling of Fred Burr Creek slices the forested silence.
Between the road and the round, slightly denuded area are clearly posted 'No Trespassing' signs. The only thing remaining to indicate the empty spot's former life as a mill that processed silver ore is a large wall of rocks built like a skirt surrounding the drop-off leading to the creek.
Kenneally is not willing to give Granite Headwaters permission to take samples, much less potentially excavate and remove mill waste and mercury pools that might still be buried underneath the smooth round grass-patched surface.
Kenneally told the Standard that recent testing indicated "hot spots" were near the highway, not near his land.
But an EPA assessment, done in 1999, showed contamination of both the old mill site and the property around it. EPA did not order a cleanup of the former mill. Clark Fork Coalition science director John DeArment worries that there could be pools of liquid mercury buried at the site. When uncovered, that creates mercury vapor, which is also toxic.
Due to major flooding on Fred Burr Creek in 2016, Roberts said it is "entirely and certainly possible" that the mercury has moved around, but FWP water pollution biologist Trevor Selch said that sampling on bug larvae at the creek below Kenneally's property just before the 2016 flood showed the average mercury levels in the larvae were 77 times higher than what should be there. Because larvae are newborn, they don't move much, so the larvae represent what is present at that place in the stream.
What's the danger?
Selch says an angler can eat the fish in Fred Burr Creek but shouldn't eat too many.
Selch said a major concern would occur if an angler were consistently eating the fish out of Fred Burr Creek. But Dick Hoehne, who's lived in nearby Philipsburg his entire 62 years and fished in Fred Burr Creek when he was young, said, "There's lots better fishing spots around."
"It wouldn't be my first choice," he said.
Selch said swimming in the water is also not likely a concern. Hoehne remembers taking a dip in a popular swimming hole along Fred Burr Creek. Hoehne still sees signs of life — in the form of a diving platform and campfire debris — around the water pocket, indicating people still swim there.
"The mercury is an issue when it's methylated," Selch said. "The elemental mercury is in such low concentrations, you don't detect it in the water. But getting it through eating the fish, that's the greatest concern."
Selch said mink and osprey are the only two mammals likely to stick to that one vicinity and eat the fish and thus potentially be at risk. University of Montana professor Erick Greene spearheads research on osprey along the Clark Fork River through a program called The Montana Osprey Project.
Greene told The Missoulian in 2015 that toxin research indicated heavy metals in tested birds was "relatively low," except for mercury, which was "disturbingly high." Greene identified Flint Creek, which Fred Burr Creek drains into, as the primary source of the problem. Greene did not respond to the Standard's request for comment.
Hoehne believes there are people who fish in nearby Flint Creek. But Hoehne points to the fish advisory.
"The truth of the matter is, the fishing's fine. You want to be careful about how many you eat," he said.
Even so, Hoehne acknowledged that if he knew back when he was young what he knows now he "probably wouldn't have fished" Fred Burr Creek.
A big part of the problem is that the mercury in Fred Burr Creek is in turn contaminating both Flint Creek and the Clark Fork, which is critical habitat for endangered bull trout.
What's the group to do?
Federal and state agencies are usually the ones to step in to test for contamination, determine the extent of the problem, design a way to remedy the issue, and then excavate and remove the hazardous waste. It's a big job and frequently requires considerable amounts of money — usually millions — to get the job done.
For a group of volunteers — ordinary concerned citizens — to take this on themselves is "breaking new ground," Granite Headwaters board member Chuck Stokke said.
One of the things Granite Headwaters lacks is enforcement ability. But what the group does now have is a responsibility. They have accepted public money — the $500,000 came from the Montana Department of Natural Resources and Conservation — to sample the soil and water and to get Fred Burr Creek cleaned up. The DNRC already gave $50,000 previously as a planning grant for the cleanup.
The group has approval from the agencies — both EPA and DEQ are aware of Granite Headwaters' plans. And many locals who live along Fred Burr Creek downstream of the former mill site have granted access. The group has about 20 landowners — about 70 to 75 percent of the people who live along Fred Burr Creek downstream of the old mill site — on board with the sampling, Roberts said.
Landowner Jim Flynn, who lives just downstream of Kenneally, wants to see the mercury removed.
"It's the knowledge it's there," Flynn said. "It's the feeling of responsibility we're all in this together. If something needs to be addressed, it needs to be addressed."
Stokke and others involved in the project say Granite Headwaters is getting to work with or without Kenneally. So far, that means sampling soil and creek water downstream of Kenneally's property.
You have free articles remaining.
"We have enough (landowners on board) to capture what's going on there," Roberts said.
But the question of how to proceed once the testing is done is likely to prove to be a key point — Kenneally told the Standard he does not intend to grant access.
Roberts said there is no plan B.
"We're trying to develop that relationship (with Kenneally)," Roberts said.
Additional hurdle
The issue surrounding Kenneally's land is not the only potential problem Granite Headwaters faces. In addition to the $500,000 the DNRC is supplying the group, DEQ promised matching funds of $458,550 as well. Of that, $450,000 was expected to go toward actual on-the-ground work. The remaining $8,550 was expected to be in-kind money for personnel, travel, or other project expenses.
But DEQ spokesperson Karen Ogden said that due to the state's recent budget cuts, that $458,550 is in jeopardy.
The budget cuts were a response to a projected $227-million hole in the state's budget. Lower-than-projected state revenue and one of the worst fire seasons in Montana's history are to blame for the gap. Gov. Steve Bullock, a Democrat, reached a compromise with the Republican-dominated Legislature in mid-November to patch the problem. To fix at least a portion of the hole, Bullock shaved off $76 million from the state budget. That puts DEQ's matching funds in peril.
"The question of whether or not the budget cuts will affect the $458,550 in matching funds is a question of timing," Ogden said in a written statement. "That's something we won't be able to assess until the scope of the cleanup is understood. It will be dependent upon the budget situation at that time."
But Roberts, who is working on other mine reclamation projects in the Little Blackfoot for Trout Unlimited, is "not very worried we'll find the money through DEQ or a federal program."
"This is a very important project," Roberts said. "This is one of the major sources of mercury in the entire basin. I don't think DEQ will leave us hanging."
Where's EPA?
EPA got involved in the late 1990s because a developer digging ponds for a planned future subdivision uncovered mine waste — called tailings — which caused turbidity in the stream. The work was completed in 2006, according to EPA Denver-based spokesperson Rich Mylott.
EPA's work involved physically removing tailings near Fred Burr Creek to reduce the amount of contaminated soil entering the stream. EPA also stabilized the soil to reduce the amount of tailings that was eroding into the stream. Overall, about 60 cubic yards of soil were removed and about 12 acres of soil were treated and stabilized.
When asked why EPA didn't remove the mercury at the old mill site, Mylott said, in a written statement, "EPA response actions are intended to ensure quick action to target and address high-priority sources... The state's provision of resources for additional cleanup at the Rumsey Mill is based on recent information and investigations that EPA has assisted with and supported."
Roberts, who is experienced in mine site cleanup work, has a little bit of a different take on EPA's actions at Fred Burr Creek.
"This is one mine site among dozens in western Montana. There's simply not enough capacity to tackle them all, so EPA and myself have to make tough decisions and prioritize the sites. Sometimes it's pure economics. If we had all the money in the world, we'd be happy to go after all of them. Many times people are doing the best they can with limited resources," Roberts said.
Where's DEQ?
There are 3,866 abandoned hard rock mine sites across Montana. In addition, there are 3,137 abandoned coal mines in the Treasure State, according to DEQ.
DEQ Abandoned Mine Program supervisor Autumn Coleman echoed Roberts's comment about prioritization and the lack of money to address all the problems out there.
Coleman said DEQ's "known about the site since the '90s," but with only $3 million to $4 million each year to work with from the 1990s through 2012, the agency hadn't gotten to Fred Burr Creek. Then in 2012, the Surface Mine Control Reclamation Act shifted DEQ's priority away from hard rock abandoned mines and back to abandoned coal mines in the eastern side of the state. DEQ had been exclusively focused up until the 1990s on abandoned coal mine sites.
A law passed in 2015 which set aside funds from the metal mine tax for abandoned hard rock mine work will mean DEQ will have $600,000 to resume efforts on abandoned hard rock mining again starting in 2018. But when water's involved in a cleanup project, as it is with Fred Burr Creek, the costs can really go up, Coleman said.
There's another reason why Granite Headwaters is taking the front seat and DEQ the back seat on the Fred Burr Creek cleanup. Granite Headwaters board president Jim Dinsmore says DEQ's nearby work on the Black Pine Mine site raised ire in the community.
Dinsmore said that the way DEQ left the Black Pine Mine site, "it looked like a bomb went off."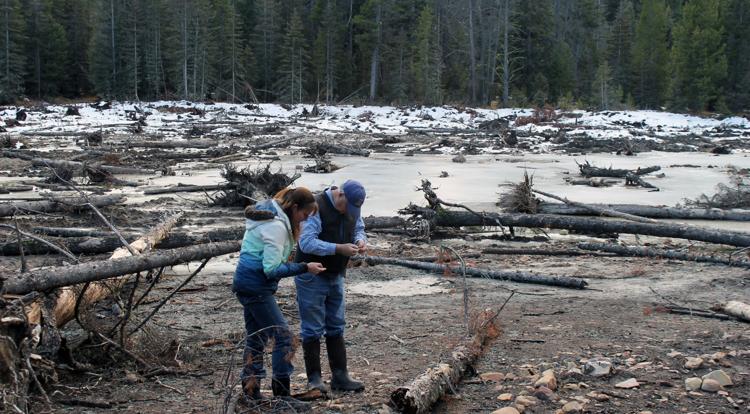 Black Pine Mine cleanup
Located just 15 miles west of Fred Burr Creek, the Black Pine Mine was another old silver mine and mill site. Thanks to a $17.5-million bankruptcy settlement with Asarco in 2009, DEQ excavated 400,000 cubic yards of metal-contaminated waste across 50 disturbed acres, which included both Mill Creek; Flint Creek; and, predominantly, South Fork Lower Willow Creek.
DEQ found elevated levels of mercury, lead, arsenic, cadmium, antimony, and manganese at the historic site.
Selch previously told the Standard the old mine was the cause of the highest mercury concentrations in fish in the state. South Fork Lower Willow Creek also has a fish advisory on it. That cleanup job is mostly done.
But what left Dinsmore and others upset was the way DEQ left behind what looks like a wasteland of felled trees, placed willy nilly everywhere over the land DEQ dug up to get the waste out of there.
"This wood will be here 75 years from now," Dinsmore said.
U.S. Forest Service project manager Sonny Thornborrow said the Forest Service, which owns some of the land where DEQ did the work, agrees, saying "the trees will be there for many years."
"Decades is probably correct," Thornborrow said.
But the Forest Service does not have a concern with that and said leaving the felled trees was "an economic decision."
The cost could come to as much as $10,000 per acre for tree removal, Thornborrow said. There weren't enough trees to make a timber sale, and DEQ would have had to pay to bring in erosion control products. So leaving the trees was deemed by all the decision-makers as the right thing to do.
DEQ says there are restoration benefits to leaving the trees, but Dillon-based plant ecologist Richard Prodgers calls the tree debris "more fad than science." He predicts the area will become a haven for weeds. He also thinks ungulates, such as deer and elk, won't travel through that area because they could not flee easily. But there's also another problem Prodgers points out.
"It was a very tidy landscape, very clean and tidy, and that's the local people's idea of what good stewardship is," Prodgers said.
Several people The Montana Standard spoke with for the purpose of this story expressed concern that Kenneally won't budge on allowing Granite Headwaters onto his land because he saw the tree debris at the Black Pine site.
Kenneally confirmed that theory.
"One of my concerns is the way Black Pine was left," Kenneally said.