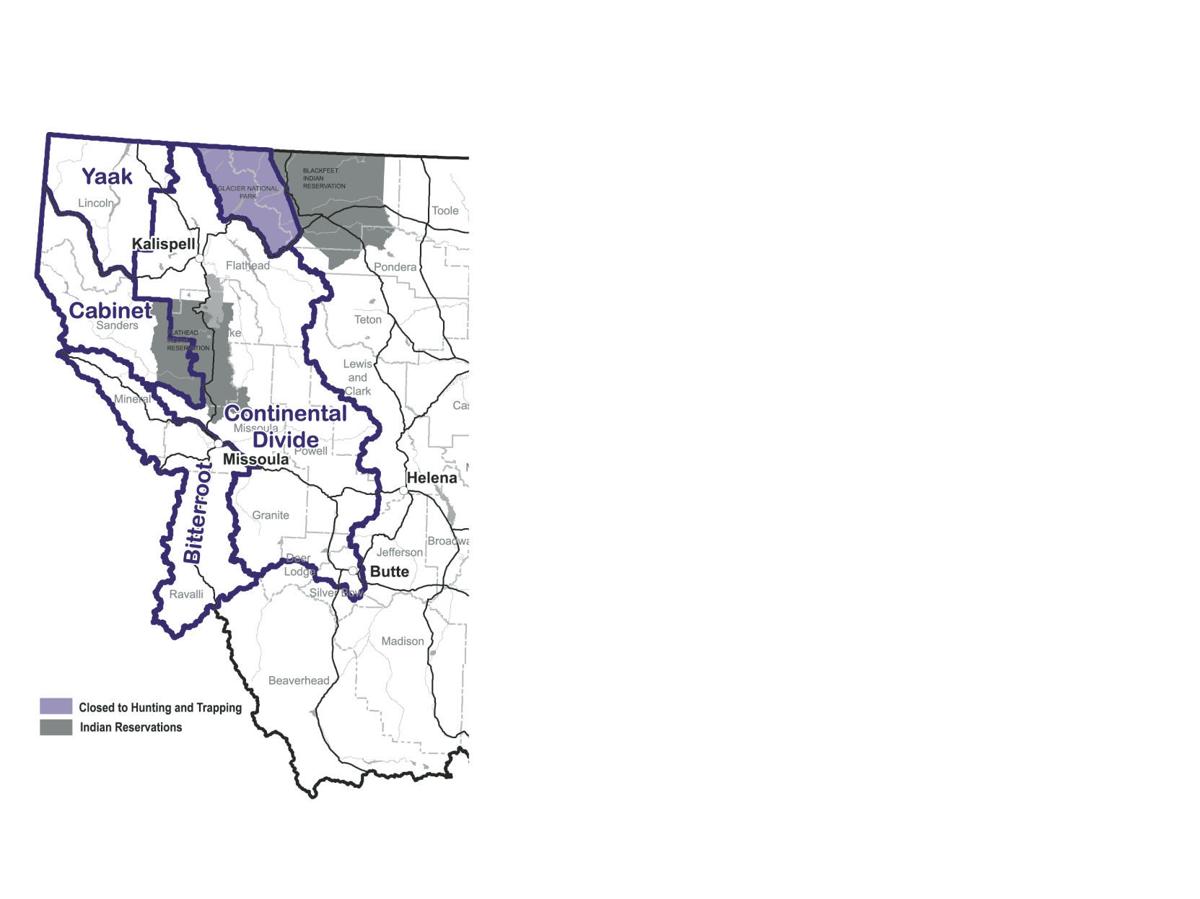 HELENA – New management units for fishers highlighted the Montana Fish and Wildlife Commission's adoption of trapping regulations for the coming season.
The commission approved Montana Fish, Wildlife and Parks' revised proposal to create four management units for fishers, a medium sized weasel with both native and introduced populations in western Montana. The regulations allow for harvest of five fishers with a one-female sub quota in the Bitterroot, one fisher in the Cabinet, and no fishers in the Continental Divide or Yaak units.
Fisher management has been a growing source of controversy, with a call by some groups to end trapping of the species, while FWP and other groups support a small quota and cite habitat rather than harvest as the main factor limiting population expansion.
The U.S. Fish and Wildlife Service is currently conducting a one-year status review of fishers to determine if they warrant protections under the Endangered Species Act.
Wednesday's vote came after a May meeting in which the commission rejected the department's recommendation of maintaining regional fisher quotas totaling seven animals, instead proposing a quota of zero.
Most public comment FWP received expressed a general opposition to trapping, while comments on the zero quota was nearly evenly split for and against, said game management bureau chief John Vore.
Wednesday's adopted regulations drew praise from several commenters and commissioners but left groups such as Defenders of Wildlife and Trap Free Montana Public Lands wanting more restrictions.
While commending FWP for taking positive steps in fisher conservation, including recommended trap modifications, Kylie Paul, Rockies and Plains representative for Defenders of Wildlife, reiterated her organization's concern that too little is known about fishers to continue harvesting them. Basing regulations on a small sample size from harvest data is also not statistically defensible, she said.
"In other words, the agency doesn't seem to have the science to justify the quota," Paul testified.
KC York with Trap Free Montana Public Lands urged the commission to reconsider allowing trapping, calling it "premature" to consider management units before FWP develops a management plan.
The agency plans to begin writing a management plan next year.
The proposal saw support from several commenters.
Kalispell-area trapper Don Bothwell characterized fishers as a "holy grail" species that requires serious effort to harvest. The new management units represent a melding of tradition, opportunity and science, he said.
Tim McKenrick of Boulder called the new regulations "very reasonable" and providing important biological data to FWP.
The Montana Trappers Association also threw its support behind the plan, with president Toby Walrath saying that the proposal makes sense and that his organization looks forward to engaging the state on a fisher management plan.
In a separate agenda item, the commission adopted quota changes as well as implemented mandatory trap setbacks from trails, roads and trailheads for predator and nongame animals such as coyotes, foxes and skunks. Setbacks were already in place for furbearers and wolves.
More regulations, including mandatory trapper education and trap check requirements, may also be in Montana's future. Both Walrath and FWP officials said specific requirements will be discussed for next year's regulations, but both seemed to have support.
FWP furbearer coordinator Bob Inman testified that carnivore and furbearer management is about balancing needed information for management with a limited budget. The department considers harvest data from trapping important in determining quotas and managing several species, he said.
Interestingly, discussion of a recently approved ballot initiative to ban most public land trapping in Montana generated little discussion.
Commission Chairman Dan Vermillion of Livingston was the only person to mention I-177 in recommending that FWP make efforts to educate the public about trapping's role in wildlife management.