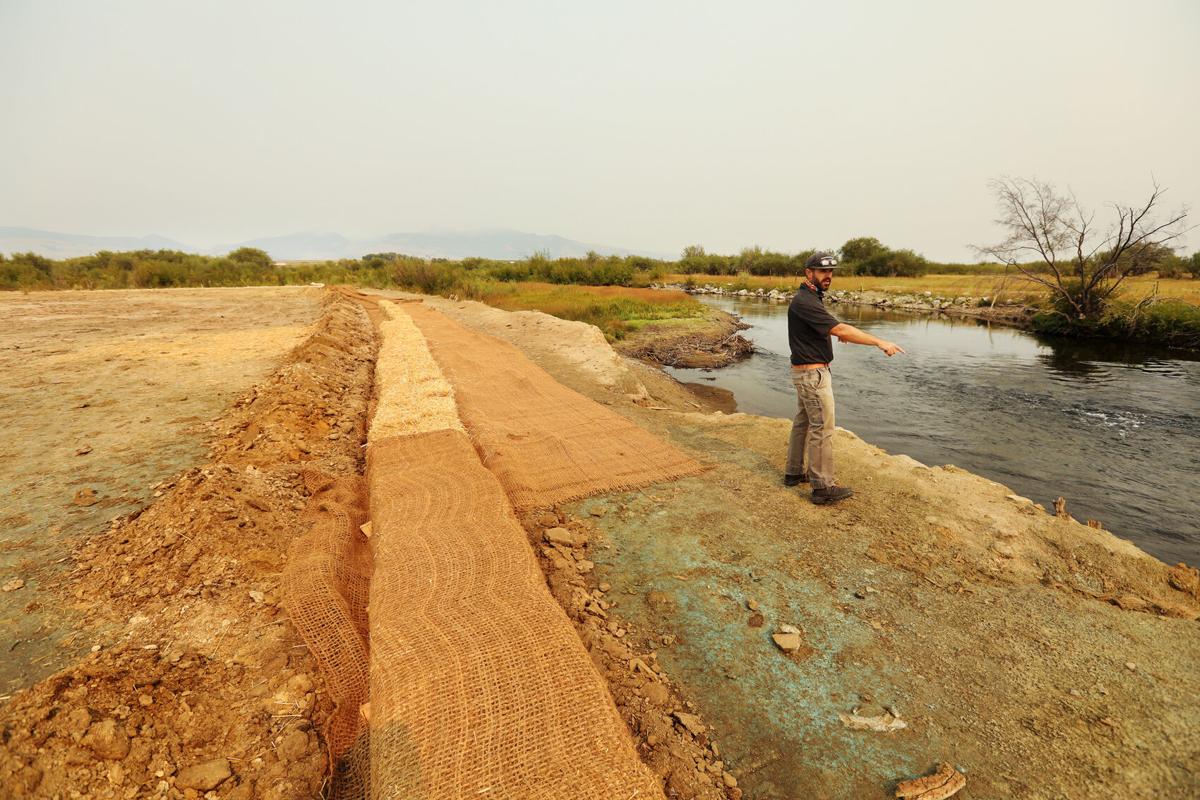 The upper Clark Fork River cleanup enters a new phase this spring with remediation of a section between Warm Springs and Galen known as Phase 3.
As the Montana Department of Environmental Quality and Montana National Resource Damage Program prepare to start construction mid-May, Montana Fish Wildlife & Parks biologists are dealing with a question central to the economic value and health of the river — why has the brown trout population reached all-time lows in the last several years?
There is widespread concern that loss of sheltered banks from remediation is a factor.
"Basically what we're seeing is that brown trout numbers are down throughout the entire river in both remediated and unmediated sections," FWP fish biologist Nathan Cook said Wednesday during a Zoom presentation of the panelists in charge of the cleanup.
"I think the removal of undercut banks and other cover habitat has to affect brown trout on some level. We know that brown trout use that kind of holding cover," he added.
The upper reaches of the Clark Fork were essentially void of fish until efforts to remove contaminants from Warm Springs Creek changed that in the 1950s, Cook said.
Since then, there were peaks through the whole section from the late 1970s to mid-1980s. Trout numbers have been way down since 2013 for the entire upper river, and most dramatically in the upper reaches where fish population has historically been the highest.
Removal of contaminants in stream banks and surrounding areas has been underway, one section at a time, since 2012.
FWP's "bread-and-butter" survey method — electroshocking fish over 10 inches to the surface — has revealed 2020 population estimates well below the 2008-2020 average at all seven sections targeted throughout Rock Creek and Warm Springs Creek.
The section with the very highest historic trout population, targeted at the PH Shack where Warm Springs Creek enters the Clark Fork, was hit especially hard. At peak in the mid-1980s there were over 2,600 fish per mile in the section. By 2009, numbers had declined to 185 fish per mile, rose again to 1,800 in 2013, but have dropped below 200 fish since 2018.
The number hit an all-time low of 82 in 2019.
Two sections adjacent to the Grant Kohrs Ranch National Historic Site just north of Deer Lodge were completed in January. A whopping 326,000 cubic yards of contaminated soil was removed from the area over two years.
The main goal of the project is to get the toxic metals released from historic mining out of the flood plain and river banks, human health being the top priority.
For a while, low stream flows were considered a major factor in trout survival, but Cook said recent research has suggested that is not the cause of the decline. There was good flow in 2018, and the population continued to decline anyway.
Joel Chavez, project officer for the DEQ, weighed the fish question during Wednesday's discussion.
"We don't know why the fish numbers are going down. It's certainly not contamination from construction — I do know that— but I suspect that it is that we have to remove the banks as part of the remedy. That's the deal. And if they're nice undercut banks that brown trout like, they go away. They have to be replaced. Part of the remedy is those banks are contaminated and they need to be removed … so it's a short-term loss for a long-term gain," Chavez said.
Nonetheless, adjustments in streambank construction are being made to address the trout problem going forward, the panelists said.
"For Phase 3, we really looked for opportunities to go to streambanks that DEQ and NRDP both really like and add in some of that complexity. Are they as good as a really well defined undercut bank? Maybe not. But at least it's not some homogeneous, smooth-faced double vegetated soil left," said Beau Downing, restoration coordinator for the NRDP.
The new streambanks will attempt to lift and position brush over the edges of the creek in the shorter term, which has not been the case in past efforts.
In Phase 3, surveys estimated just 31 fish per mile in 2019, and 41 in 2020.
"So with cleanup starting there in May... I'm really interested to see how that trout population is going to respond there," Cook said.
In 2020, trout averages were down by more than half of recent levels for the entire upper reach between Warm Springs and Garrison, both for sections that have been remediated and those that haven't. A greater percentage decrease occurred in the remediated sections.
By bolstering the targeted sampling, Cook said his team hopes to figure out just how the bank cover affects the population.
"Whether that means fish just move out of those reaches or those fish just die and disappear, that's the question to me. And that's why we sort of set up the sampling scheme to try to tease that apart," he said.
Both Downing and Chavez said that the new style of banks still need to be able to serve their main structural function, and that cost is always a factor.
"There's always this balancing act, risk-reward, constructability, material availability. There's so many things that go into being able to build a streambank, and we certainly are working to try and mitigate for some of those near-term impacts. But it's important not to lose sight of the long-term goal, which is not to kill fish with metals," Downing said.
"We're trying to put back some things immediately to try to replace that habitat faster … Overall, it costs money to do this, it's a tight resource, and we're just trying to do the best we can with allocating those funds," Chavez added.
The funding for remediation of the 120-mile section of the river was secured through lawsuits and Superfund agreements from Atlantic Richfield, the owner of mining operations in Butte and Anaconda. The massive flood of 1908 spread mining tailings the length of the upper river, all the way to Milltown.
Funding has been an issue throughout the cleanup process, resulting in the DEQ's pause in construction for two years from 2016-2018.
The Clark Fork Coalition non-profit has advocated for the cleanup since 1985 and has supported numerous projects during the cleanup process. In addition to cleanup at the Clark Fork's edge, federal parties and the non-profit have long been underway on the remediation and restoration of its tributaries.