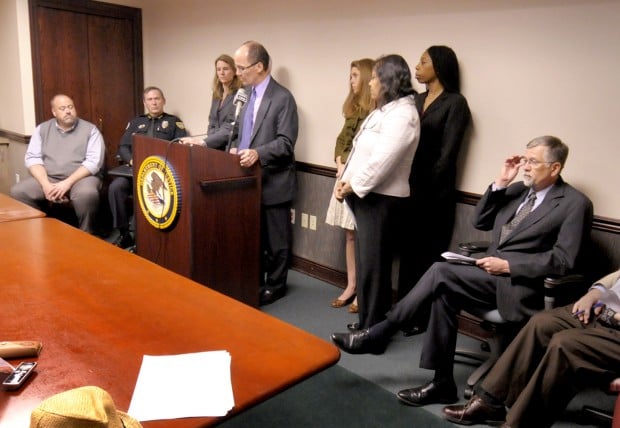 Four University of Montana football players were among five men who allegedly gang-raped a student, according to an email from UM Dean of Students Charles Couture.
That information came in Couture's reply to an email from UM Vice President Jim Foley questioning the use of the term "gang rape" in the Missoulian's coverage of alleged sexual assaults at the university.
"Jim, I used that term when I accused the four football players of rape, in addition to one accomplice, because that is what it was," Couture wrote in March.
The Missoulian obtained the email and others as part of a Freedom of Information Act request filed jointly with the Wall Street Journal.
The university and campus police, along with the Missoula Police Department and the Missoula County Attorney's Office, are being investigated by the U.S. Department of Justice for how they handle sexual assault allegations.
For months, UM has refused to comment on allegations, including a police report, that football players were involved in alleged gang assaults.
But in January, UM President Royce Engstrom wrote in a draft of planned public remarks that then-Grizzlies football coach Robin Pflugrad had disciplined some football players accused of raping a woman, but did not report the incident to his supervisors.
That draft was included in the emails obtained by the Missoulian. Neither Couture's nor Engstrom's emails listed the date of, or any further information about, the assaults.
The Missoulian received the emails late Thursday afternoon. Engstrom is vacationing in Australia this week and could not be reached for comment. Foley was off work on Friday and his voicemail box was full. He did not respond to a text message, or to emails to his work or home accounts. Couture retired after the spring semester.
Engstrom sent his proposed remarks for the sexual assault forum to several people at the university for review. Then-athletic director Jim O'Day emailed back a copy with suggested changes.
"I don't think we need to give more information than is already public and confirmed. ..." O'Day advised Engstrom. "Those things may come out in Diane's report, but that is what we have hired her to do – and she should speak on it. If we say everything, many taxpayers will think we have wasted a lot of money on the report."
O'Day suggested Engstrom eliminate any reference to student-athletes from his remarks.
Engstrom originally wrote that "as of today, we are not in a position to identify specific individuals as perpetrators, but when we do we will take every action available to us through the Student Conduct Code and, if applicable, the Student-Athlete conduct code."
O'Day ran a red line through that section, adding, "My thoughts: By saying 'when we do,' we are almost saying we know who they are. ... And we will prove it. I would also not get specific about student athletes until we know for sure who these people are. ... Right now, they are students first."
"Coach Pflugrad (word missing) that an incident occurred and allegedly involved some football players. Coach Pflugrad did discipline players at the time, but did not report the incident to his supervisor. This is the 'gap' in reporting pointed out by our investigator, Diane Barz."
The university hired Barz, a former Montana Supreme Court justice, in mid-December to conduct an independent review of sexual assaults at UM after two students reported being assaulted, possibly after being drugged, by several male students in separate incidents.
Barz's review grew to include nine alleged assaults, including one reported to police in December 2010, when a woman said four UM football players forcibly had sex with her, possibly after spiking her drink. At some point, police informed Pflugrad there was not enough evidence to pursue charges.
"There is evidence that there has been a sexual assault that has not been appropriately reported and investigated," Barz wrote in a preliminary report in January.
Engstrom fired Pflugrad and O'Day in March, essentially without explanation.
A little more than two weeks after Barz filed her final report in February, a UM student told Couture a Saudi student had raped her. Couture cited Student Conduct Code regulations in notifying the man about the accusation. The alleged assailant fled the country before the woman could file a report with Missoula police. (See related story.)
Only one person, Grizzlies running back Beau Donaldson, has been charged in connection with any of the alleged sexual assaults at UM. Donaldson faces a single count of sexual intercourse without consent in connection with an alleged September 2010 assault on an acquaintance.
In March, a woman reported to Missoula police that Grizzlies quarterback Jordan Johnson raped her in early February. Johnson was briefly suspended from practice after Missoula Municipal Court awarded the woman a temporary restraining order against him. But he resumed spring drills after that was replaced with a civil no-contact order.
Police forwarded the results of their investigation into that case to the Missoula County Attorney's Office last week. The County Attorney's Office hasn't yet decided whether to file charges against Johnson.