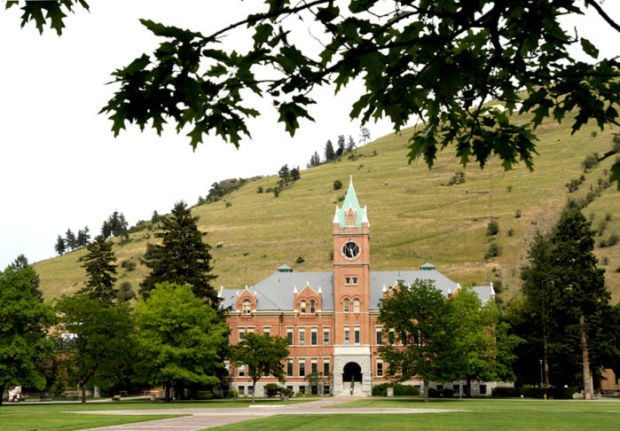 The University of Montana Veteran Education Transition Services Office will team up with Missoula College and TRiO to host a dinner event designed to inform veterans who are not currently attending college and their family members about the opportunities available at Missoula College.
The event is scheduled to begin at 6 p.m. Monday at the Missoula College East Campus, located at 909 South Ave. W. The event is free and open to the public and includes dinner and dessert. No RSVP is required.
Admission counselors, program representatives and current veteran students will be available to answer participants' questions. Daryl Lee, VETS Office program coordinator and a retired U.S. Marine, also will present on the status of prior learning assessments, or the ability for veterans to gain college credit for prior learning they've completed during active duty.
In other news from the University of Montana:
Mass spectrometry is a technique used to identify the chemical makeup of a given sample, and researcher Robert Smith just earned funding that may improve the process.
Smith, a UM computer science assistant professor, was awarded a CAREER grant from the National Science Foundation. He will receive $742,000 during the next five years.
CAREER grants are the most prestigious award for junior faculty, and this is the third one presented to a UM researcher this year.
"I am very excited for this award," Smith said. "It provides the resources for the next phase of our research, which presents the possibility of dramatically advancing the field of mass spectrometry."
Mass spectrometry has a broad range of applications of societal interest, including in medicine, forensics and basic biological sciences. Smith said his research develops new analysis techniques that allow mass spectrometry data to be used in ways that are not currently possible. This may lead to advances in fields like medical diagnostics, drug development and better research into poorly understood ailments involving proteins, such as Alzheimer's disease.
He said mass spectrometry plays a role in many investigations because it can quantify and identify the major components – such as proteins, lipids, metabolites – of almost any cellular system.
His research develops a fundamentally different approach to mass spectrometry output signal analysis by:
Creating a different paradigm for mass spectrometry signal processing that segments the entire output file instead of extracting subregions of interest.
Showing that current methods are insufficient through a quantitative evaluation.
Enabling future research by capturing currently excluded low-abundance molecules.
Demonstrating how this new paradigm broadens future experimental possibilities with a novel correspondence approach built on the additional information provided by the proposed segmentation techniques.
Smith said a significant part of his plan involves outreach to Seeley-Swan High School, where researchers and teachers will team up to teach students problem-solving skills using computers in subjects such as chemistry, math and biology.
You have free articles remaining.
In 2003, the School of Business Administration created its first privately funded professorship thanks to a gift from Carol Jean Byrnes in honor of her late husband, Donald. Now, a second act of generosity ensures the Donald and Carol Jean Byrnes Professorship in Finance will continue for generations to come.
With a posthumous gift of $1 million, made through the Community Foundation of Tampa Bay, Carol Jean Byrnes has created an endowment for the professorship. That means the donation will be invested, and the proceeds will support the position in perpetuity.
"This gift will ensure the University of Montana School of Business Administration carries on a strong tradition of building financial literacy among our students and contributing to the broader field of study," said Business School Dean Larry Gianchetta.
There have been two Byrnes Professors at SoBA since 2003: Joseph Vinso, who served from 2003 to 2007, and Keith Jakob, who joined the UM faculty in 2000 and has served as Byrnes Professor since 2007.
With private support, the Byrnes Professor can more easily pursue research and maintain a record of publication in top journals. Not only does this scholarly work benefit the field in general, it also translates to superior teaching. Jakob has taught courses at UM in corporate finance and investments, as well as financial statement analysis. He has published papers in the world's elite finance journals, including Journal of Financial Economics, Financial Management and the Journal of Financial Research.
The Byrnes family's donations also support the Byrnes Accounting and Finance Research Seminar, which showcases internationally renowned experts and helps students deepen their knowledge and understanding of the field. Since 2003, SoBA has hosted 62 lectures on topics such as financial audits, wealth management and accounting ethics.
Carol Jean and Donald both are from Glendive and met during high school. After serving as a Navy seaman in World War II, Donald earned a bachelor's degree in accounting from UM in 1949. Upon his graduation, the couple spent time in cities around the country before settling in Tampa, Florida, where Donald rose to chief executive of the Spalding and Evenflo Companies before retiring as president and chief executive of Pueblo Xtra International.
Despite the distance and a busy schedule managing multinational companies, Donald always found time to return to Missoula. His business acumen made him an oft-invited lecturer at UM's business school, but it was his willingness to share his personal experiences and interact with students that made him a class favorite. He also served on the UM Foundation board of trustees, and was vice chairman when he passed away in 1995.
Although Carol never attended college, she supported UM because of the special place it held in Donald's heart. Her first gift established a merit-based scholarship for business undergraduate and graduate students from Montana. Since it was inaugurated in 1997, the fund has helped more than 25 students attend UM. She expanded her support in 2003 by establishing the Byrnes Professorship, and now her and Donald's legacy will live on at UM forever thanks to her final act of generosity.
Researchers in the College of Forestry and Conservation recently earned more than $1 million in funding from the Joint Fire Science Program through four separate awards involving faculty from all three departments in the college.
Forest ecology associate professor Andrew Larson is principal investigator of a project to look at how wildfires shape vegetation and fuels in the forests of north-central Washington. His project proposal titled "Landscape Evaluations and Prescriptions for Post-Fire Landscapes" was awarded $384,000. Larson says he and co-investigators will "develop an integrated framework for assessing post-fire landscapes that helps managers identify how and where fires achieved management objectives, or not."
Fire ecology associate professor Philip Higuera is the principal investigator of two projects: one awarded $355,000 to examine how climate variability impacts tree regeneration in low-elevation forests in the Northern Rockies and the other awarded $290,000 to study the ecological and social impacts of wildfires.
Forest landscape ecology associate professor Solomon Dobrowski, UM postdoctoral scientist Kim Taylor and UM alumnus Sean Parks, now a research ecologist with the U.S. Forest Service Rocky Mountain Research Station, are co-principal investigators on Higuera's first project titled "Climate Variability and Post-Fire Forest Regeneration in the Northern Rockies."
Higuera and co-investigators will use tree rings to examine at how ponderosa pine and Douglas fir regenerated after past fires. They will create a model that can help managers predict when and where those trees will re-populate burned forests in the future.
UM research associate professor Alex Metcalf and recreation management and human dimensions of natural resources associate professor Libby Metcalf are co-principal investigators on Higuera's second project, "Identifying Ecological and Social Resilience in Fire-Prone Landscapes," and will investigate communities in the Northern Rockies and Pacific Northwest that have been impacted by large fires to see how they adapt to their post-fire landscape. Additional collaborators include Carol Miller from the USFS Rocky Mountain Research Station and Dave McWethy from Montana State University.
Additionally, Larson is co-principal investigator on a $278,000 award with University of Washington research associate Van Kane and principal investigator Utah State University associate professor James Lutz to research tree mortality after wildfire. Trees growing in crowded, high-stress environments are known to have higher probability of mortality, but current models of fire-caused tree mortality do not include local crowding.
The Joint Fire Science Program is a federally funded program that funds scientific research on wildland fire.