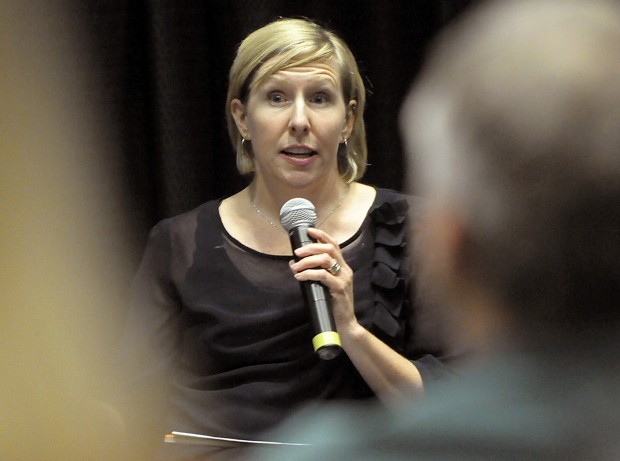 The University of Montana is well known for its forestry program, its creative writing program, and its winning athletic teams. It's not as widely known for its research, and school officials want to change that.
UM on Thursday launched the first in a series of panel discussions among researchers intended to inform the public on the many scientific pursuits taking place on campus.
The opening discussion, held at the University Center Theater, focused on mind and body research – including elaborate studies on brain function – and developing new technologies used for monitoring humans, animals and the global environment.
John Gerdes, a professor in biomedical and pharmaceutical sciences, discussed his own research on neurotransmission and how it relates to Alzheimer's disease, traumatic brain injury, amyotrophic lateral sclerosis, or ALS, and depression.
"By being able to map different brain circuits and circuitry down into the spine, it can significantly aid clinical diagnosis," said Gerdes. "If you have patients coming in, you may want to look beyond the clinical manifestations and evaluate, non-invasively, more quantitative aspects so diagnosis can become more accurate."
UM President Royce Engstrom said research and creative scholarships at the university – which is one of 50 flagship institutions across the nation looked upon for its research – serves as a fundamental function of discovery.
Research drives quality of life, Engstrom said, and it will play a growing role at UM as the school evolves to meet the challenges of the global century.
"We've made the decision in our new strategic plan that discovery and creative scholarship will be among our key focuses," he said. "We want to increase the impact of what we do as a university in the area of research and creative scholarship."
To accomplish that, Engstrom said, the university must increase the amount of research it conducts and consider how that research applies to solving today's challenges.
In the inaugural session intended to highlight UM's research activity, professors from a wide field of study shared their work with a crowd of roughly 75 people.
The research includes that by assistant professor Catherine Off, who's applying the principles of neuroplasticity to speech therapy to assist stroke victims, and that by assistant professor Erica Woodahl, who's looking at pharmacogenomics in Native American populations, or, in simpler terms, how different genes react to different drugs.
Professor Tom Seekins discussed his own work on finding solutions to the problems encountered by people with disabilities, and assistant professor Matt Bundle discussed his work researching human locomotion and how it's influenced by certain head injuries.
"If you suffer a blow to the head, our movements and ability to control our posture become impaired," said Bundle. "We're trying to inject some measures into the concussion work space. Instead of focusing on the cognitive deficits that follow a blow to the head, we're trying to focus on the motor sides of things."