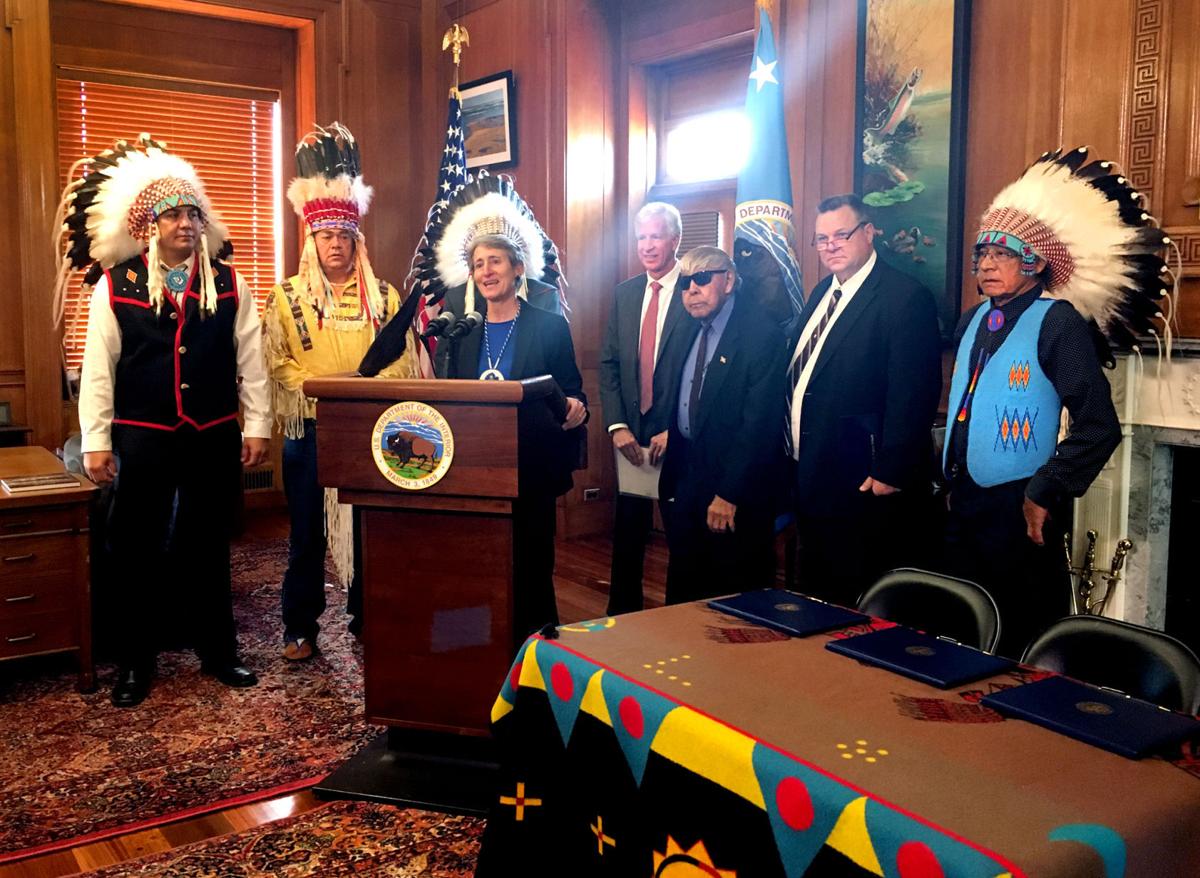 Surrounded by Blackfeet leaders in ceremonial headdress, Interior Secretary Sally Jewell signed papers canceling 15 energy exploration leases in the Badger-Two Medicine area on Wednesday morning.
Leaseholder David Hager, president of Devon Energy, joined the ceremony in Washington, D.C., noting his company was voluntarily surrendering the opportunity to drill on 32,000 acres in a landscape the Blackfeet consider sacred to their people. The 130,000-acre area is surrounded by the Blackfeet Reservation, Glacier National Park and the Bob Marshall Wilderness Complex.
"Today we cancel 15 leases that were let in the early 1980s, in an area that never should have been opened for oil and gas leasing," Jewell said. "We didn't follow procedures we should have followed, and there are painful lessons that land managers have learned about the way we lease for natural gas.
"It's important to know the highest and best use of these landscapes,'' she said. "That's why there is a consultation process (with Indian tribes)."
Blackfeet elder Earl Old Person sang a blessing for the ceremony, and Tribal Chairman Harry Barnes thanked the government and Devon for working together to resolve the matter. He also called out tribal historic preservation officer John Murray, who developed scientific evidence to back up the tribe's oral traditions about the Badger-Two Medicine's significance. Murray's work helped get the area federally designated as a Traditional Cultural District.
"This directive today is a movement toward putting trust back into our trust responsibility," Barnes said. "The entire Blackfeet nation should hold their heads up high today."
You have free articles remaining.
Energy exploration on the Badger-Two Medicine became a uniting issue for the Blackfeet community when another leaseholder, Solenex LLC, announced plans to exercise its option to drill on 6,200 acres of the area four years ago. The tribal government teamed with conservation groups to argue the leases were illegal when they were released in the 1980s, because they lacked proper consultation with the tribes and complete environmental analyses.
Solenex sued in federal court to force the U.S. Forest Service to give it a permit for drilling. But in March, the agency concluded that the leases were improperly granted and recommended that they be canceled. The Interior Department agreed, but that matter is still in court.
Devon Energy acquired its 15 leases through a merger with another company, but has never acted to explore or develop them. Hager said the company had recently shifted its focus from worldwide energy development to North America after it led the revolution in horizontal hydraulic fracking for natural gas. But it concluded the Badger-Two Medicine didn't need to be part of that activity.
"We recognize there are times and places where the right thing is to take a step away," Hager said. "We appreciate how important this is to the Blackfeet people."
Cancellation of the leases entitles Devon to a refund of all rents and bonus bids paid, which total about $200,000, according to Department of Interior records.
"There are plenty of places where we can drill and dig in this country, but the Badger-Two Medicine is not one of those places," said U.S. Sen. Jon Tester, D-Montana, who attended the ceremony in Washington.
"This is one of the most pristine landscapes in the world,'' Tester said. "This decision really helps bring this area to a point where my kids and grandkids can enjoy it the way it is. And it wouldn't have been possible without the Blackfeet Tribe, Chairman Barnes and Chief Old Person."
Two oil and gas leases remain in the area. Barnes and Jewell said efforts will continue to resolve those leases as well.