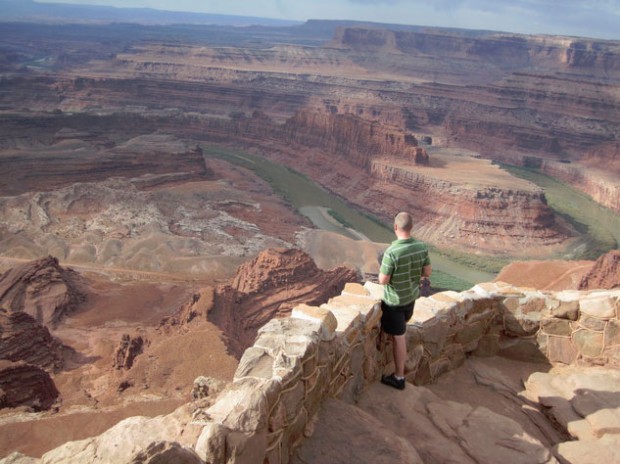 Utah's state parks appeal to and are visited by people from around the world each year, but serving residents of the state and the local communities is vital in their overall success.
Managers and employees at some of the 43 units of Utah State Parks are exploring a new venue for connecting with both groups: social media.
Utah State Parks has long had a Facebook page, but it was limited to one "super" page that represented all of the parks and was managed out of the Salt Lake City office.
At a meeting in November some state parks staffers said they wanted to create Facebook pages for each park and be in charge of content.
One of the mandates pushed by Utah State Parks Director Fred Hayes since he was named to the position a year ago was giving parks more control of their own destiny. Because the requests seem to fit that mandate, permission was given and 16 parks have created Facebook pages. One, Snow Canyon State Park, is allowing a friends of the park group to manage a page. Even the Off-Highway Vehicle Program of Utah State Parks created a page.
"One of my initiatives as director is to give more local control to the parks. Social media is one inexpensive marketing tool managers can use to grow their parks locally," Hayes said.
Some parks, such as Antelope Island, Dead Horse Point and Wasatch Mountain, dove into the social media world while others are dipping their toes in slowly to see how the water feels.
"Facebook pages are totally voluntary. We want park staff to see this as an opportunity to promote their parks, programs, and events," said Hollie Brown, who recently took on the title of digital media coordinator for Utah State Parks. "The social media concept is new for a lot of our park managers, but we are excited about the opportunities."
Crystal Carpenter is the assistant manager at Dead Horse Point State Park near Moab. She came up with a themed schedule for posting on Facebook to provide information about programs, special events and the park's unique features and wildlife.
She is getting a response on those posts, but says sunrise and sunset shots are really what people want to see.
"People really enjoy seeing seasonal photos," Carpenter said. "They want to see what it looks like at times of the year when they haven't been here."
Carpenter is impressed with the response of the Facebook page so far, but feels it may draw even more interest during peak season at the park. The Antelope Island State Park page currently has the most "likes" with more than 1,000. State park officials hope to see numbers grow as people realize the parks have created their own pages.
Carpenter has tracked visitors to the page from France, Germany, Italy, the Netherlands, Turkey and Toledo, Ohio. There is also, as expected, a strong following from closer locales such as Salt Lake City, Moab and Grand Junction, Colo.
"We don't typically get a lot of visitors from Moab," Carpenter said. "This gives us a chance to connect with locals and let them know about activities and programs they can enjoy at the park."
Facebook is not the only form of social media being used by some parks. Antelope Island (@AntelopeSP), Jordanelle (@JordanelleSP) and Wasatch Mountain (@Wasatch Mountain) state parks are using Twitter. There is also a Twitter handle for @UtahStateParks.
Utah State Parks officials have also made an effort to reach out to the public through a smartphone app. The ParksByNature Network recently launched the Utah State Parks Pocket Ranger app, available on iTunes.
"We really want to encourage people to post their experiences and pictures through any of the social media formats," Brown said.