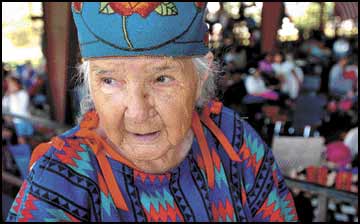 ARLEE - From a raised platform overlooking the arena at the 108th annual Arlee Celebration, 90-year-old Agnes Oshanee Kenmille watched an assembly of grand-entry dancers in all their finery.
Although entered as a dancer herself, she isn't as energetic as she once was, she explained. It seems every ripple in the carpet trips her up these days.
"I stagger around out there," said Kenmille, smiling serenely.
In her lap she held an intricately beaded purse, and in fact, she owns a full beaded dress she intends to wear on the last day of the six-day powwow. But it's much too hot to don the 30-pound outfit for every dance, said Kenmille, an extraordinary beadworker who received the Lifetime Achievement Award in the Arts for Montana for her tanning and beadworking skills.
The Fourth of July powwow is an annual celebration in honor of the elders and spiritual leaders who see the traditions passed along through the generations, said Johnny Arlee, cultural leader and Celebration Committee vice chairman.
This year, Pat Pierre and Francis Stanger were honored at the celebration, which is held by the Confederated Salish and Kootenai Tribes.
"Everything is just the way we prayed for," Arlee said.
The annual celebration got its start in 1898, when a Salish band confined to the Flathead Reservation began holding secret powwows in defiance of a U.S. government ban on such gatherings.
In the years since, the Arlee powwow has drawn people from all over the country - and even other countries.
"You meet a lot of interesting people coming in through the gate," said Misty Whitworth, who was patrolling the grounds with two other security guards.
She had heard of people coming from Kansas, Nebraska, Texas, Canada - and one older couple came all the way from Scotland, Whitworth said.
Visitors came to meet and mingle over a variety of tasty treats, including the always-popular fry bread, or to browse through the wares of more than 70 vendors between dances and events.
The dance competition started in earnest at the Saturday evening grand entry, Arlee explained.
"Then they all come out of the woodwork," he said, adding that he expected a total of about 500 dancers to register.
Another highly anticipated event was the Stick Game Tournament, open to children 17 years old and younger.
The games are meant to "motivate the kids to keep the traditions alive," said Sonia Chippewa, who heads the committee that organized the tournament this year.
"They have to use their brains, their skills, their memory," she said.
At least 20 teams of up to five players each had entered to compete in the tournament, which promised $300 to the team that took first place. Between the dances, tournaments and other events, this year's powwow is offering a total of $40,000 in prize money.
Chippewa is an old pro at the stick game, said her granddaughter, 17-year-old Kirbee Michel of Arlee. Chippewa taught her to play several years ago, and now Michel is confident her team will top the tournament. Her strategy?
"It's all in the left-right, outside-to-middle," Michel explained.
But regardless of her team's placing, the point of the game is that it's fun and engaging to play, she said. It could be over in a matter of minutes or play out for hours, she said enthusiastically.
"It could go all night, all day - just one game!" Michel said.