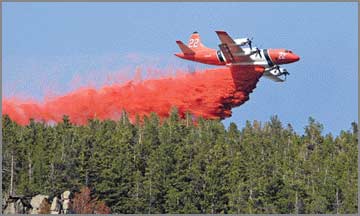 BILLINGS - Fire crews shored up defenses around a Montana ski hill Thursday, trying to rein in a 15-square-mile blaze now less than a half-mile from the resort's summit.
Taking advantage of a lull in flame-stirring winds coming off the Beartooth Mountains, crews started digging a narrow fire line down the back side of the ski hill, said Red Lodge Fire Chief Tom Kuntz.
Officials hoped that would stop the fire's six-day march down a remote, thickly timbered canyon - straight toward the town of Red Lodge and its namesake resort.
"The fire has burned to the point now where people can see the flames," Kuntz said. "It's become a little bit more real for everybody."
The fire was about six miles outside of town and two miles from the nearest large subdivision. Winds were forecast to return Friday.
The Cascade fire has charred 9,400 acres. Red Lodge is about 60 miles southwest of Billings.
Past the ski hill - where ski runs are being converted to fire lines and snowmaking guns are wetting down the lodge - residents have been evacuated from 90 homes tucked into a dense stand of lodgepole pine.
Officials have said those homes in the Grizzly Peak subdivision may be too dangerous to save if the fire advances quickly.
As tanker aircraft dropped loads of fire retardant in front of the blaze, Grizzly Peak resident Shirley Overton praised the firefighters' efforts.
"They've really been bombing it," she said. "It's still flaming up there, but they've been on it day and night."
Officials said ground crews successfully extinguished several spot fires that jumped a ridgeline and threatened to expand beyond the West Fork of Rock Creek. The fire was listed as 10 percent contained Thursday evening, meaning fire lines had been established around that much of the fire.
Residents of another 200 homes have been told to be ready to leave.
Fire officials said the weather forecast for Friday closely mirrored Wednesday's, when fierce winds sent embers flying toward the ski area. Numerous small fires flared up, pushing dense smoke into town and prompting authorities to ask resort employees to leave.
By the time that smoke cleared Thursday, almost 3,500 more acres had burned.
Five summer cabins in the Camp Senia area and three structures at a Montana State University research camp have been burned since the blaze began Saturday. The cause remains under investigation.
Through Thursday evening, the cost of fighting the fire totaled almost $2.3 million. Almost 700 personnel are involved in the effort.
Be the first to know
Get local news delivered to your inbox!