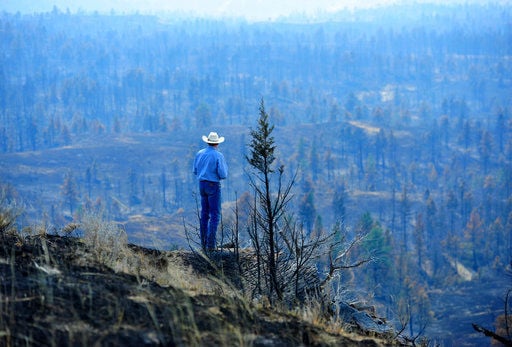 HELENA — Montana has nearly depleted its $63 million firefighting reserve fund after budget cuts swept away nearly half the money and the state spending as much on wildfire suppression efforts last month as it did in the 12 months before that, state officials said Tuesday
It's costing the state $1.5 million a day to fight fires, meaning the approximately $12 million left in the reserve fund may be quickly extinguished with more fires burning in Montana than any other state in the nation.
"We will use up the remaining balance in fairly short order," said Department of Natural Resources and Conservation director John Tubbs.
The threat of major fires burning in drought-stricken eastern Montana was expected to last through October and possibly November, according to the National Interagency Fire Center.
If the fund runs dry, state officials will still be able to respond to fires, Tubbs said. His department can pull up to $22 million from the state's general fund, and Gov. Steve Bullock's earlier fire disaster declaration authorized an additional $16 million.
But with a state revenue shortfall that triggered the budget cuts that began this month, it's not clear how much cash is available. Tubbs said that will be a challenge for Bullock's budget director, Dan Villa.
"The cash balances of the general fund are declining rapidly," Tubbs said. "I do know that Director Villa is paying very close attention to the expenditures on our side and understands that we do have to have cash in the bank."
Some relief came when the U.S. government last week approved a grant that will allow the state to recover three-quarters of its costs to fight its largest fire burning in eastern Montana. The amount of the savings is not yet clear.
The state is also entering into cost-sharing agreements to fight fires with the U.S. Forest Service, which will also help, Tubbs said.
So far this year, fires have burned 578 square miles in Montana — an area larger than Wyoming's Grand Teton National Park. What had been predicted to be a moderate fire season earlier this year has turned into one of the state's most active ones as severe drought spreads across the state.
There are now 20 large fires burning across Montana, according to the Northern Rockies Coordination Center. They are burning through mountain timber in the west and grasslands in the east.
The state spent $21 million responding to fires in the month of July, which is equal to the amount it cost for the 12 months before that, Tubbs said.
This spring, when forecasters were predicting a moderate fire season, state lawmakers looking to hedge against a potential drop in state revenues targeted the state's $60 million fire fund.
They passed a bill that was signed Bullock mandating $30 million be transferred out of the fire fund and spending cuts be implemented across state government if revenues came in $36 million lower than the estimates used by budget writers.
When the revenue numbers came in late last month, the actual revenue shortfall was $75 million, triggering the cuts and transfer from the fire fund. The fire fund money has not yet been moved, but it will be soon and there is no way to delay it.
Republican Sen. Pat Connell of Hamilton, said he is concerned that another major fire could erupt at any time.
"We've got a long way to go through this fire season and I'm very scared about our future," Connell said.