BILLINGS – Wolves are the perfect animal to help reduce the spread of chronic wasting disease among elk, deer and moose, wolf advocates told the Montana Fish and Wildlife Commission last week during the board's meeting in Helena.
Cooke's comment Friday was later endorsed by former Fish and Wildlife Commissioner Gary Wolfe, who was once the program leader for the CWD Alliance, which tracks and provides information on the fatal disease.
"I would have to agree that wolves can be an effective control," Wolfe said. "They are the best natural defense Montana has."
Legislature
The comments come as the Montana Legislature is considering Senate Joint Resolution 9, introduced by Sen. Mike Phillips, D-Bozeman, that would request a study of the potential impacts of and methods to prevent chronic wasting disease in Montana. The measure already passed the Senate and is now moving through the House.
Phillips also introduced SJ8, which would have asked Wyoming to discontinue artificial feeding of elk, a place where diseases like CWD could quickly spread. That resolution was tabled in the House Fish, Wildlife and Parks Committee after clearing the full Senate with a unanimous 50-0 vote.
Spreading
Meanwhile, the disease continues to spread in Montana's neighbor to the south. In late March the Wyoming Game and Fish Department reported officials had detected CWD in a female mule deer found dead near the Pinedale airport in February, the first case of CWD found in Sublette County, which is home to 13 elk feedgrounds.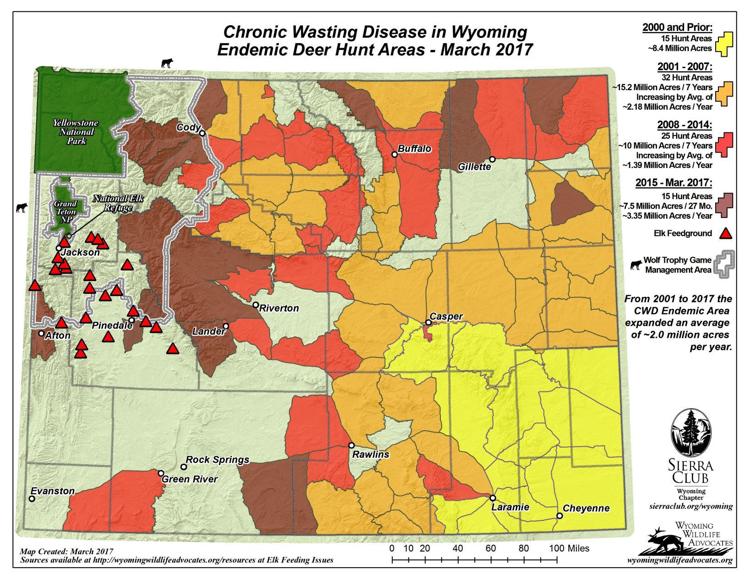 "This deer was found in Deer Hunt Area 139, where CWD has not been previously discovered, and is not adjacent to any other positive CWD deer, elk or moose hunt areas," according to a WDGF news release.
The discovery prompted the Sierra Club Wyoming Chapter and to issue a public plea this week to "begin phasing out winter feeding of elk to prevent the rapid spread of disease among elk densely concentrated on feed lines for months each winter," the groups wrote in a press release.
"It is incumbent upon state officials, as well as managers of the National Elk Refuge in Jackson to implement a realistic plan to phase out artificial winter feeding now," said Roger Hayden, WWA executive director. "Once CWD reaches feedgrounds we likely will have a more serious problem on our hands. We need to act now."
Elk fears
CWD was first discovered in Wyoming in 1985 when a mule deer in the southeastern corner of the state tested positive. Since then the disease, which affects the animals' brains and is always fatal, has slowly spread north and west.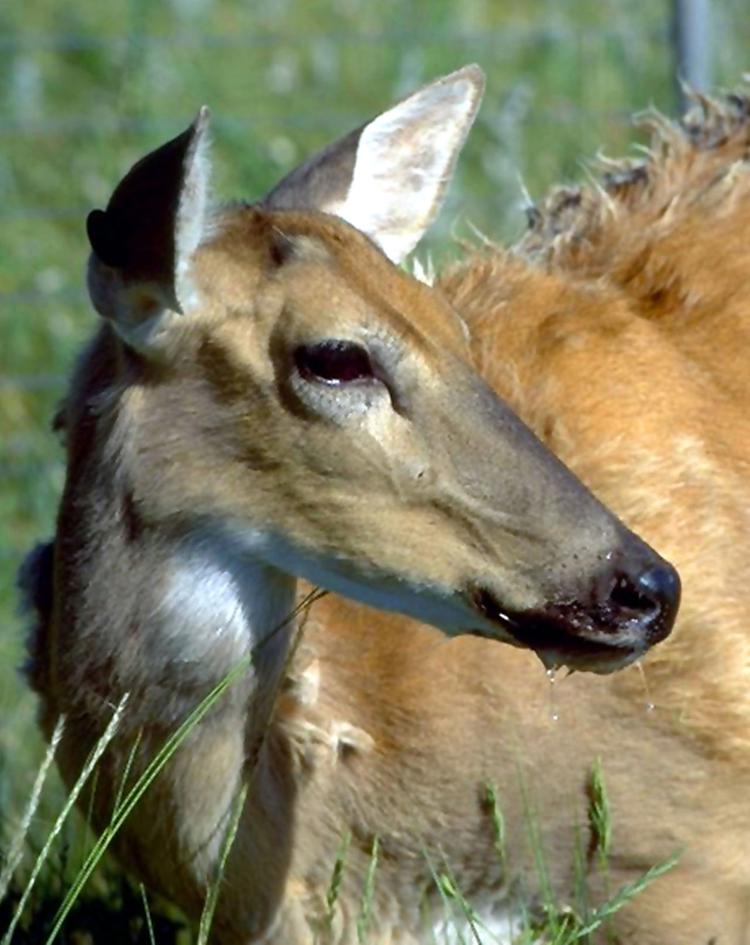 "Over the past 20 years surveillance data has shown an increase in prevalence and distribution of CWD in Wyoming, particularly in deer," according to the WGFD. "CWD is now found across the majority of the state, with new detections suggesting continued westward spread of the disease."
CWD has never been detected in wildlife in Montana, except in a captive elk herd that was destroyed. However, the disease has been discovered in the Dakotas and Canada, as well as Wyoming, which all border Montana.
Could wolves become an unexpected ally in protecting Montana's most popular big game animals? That would be a hard reality to swallow for some hunters and hunting groups who have long opposed the large canines' reintroduction to Yellowstone and spread into Montana.
"I encourage the department to make sure wolves are considered in the management of CWD," Wolfe said.
Connected
Elk commonly move from Wyoming through Yellowstone and are now migrating north along the southern end of the Beartooth Front into Montana. The fear is that these mobile animals, some of which have already been exposed to the disease brucellosis, may also spread CWD from the Wyoming feedgrounds if an infection of CWD should occur.
Montana has an estimated population of about 600 wolves. Yellowstone is home to about 100 wolves whose main diet is elk. Some of those Yellowstone wolves, which are a big tourist draw, stray into Montana where they can be shot. In deference to Yellowstone, FWP has reduced harvest of the animals to two wolves a season in two wolf management units adjacent to Yellowstone.
Cooke and Wolfe suggested that wolf hunting quota could be cut to zero next to the national park since legislation passed in 2013 allows landowners and livestock producers to legally kill wolves on their private property that threaten livestock, humans or pets. Wolfe also proposed that the commission consider lowering the landowner kill quota to 50 wolves a year since the average number of wolves killed through the legislation has been nine with a high of 12 in 2015.
"That's still adequate, five times the average, and it would send a better message to the public," Wolfe said.
It was also noted in the commission meeting that a Gardiner outfitter, who was not named, withheld wolf harvest information to FWP until the last minute to increase the wolf harvest in the limited quota region. All hunters and trappers are required to report a wolf kill within 24 hours. Because of the delay, three wolves were harvested this season.
"There was some indication some hunters were deliberately not reporting until just before the 24-hour deadline," said Andrea Jones, FWP spokeswoman in Region 3's Bozeman office. "Doing this is not against the law."