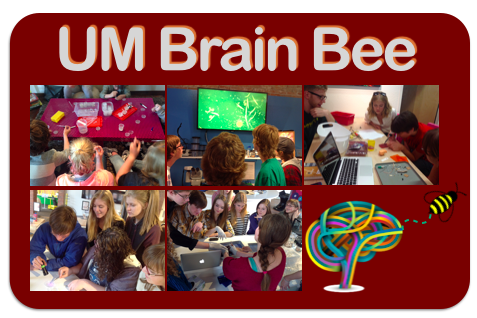 Kit Fieldhouse, the winner of University of Montana's first Brain Bee competition, will travel to Baltimore on Friday and Saturday to compete in the U.S. National Brain Bee.
On Feb. 21, Fieldhouse won UM's Brain Bee, an initiative of the spectrUM Discovery Area and the UM Center for Structural and Functional Neuroscience. The Hellgate High School junior competed against 17 other high school students from Missoula, Lolo and Florence in a written and laboratory exam, with the finalists advancing to the live Brain Bee.
Fieldhouse is the only participant from Montana in this year's national Brain Bee, which includes 54 other competitors. As the UM Brain Bee champion, Fieldhouse won round-trip travel for himself and his father to attend the national competition at the University of Maryland, Baltimore.
In preparation for the national competition, Fieldhouse trained with BrainLab manager Amanda Duley and Mike Kavanaugh, director of the UM Center for Structural and Functional Neuroscience.
"We are very excited that Kit will be representing not only spectrUM and the Big Sky Brain Project but he will also represent the state of Montana at the national competition," Duley said. "He is smart and humble, and his fellow peers look up to him and are very supportive of his accomplishments."
The International Brain Bee was founded by Norbert Myslinski and is a program of Mankind for International Neuroscience Development Inc.
Inspiring a culture of learning and discovery for all, the spectrUM Discovery Area is an interactive science center located in the heart of downtown Missoula. Annually, spectrUM serves more than 50,000 Montanans through in-museum and mobile programs.
The UM Brain Bee's presenting sponsors are the Montana Comprehensive Epilepsy Program, Thom Swanson and the Big Sky Brain Project. Additional sponsors include Vibrant Hearing, Lauren Descamps, Byron and Pamel Caughey, the Patel Family and M. Joan Hess-Homeier.
Funded by the National Institutes of Health, the Big Sky Brain Project is a partnership between the Center for Structural and Functional Neuroscience and spectrUM. It strives to increase Montana K-12 students' neuroscience literacy while putting the next generation of Montanans on the fast track to careers in STEM.
The public is invited to visit the Big Sky Brain Project's BrainLab at the spectrUM Discovery Area Wednesday through Friday from 11 a.m. to 6 p.m. or Saturday from 10 a.m. to 5 p.m. Admission costs $3.50. Teachers can call 243-4828 to book a Brain Zone field trip at spectrUM.