BUTTE — When Lacey Salminen went to her first prenatal appointment at 11 weeks, she was in active addiction using methamphetamine. It was just two days after learning she was pregnant.
That initial meeting was mostly paperwork. But Salminen knew when she returned for the next visit, a urine test would show doctors what they might have already guessed.
Salminen didn't look healthy. St. James Healthcare's obstetrics and pediatric care coordinator Joslin Hubbard remembers how shockingly underweight she was.
"At that point I didn't even know if I was going to keep Raiden or not. If I couldn't get clean, I wasn't going to," Salminen said of her now-3-month-old son. She left the appointment and talked with her grandparents, who mostly raised her, and her boyfriend, Jimmy Starcevich, about what to do.
"I still used until my second appointment, and my second appointment is when it really sunk in," Salminen said. That's when Hubbard offered help and, perhaps most importantly, non-judgmental, unqualified support at whatever level Salminen was ready for.
"I knew that if I was going to keep the baby, I needed to go to treatment," Salminen said. Hubbard developed a list of options and started connecting Salminen with care in the community.
"That's when it started going uphill for me," Salminen said while sitting at her kitchen table as Starcevich walked around their living room holding a healthy and very happy Raiden, who loves spending time with his parents, so much so that he never wants to stop for a nap.
Hubbard was able to help Salminen using the tools and local network developed with grant funding from the Meadowlark Initiative. Along with 10 other hospitals and health centers around the state, St. James is a participant in the program. It's a re-branding of the Perinatal Behavioral Health Initiative started in 2018 by the Montana Healthcare Foundation in partnership with the state Department of Public Health and Human Services.
The foundation has promised $1.2 million a year to complement a $3.2 million, five-year federal grant awarded to the health department to focus on perinatal substance use and mood disorders.
Tressie White, a program director at the Montana Healthcare Foundation, said the Meadowlark Initiative was created after hospitals and clinics around the state began reaching out to the foundation asking for guidance and support in responding to an increasing number of babies born testing positive for drugs. White spoke at an interim legislative hearing in Billings in November before a committee that has been tasked with studying perinatal drug use.
The goal of the initiative, White said, is to change the culture to show that hospitals and clinics can be supportive places for pregnant women to come for services. The emphasis is on team-based care.
On the clinical side, a woman's prenatal doctor works in coordination with behavioral health care providers like counselors and therapists. A care coordinator like Hubbard makes sure a woman gets connected with the services she needs. The initiative also brings in agencies in the community, like local Child and Family Services offices and nurse home-visiting programs. Funding for a new round of grants to expand the initiative closes at the end of the year.
Each participating hospital or clinic has adapted its offerings to fit their community's needs. In Butte, the initiative materialized as a program called "The First 1,000 Days of Life."
That period, which runs from conception to age 2, is what Hubbard calls the most critical in a child's life. It's also a consequential time for pregnant women and new mothers, regardless of whether they're dealing with something like substance use disorder, Hubbard said.
"During that time you go from two single cells into the most complex organism known to mankind," Hubbard said. "The brain will develop 80% of what it will through the rest of life. Lots of foundations are being set."
St. James, like other Meadowlark participants including Community Health Center in Missoula and St. Vincent Healthcare in Billings, universally screens all pregnant women who come in the door. That helps reduce the stigma around starting a discussion about substance use disorder and can get women who might need extra help connected with treatment options earlier in their pregnancy, if they're ready.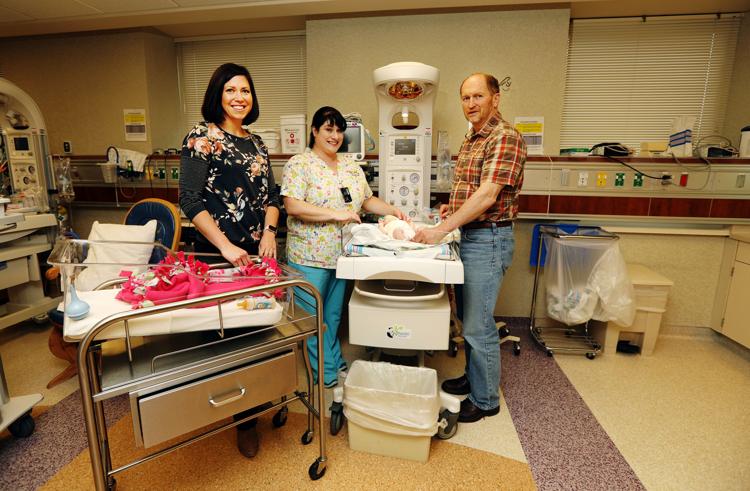 It can be a difficult conversation to navigate, as demonstrated by two certified nurse-midwives who recently role-played the screenings done at St. Vincent in Billings for the group of legislators examining perinatal substance abuse.
"It's meeting women where they are," said certified nurse-midwife Amanda Wiley, who acted through the delicate process of asking a fellow midwife, playing the part of a patient, about marijuana use.
"You do a brief intervention and move on because there's more pieces in this pregnancy. I think our moms appreciate that, that our visits aren't solely focusing around addiction and substance abuse. We continue to give the rest of the prenatal care," Wiley said.
At Community Medical Center in Missoula, which hired a licensed addictions counselor with Meadowlark Initiative funding, maternal-fetal medical specialist Dr. Brad Holbrook said it's important to make sure everyone from the front desk staff to the clinic's doctors are treating women with respect.
"A big problem with substance use disorder and pregnancy is women feel very judged, so they're very hesitant to seek care," Holbrook said. "We make sure we're treating them appropriately. If you look at one person dirty one time, they're not going to trust you. We work on being very inclusive."
Vicki Birkeland, the director of women's services at St. Vincent in Billings, said that while society has shifted to understand substance use disorder is a medical issue, that doesn't always extend to pregnant women.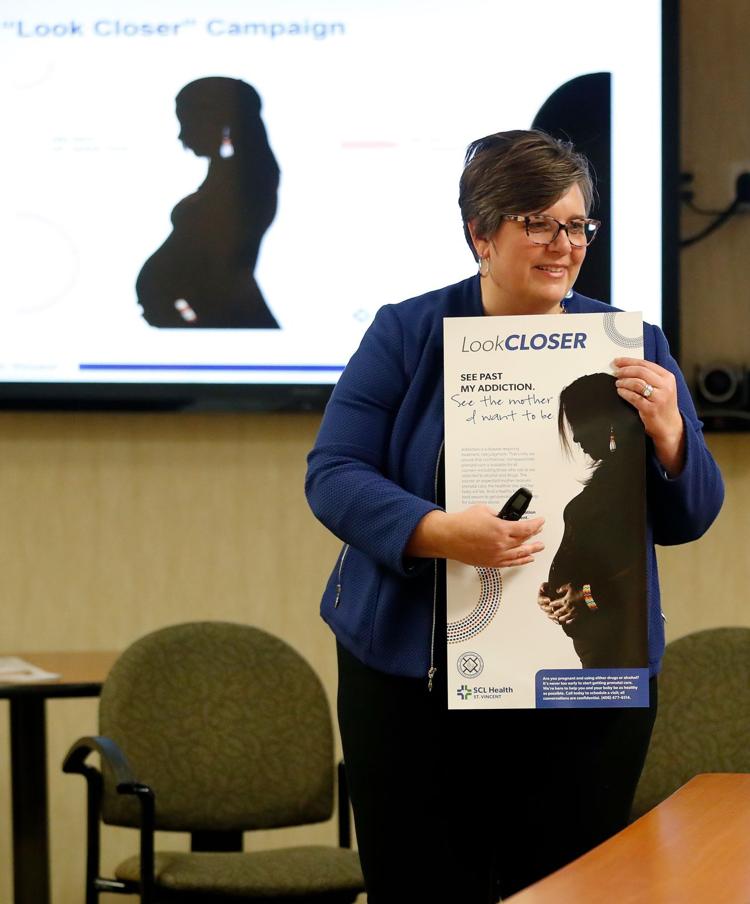 "We struggle when you make that addict now a mother or pregnant. All of a sudden we've made it a moral issue," Birkeland said. "But our point here is these are women who were addicts and happen to be pregnant and continue to fight addiction after that baby is born — we can't just isolate it and say this is all about the time of pregnancy."
Opportunity
Though it presents a specific set of challenges and complications, Hubbard said intervention during pregnancy for women with substance use disorder can also be more successful than at other points in their lives.
You have free articles remaining.
"It's definitely a time where we can capture women because it's not about them anymore. Their choices are impacting another life, their child's life," Hubbard said. "There's that biological component of wanting to protect your baby and wanting to do well. It's definitely a time where we can see more change. It's an opportunity for change."
That was true for Salminen, who started using meth just after high school graduation and had never tried to stop before becoming pregnant.
"I didn't have a choice (to decide to stop). I wasn't going to ruin someone else's life. It was difficult but it was rewarding at the same time. It gave me purpose," Salminen said.
Meth addiction has shaded Salminen's life as long as she can remember. Her mother used until she died when Salminen was 14. Her father has moved between periods of recovery and addiction and just recently went back to jail.
Navigating that history was part of Hubbard's work with Salminen. She enrolled Salminen in counseling, a program for new parents, home visits from nurses and even Habitat for Humanity. While Salminen found Narcotics Anonymous meetings, perhaps her best tool for maintaining sobriety, on her own, Hubbard still checked in to make sure she attended the daily gatherings.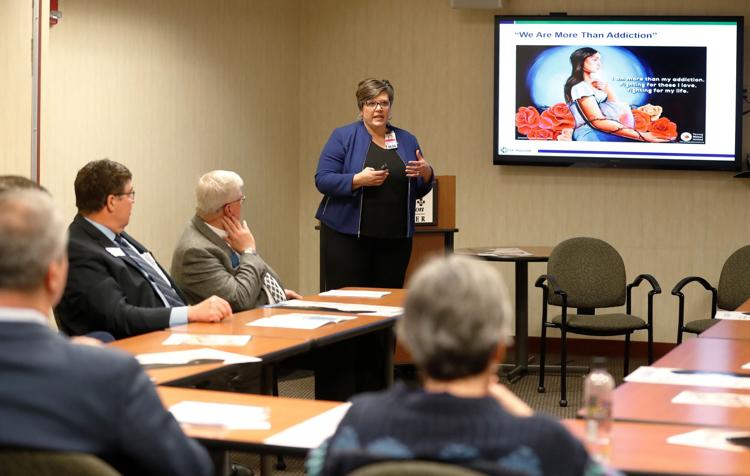 "Joslin always called me to make sure I was going to go to my appointments, and she stressed that if I was going to have a baby, prenatal care is very important," Salminen said. "It was scary, but I wanted to get clean and I knew they could help me. It's probably the hardest thing I've ever done. She's the main reason I got clean."
Salminen said she quit using meth cold turkey. 
"It was hard, but not that hard, because the main reason I found out I was pregnant was I used to get sick when I was using. When I quit I didn't get sick anymore," Salminen said. "But you're really emotional when you first come off of the drugs."
Things were compounded by having to cut off contact from her father and friends who were still using. Being around them was a trigger that could threaten her recovery.
"Lacey had to leave everyone behind, her friends, her social circle," Hubbard said. "Even a woman with great social supports who is doing well in health and life can struggle during pregnancy and postpartum. And for women who don't have the best habits, it really puts them in a vulnerable place."
Salminen and Starcevich, who also has quit using meth, leaned heavily on family — his parents and her grandparents — starting early in recovery.
"When we were in active addiction neither of us spent much time with our families. When we got clean we would go bowling, go to the movies, have dinner with his family. It made it all worth it," Salminen said.
While pregnancy and motherhood bring motivation, it also elevates stress, Salminen said. She doesn't want to put Raiden in day care yet, so she works nights at the M&M while Starcevich has day shifts at his job.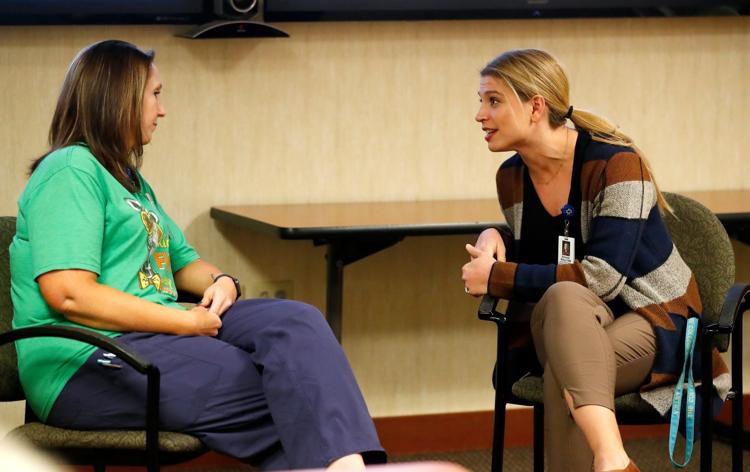 "We don't get a lot of alone time. I think that's hardest part is wanting to have free time but not wanting to have anyone watch him," Salminen said.
While pregnant, Salminen changed the boundaries with her dad, but she wants to be able to develop that relationship going forward.
"I would kind of avoid him or make sure that when I did spend time with him it was in safe environments," Salminen said. "It was unspoken. He knew. He was supportive, he just wasn't ready to do it himself quite yet. I'm glad I'm clean because I can now help him find recovery too. He has before, many times. He just still battles with it pretty hard."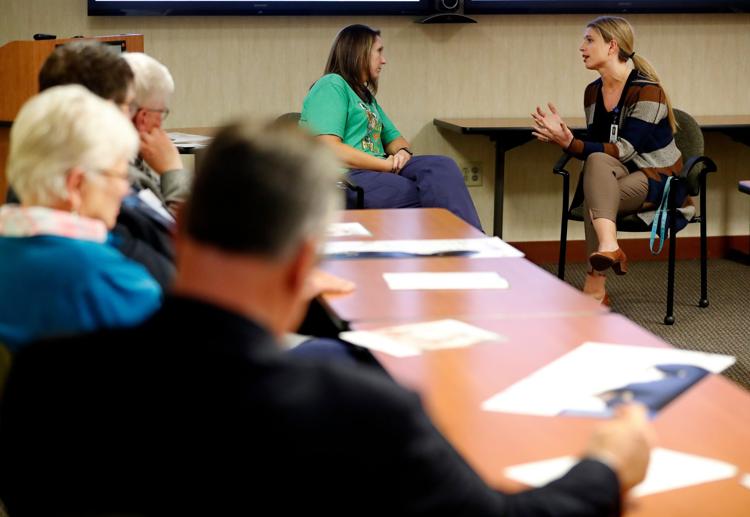 When things become overwhelming, Salminen and Starcevich have developed a plan.
"When I feel that way we just hit an NA meeting. Remind ourselves 'recovery, recovery, recovery,'" Salminen said. She recently became certified to lead meetings, too, and runs one at Montana Chemical Dependency Center on Wednesdays.
Watching Salminen become a mother, Hubbard said, "has been truly remarkable."
"When she came in she was in active addiction and she did not look healthy. She was essentially homeless. She had a place to live but didn't really feel comfortable there," Hubbard said. "I offered her help, but I can only do what I can do. Lacey has the strength and courage and resiliency. She was able to do this. We connected her to the resources that helped support her, but this is really her and her hard work."
Hubbard emphasized the team approach in Butte, with everyone from counselors at the Southern Montana Addiction Recovery and Treatment program to MDCD.
Data that Hubbard reviews for St. James has shown the initiative seems to making a difference. The number of children removed from their mother's care after birth is down and the number of women seeking prenatal care is up. Fewer babies are born that test positive for substances and Hubbard is making more referrals to outside agencies.
"That tells me we're screening people and people are feeling more comfortable asking for help," Hubbard said.
Salminen wants to become part of that support system for people entering recovery. She plans to apply for financial aid and go to school to be an addiction counselor.
"I took (getting pregnant) like a little sign from God, like 'Here's your chance, here's your reason,'" Salminen said. "I always tell (Raiden) all the time he's a little miracle baby."