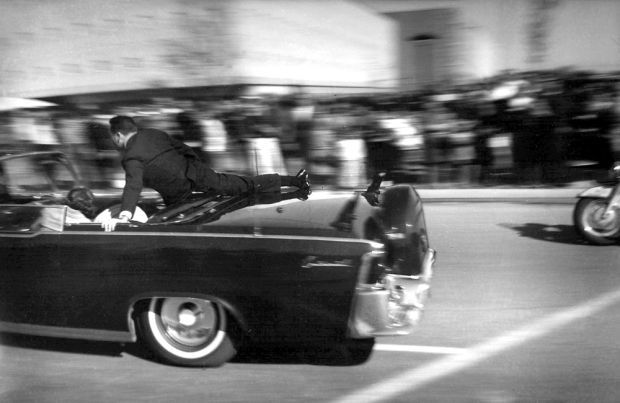 POWELL, Wyo. – It's one of the most infamous moments in American history: The assassination of President John F. Kennedy 50 years ago Friday.
A Powell native had an up-close look at the tragic event, but he has chosen to remain silent about it for the most part, and few local residents are aware of what he witnessed.
Robert Earl "Bob" Croft, who now lives in Lovell, was a 20-year-old missionary for the Church of Jesus Christ of Latter-day Saints who was in Dallas on Nov. 22, 1963.
"It was the most gruesome, horrible thing I have ever seen in my life," he told the Powell Tribune 50 years ago. "I don't know if I will ever get over it."
Croft decided to see Kennedy's motorcade pass through Dallas, and he left the Union Terminal, where he was waiting for a bus to take him to Denver, to see the president pass. He walked over to Dealey Plaza in the downtown area – and took his Argus C3 35 mm camera with him.
Croft told the Powell Tribune for a story published Nov. 26, 1963, that he was 30 feet from JFK's limousine when the shots rang out at around 12:30 p.m.
During an interview Croft did on April 20, 1988, 25 years after the assassination, with JFK researcher Richard Trask for Trask's book "Pictures of the Pain," Croft offered more details on what he witnessed in Dallas.
He said he was winding his camera to get as many photos as possible. He took three, and was trying to snap a fourth when he heard a shot ring out in the concrete canyon of Dealey Plaza.
Croft told Trask the photo was "taken simultaneously with the shot which killed the president," according to the book.
Then, the area was in pandemonium, he said.
"I can't tell you at this point anything about the shots, numbers or where they were. I was on my way back, as I remember, before the car ever got – it was kind of going down a hill under a railroad track," Croft told Trask. "And I noticed what time it was and took off, because I was going to be late for the train ..."
Efforts to contact Croft by phone and email for this story were unsuccessful.
His son Rob Croft, who lives and works in Powell, said his father has rarely discussed the Kennedy assassination, even with family.
"When I was a teenager I asked about it a little, but he didn't want to talk about it very much," the younger Croft said.
He said his father has been contacted many times over the years by reporters and JFK assassination buffs, so he has decided to decline interviews.
Croft also appears in some photos taken that day, as many people took cameras to capture an image of the glamorous president and his wife. He is also seen in the famed Abraham Zapruder film of the assassination.
After the fatal events of Nov. 22, 1963, Bob Croft was in contact with the Secret Service and the FBI. Both agencies examined his color slides.
Online and printed reports, based on an FBI file, state that Croft took 22 images on his roll of 36-exposure Kodachrome-X film before it was processed. Three were of the Kennedy motorcade. One was of the motorcycles in the advance guard; the other two showed the presidential limousine.
The more famous of the photos, frame 18 on the roll, shows first lady Jacqueline Kennedy looking right at Croft. He was standing on the south curb of Elm Street on the driver's side of the limo, facing the Texas School Book Depository. President John F. Kennedy is next to her and is shown in profile.
Texas Gov. John Connally and his wife Nellie are in the middle of the 1961 Lincoln Continental convertible in the jump seats. The driver is Secret Service Agent William Greer, with Secret Service Assistant Special Agent in Charge Roy Kellerman riding next to him in the front seat.
It's an iconic photo, one of the most famous taken on that day. It appears on dozens of websites and has been published in books, magazines and newspapers.
According to some accounts Croft took a fourth photo at the scene that may have been snapped at the moment the devastating head shot struck Kennedy.
But the FBI, which examined Croft's photos, said that particular photo slide was blank.
According to Trask's book, "... frame number 18 appears to show the presidential car on Elm Street south of Houston Street just moments before the president was shot ... Croft believed the last picture taken by him was taken simultaneously with the shot which killed the President. This no doubt refers to frame number 19 which is a complete blank which probably was occasioned by some malfunction of Mr. Croft's camera or some other fault."
Trask said he very much doubts the FBI tampered with the photo. Others in the conspiracy-thick world of the JFK assassination are not as convinced.
After the FBI returned his photos on Jan. 4, 1964, Croft mailed them to his parents in Powell.
Two days later, the Secret Service office in Denver learned of the photos and asked Croft, who was living there as part of his two-year LDS mission, if they could examine them. He had his parents mail the photos back to him, and turned them over to the Secret Service, which, according to memos, was looking for its agents in the motorcade or "any unusual activity which appears to be related to the attack."
Eventually, Croft called and asked for the photos, and the color slides were mailed to his Powell home, according to an April 20, 1964, Secret Service memo.
"Please accept our sincere thanks for your cooperation in making these slides available for our review," the letter from Rolland H. Osborne, the special agent in charge of the Denver office states.
Rob Croft said he has no idea what happened to the photos, which captured a healthy, happy JFK and his wife seconds before their lives, and the fate of the nation, were forever changed.
Croft, who is now 70, has apparently lived a happy, rich life with his wife Rena. He worked for a water consulting business before retiring, continued his work as an LDS missionary, funded a Northwest College scholarship and was interested in and active in the outdoors and conservation.
He writes a family-oriented blog, which includes a personal biography. While many parts of his life are discussed in the blog, there is not one word about what he witnessed in Dallas 50 years ago.