DEER LODGE — Sixty years ago, a couple of nice-looking brown trout changed David Thomas' vacation plans a bit. Then a detour and a boulder in the road saved his life, and put him in a position to rescue others after the massive Hebgen Lake earthquake.
Now 97, Thomas recently brewed a fresh pot of coffee in his kitchen and then sat back in his living room chair as he recalled mid-August in the summer of 1959. Like most summers back when he and his family lived in Nye, they would make an annual summer excursion to a cabin on the west fork of the Madison River.
This trip they brought along family friends Mike Rogerson and his family, along with some other friends from Washington.
On the day the earthquake hit, Aug. 17, 1959, the group was fishing. One of the men from Washington, first name Johnny and last name lost to time, caught some especially appealing brown trout. He planned to depart the following day and wanted to take the fish with him to to show off to people back home, Thomas said.
So the group took a trip to West Yellowstone to buy some dry ice to preserve the fish.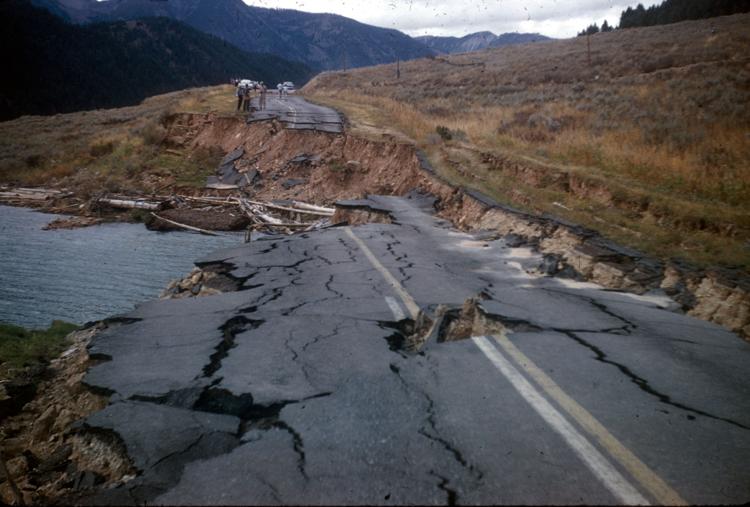 It was late in the evening and dark, save the moonlight, when the group was driving back to their cabin and the crust of the earth dropped 19 feet, triggering one of the largest earthquakes to ever shake North America.
Geologists later clocked the quake at a magnitude 7.2-7.5. A mountain crashed down with disastrous results, damming the Madison to create an entirely new 190-foot-deep body of water, Quake Lake. In the matter of a minute, 800 millions of tons of rock fell. Massive seiches, huge waves caused by the shocks, pounded the Hebgen Lake dam for 12 hours without relenting. The official tally was 28 killed.
A boulder that smashed in the highway stopped Thomas' progress back toward the cabin. That in turn blocked him from driving right under a massive avalanche of rock and mud. Family lore also says Johnny, who was driving, at one point took a turn toward Bozeman as a joke about not knowing where he was heading. That delay could have been the reason they all survived.
"We got out of that one. We were lucky. Another minute, we'd been under the slide," Thomas said. "That big rock happened to be in the road. We got out of there pretty lucky, but I've been lucky all my life, thank God."
A streak of good fortune does seem to have accompanied the U.S. Navy veteran through his years. Thomas dropped out of high school to join the service. The Butte-born boy was on the U.S.S. Helena when she was struck by a torpedo during the attack on Pearl Harbor in 1941.
He survived eight sea battles in total, including back on the U.S.S. Helena in July 1943 when the Brooklyn-class light cruiser was sunk in the Kula Gulf off the Solomon Islands.
"It seemed like a long time, but I think it was only three or four hours in the water and I got picked up by a destroyer," Thomas said.
So he was familiar with water rescue when, after being stopped by the boulder on the highway, he and Rogerson volunteered to go down into the campground to wake people and tell them to move to higher ground. They were accompanied by others, including a man named Frank Martin.
"They were worried about Hebgen Dam failing," Thomas said. "So we went down to the campground and warned a half dozen people and told them to warn other people to get out."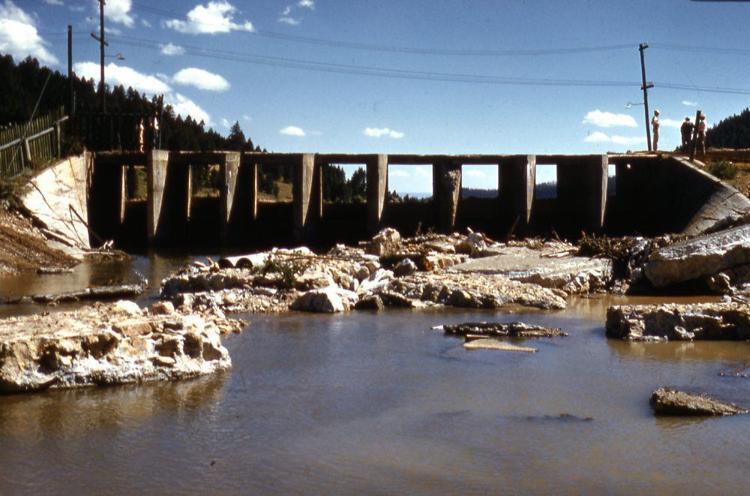 Some families wanted to hitch their trailers up and try to drive out. Thomas advised them otherwise.
"I said 'No, just get dressed and take what valuables you can and get to high ground. They don't know whether Hebgen Dam's going to hold,'" Thomas said. "And most of them listened but a few hitched their trailers up, because when I got back up there was a couple trailers up there on the highway."
It was dark as Thomas and the other men moved through the campground, but they could see water rising from the yellow light of the moon. That's when he heard Mr. and Mrs. Grover Mault, of Temple City, California.
"They were in a tree yelling, 'Get me out of here!'" he recalled.
The Maults were sleeping in their trailer when the quake hit, according to a Boston Sunday Globe article from Aug. 23, 1959. The Maults later clipped the story out and sent it to Thomas that September with a thank you card, addressed simply to Mr. David Thomas, Nye, Montana, with instructions to please forward.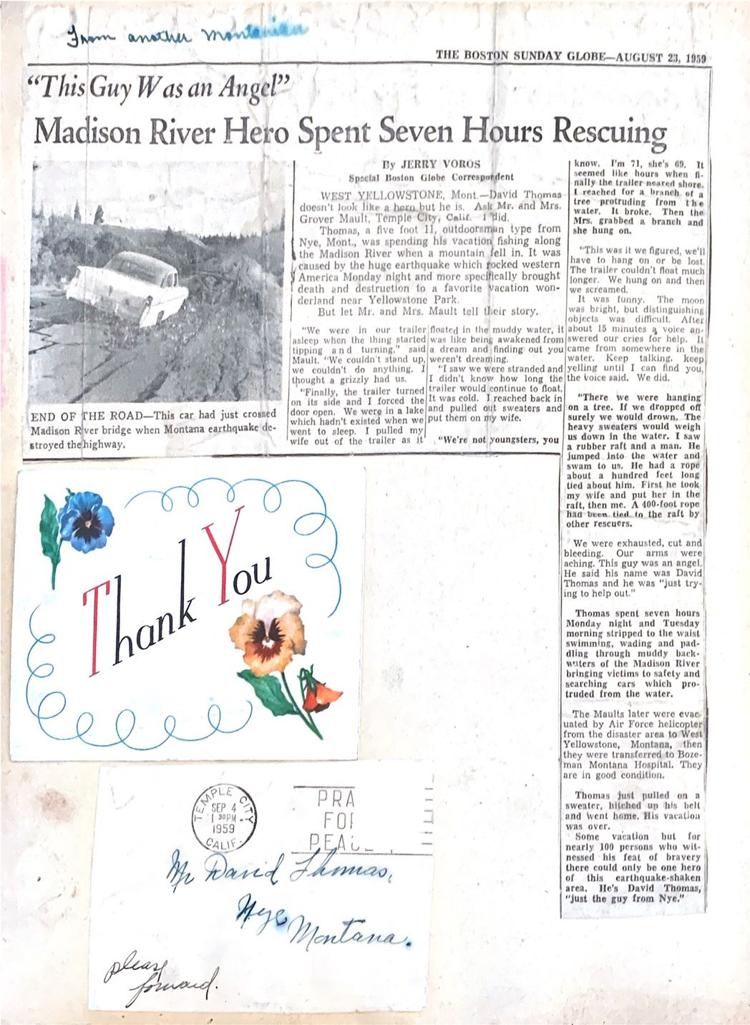 "We were in a lake which hadn't existed when we went to sleep," Grover Mault told the reporter.
The couple, he was 71 and she was 69 — "we're not youngsters, you know," Mault was quoted as saying — stayed in their trailer until it became clear it wouldn't float anymore. It had drifted close enough to the new shoreline of Hebgen Lake that the Maults could reach the top of a partly submerged tree.
"After about 15 minutes a voice answered our cries for help. It came from somewhere in the water. 'Keep talking, keep yelling until I can find you,' the voice said. We did," Mault told the Globe 60 years ago.
That voice was Thomas'. He didn't have a boat, but found an air mattress at the campground. Rogerson tied a rope onto Thomas and Thomas dog-paddled the contraption out to the Maults.
"I was talking to them, and the water kept rising, naturally," Thomas said. "I was getting worried too, but I thought I was safe there on that rubber thing. But they, they were just really worried because they'd been hanging on. They were just about at the top of the tree," Thomas said.
The Globe article quotes the Maults as saying Thomas rescued them on the raft, but that's not how Thomas recalls it.
"I got to where I could talk to them, see, but the rope was too short," he said.
Thomas remembers the Maults begging him not to go, and he didn't. Hours passed, but he stayed until he saw Frank Martin arriving with a boat, one Thomas thinks he got from the Hebgen Dam caretaker.
You have free articles remaining.
"Then I said, 'Mrs. Mault, here comes the boat, I'm going to leave,'" Thomas said.
He'd arranged with Rogerson that when he pulled on the line tied around his body, it was time to haul him back in.
"I give one tug on the rope and down in the water I went," Thomas said. "The rope was under them branches in the water. So I gave another tug and thank God he stopped and I got untied. I came up right where the air mattress was and I paddled back to shore."
"The best part is, I can't swim," Thomas said with a robust laugh.
The Navy veteran, survivor of two attacks on the U.S.S. Helena, who spent hours in the ocean off the Solomon Islands, had never advanced beyond the dog paddle.
He was supposed to learn in the Navy, but "we would just cheat," he said. "There'd be so many people in the squadron they wouldn't notice and they'd say jump in the pool. And, well, I can paddle puppy dog."
When Thomas and Rogerson left the Maults, the water had risen so much they couldn't get out the same way they went in.
"There was nothing more we could do," Thomas said. "The campground was being flooded below."
They climbed up the side of the mountain to get above the water line and head back to the highway. Once there, they moved to Refugee Point, the high patch of land where survivors gathered and were receiving medical treatment.
Through the night, Thomas said most people remained fairly calm.
"It was dark, and we never knew what was going on, so we had nothing to be afraid of, outside Hebgen Dam going," Thomas said.
There were some who were scared, though. Thomas build a sagebrush fire for his children and others to sit around while he was away helping others. One girl asked him, "What would happen if the earth opened up and swallowed us?"
"I said, 'We'd all be dead, dear. It wouldn't make no difference,'" Thomas said.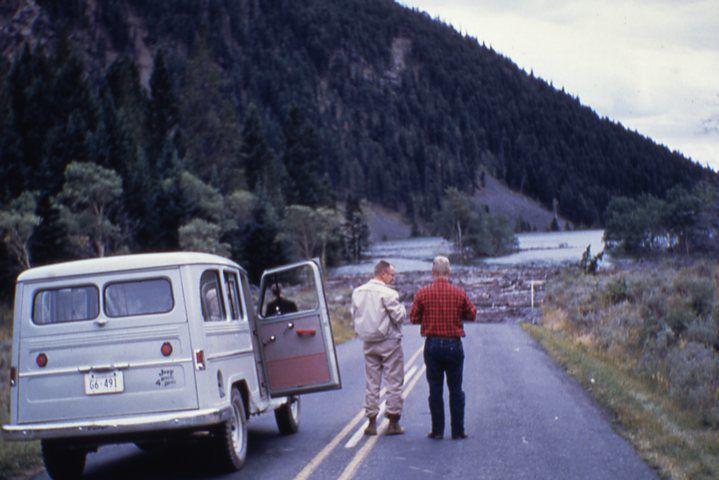 The group felt aftershocks all through the night. Once daylight made an appearance, Thomas said he could see blue mud coming up out of the highway and in the Madison. He could also see the scarps, some near the dam running 14 miles long.
"We didn't get much news, you know, about the quake. But we were right there, we could see what was happening," Thomas said.
Later smokejumpers from Missoula would parachute in with sandwiches. Eventually helicopters would pluck people from the site to safety. People were taken to the Bozeman-West Yellowstone junction and the waiting Red Cross.
Thomas asked the helicopter pilot if he would take his and the Rogerson family out last, and fly them over the slide so they could see the scope of the destruction.
"Well, everybody got out but us. As my son was getting on the helicopter, the Red Cross called for it in Helena and he had to get off. So there we were, the Rogersons and us, the last people," Thomas said.
"I'll be honest with you, I was kind of angry. My children were young, it would have been nice for them to get a helicopter ride."
Finally a guy in a Jeep pickup, Thomas doesn't know where he came from or who he was, but wagers he came in on a temporary road quickly bulldozed in, rescued them. The family made it to the junction, and from there to Thomas' sister's home in Bozeman.
A few days later, he and Rogerson retrieved their own vehicles from the cabin. Access was restricted as people worked to determine the risk in the area. There was a checkpoint on the road, but nobody was around and they went on through.
"We weren't supposed to go," Thomas said. "We had to sneak back in."
Through the aftermath of the quake, Thomas said there wasn't much of an opportunity to be scared since it was hard to know the extent of the destruction.
"I never thought nothing about it," Thomas said. "We really didn't know how much earth was moved. We were close to it, but we had no idea until later on, when it got light. We were ignorant to the fact of what had happened. It didn't seem to bother us then."
Even when the helicopter stranded them, Thomas knew his family and the Rogersons would be OK waiting things out. The kids had treats from West Yellowstone and it didn't end up being too long before the Jeep showed up.
Earlier in the ordeal, Thomas also made sure the other  families down on the highway had food to get through the time they were stranded.
"We gave the fish that was supposed to go to Washington to the people that had a trailer and told them to cook them and give them to the children," Thomas said.
"John never did get his fish."