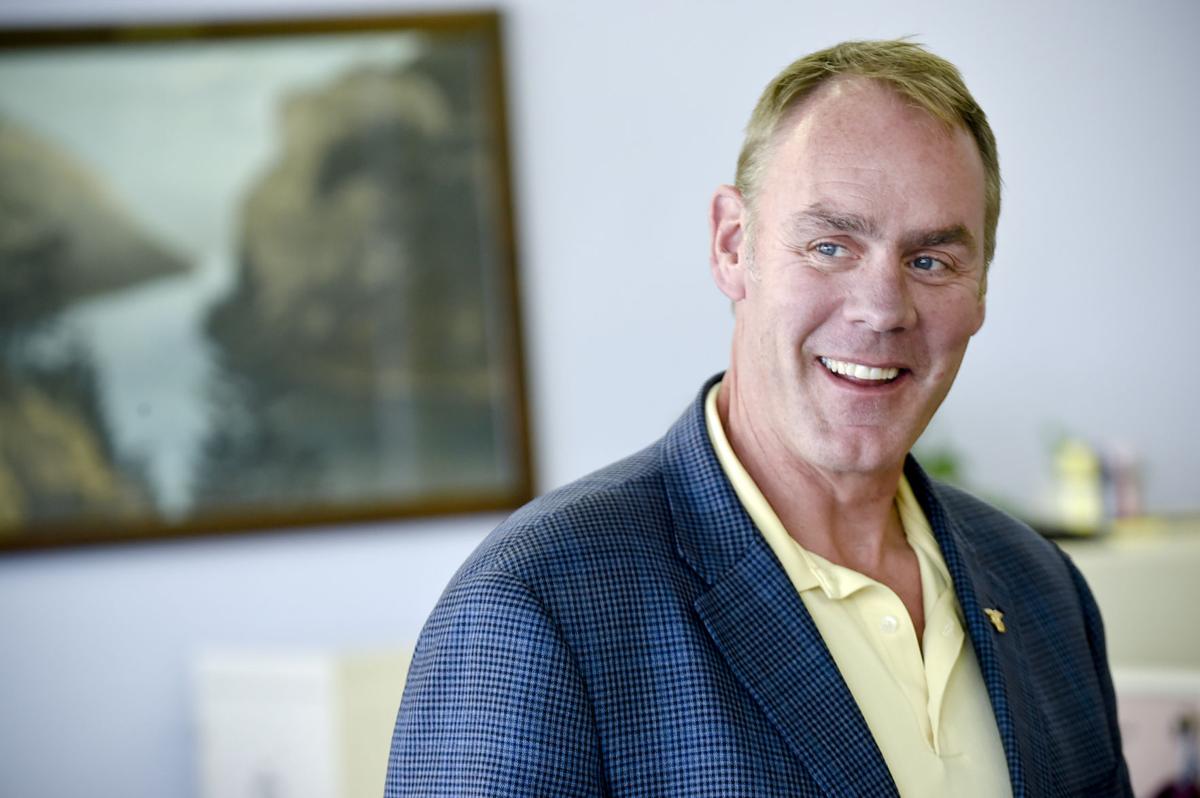 BOULDER – For Larrey Lattin, a Boulder resident and veteran who fought in Vietnam, anyone who served in the military and comes back to their home state is admirable.
So when he hears claims that U.S. Ryan Zinke, a freshman congressman running for re-election against Democrat Denise Juneau, spends more time in California in Montana, he doesn't believe it and it didn't affect how he cast his ballot.
"I absolutely support him," Lattin said. "He came back home. He thought enough of the state to run for office."
Democrats started pegging Zinke as having more ties to California than Montana in 2014, when Zinke ran against John Lewis, a former aide to then-Sen. Max Baucus. In a debate in June that year Lewis said Zinke lived in California, to which Zinke responded with his Whitefish address – 409 Second St. W.
That address is now owned by Continental Divide International, a trust of sorts created by Zinke, who also owns two other nearby parcels. Zinke said he bought the property from his mother, who inherited it from his grandparents.
Democrats have pointed out that Zinke's Second Street house is now a bed and breakfast. The family received a permit to open one at the address in 2014, but spokeswoman Heather Swift said "life happened" and the family has been too busy to rent out any of the suites downstairs. She said the plan always had been for the Zinkes to live upstairs just as they do now.
"We've had the property in our family for three generations,'' Zinke said.
"The property I put in the name of Continental Divide International – the mortgage is still in the name of Lola and I – because every year I give a part of the property to my children," Zinke said recently. "So at the end of my life, my children will have controlling interest in the property that's been in my family. I think that's prudent."
He decried the attacks suggesting he was not a Montana resident.
"There's been a lot of accusations," he said. "And (Juneau and I) can go back and forth, too."
Juneau, the state superintendent of public instruction, lives in Helena. She traces her family's history in Montana back possibly 54 generations. She was born in Oakland, California, moved to Montana as a toddler and grew up in Browning on the Blackfeet Indian Reservation.
"Is it 54 generations?" Zinke said. "Born in Oakland. I don't think that counts as 54 generations. And why 54 or 52 or 51? I haven't gone there because quite frankly I think Montana and America are tired of the slams over things that don't matter. I think the differences between Denise Juneau and I are pretty clear."
Juneau's campaign has attacked Zinke more for being concerned about Washington, D.C., than over his California ties, but pointed out this week the congressman received double the number of contributions from that state than he did Montana. The Montana Democratic Party has pushed the message more, however, in recent days sending out tweets questioning where Zinke lives.
This summer, the Santa Barbara Independent newspaper wrote a story saying Zinke's wife was a part-time Santa Barbara resident, and called Zinke a part-time resident in a headline before later changing it. The same paper wrote a column in 2014 saying Zinke had campaign signs posted in the Hope Ranch suburb of that town.
At the time, Zinke said his wife is from Santa Barbara and moved there to care for her aging mother, who died Thursday. 
The paper also reported on an invitation for a campaign fundraiser to support congressional candidate Justin Fareed "at the home of Lola and Congressman Ryan Zinke." Swift said that invitation was sent out without approval by Zinke, who does not own or rent any property in the state. The fundraiser was held at the home of Lola's mother, she said.
There is no question that Zinke spent years in the Golden State.
"(I lived in San Diego) when I was stationed in the U.S. military. Under orders. Active duty," he said, also acknowledging that these days when he goes to the state it is for the usual sort of trips to visit relatives. "My ties have to do with my wife's family. It is a longtime Santa Barbara family. My wife is the only child."
Zinke completed a graduate education at the University of San Diego and was based in California for chunks of his military career The couple had for years owned properties in both Montana and California while Zinke was stationed there, buying, selling and remodeling homes as the housing bubble grew.
By 2008, the Zinkes sold their home in Imperial Beach and no longer own property there, according to a check of property records in numerous California counties. That year, Zinke retired from the U.S. Navy and made his first run for Montana political office, winning election to the state Legislature that fall.
"I never claimed a California residence. Ever. I've never applied for a California driver's license," he said, questioning how his time stationed there was any different than his stints deployed overseas.
There also is little question that Zinke has strong family ties to Montana.
"My family's originally from Bainville, Glendive, Glasgow, that area. I was born in Bozeman when my folks were going to school," he said, noting that his parents and sons were graduates of Whitefish High, where he also had coached.
Zinke has voted in every Montana election except on a high school bond in 2008. In these types of elections, a non-vote is the same as a no vote. He is registered to vote at the Second Street address and voted in person for this year's primary, as well as the 2014 general election and primary.
It's unclear what, if any, effect the claims have on voters. Asked Monday morning at a cafe in Boulder, Lattin said he was tired of campaign messages from both sides.
"I wish we could limit all of them, from county on up to president, to three weeks of campaign time," he said.
Sitting at the table with him was Bruce Gilmer, who also lives in Boulder. He said he hadn't heard the California claims, but said it wouldn't make a difference how he voted.
"If he's got realty in California, it wouldn't change my mind on anything."