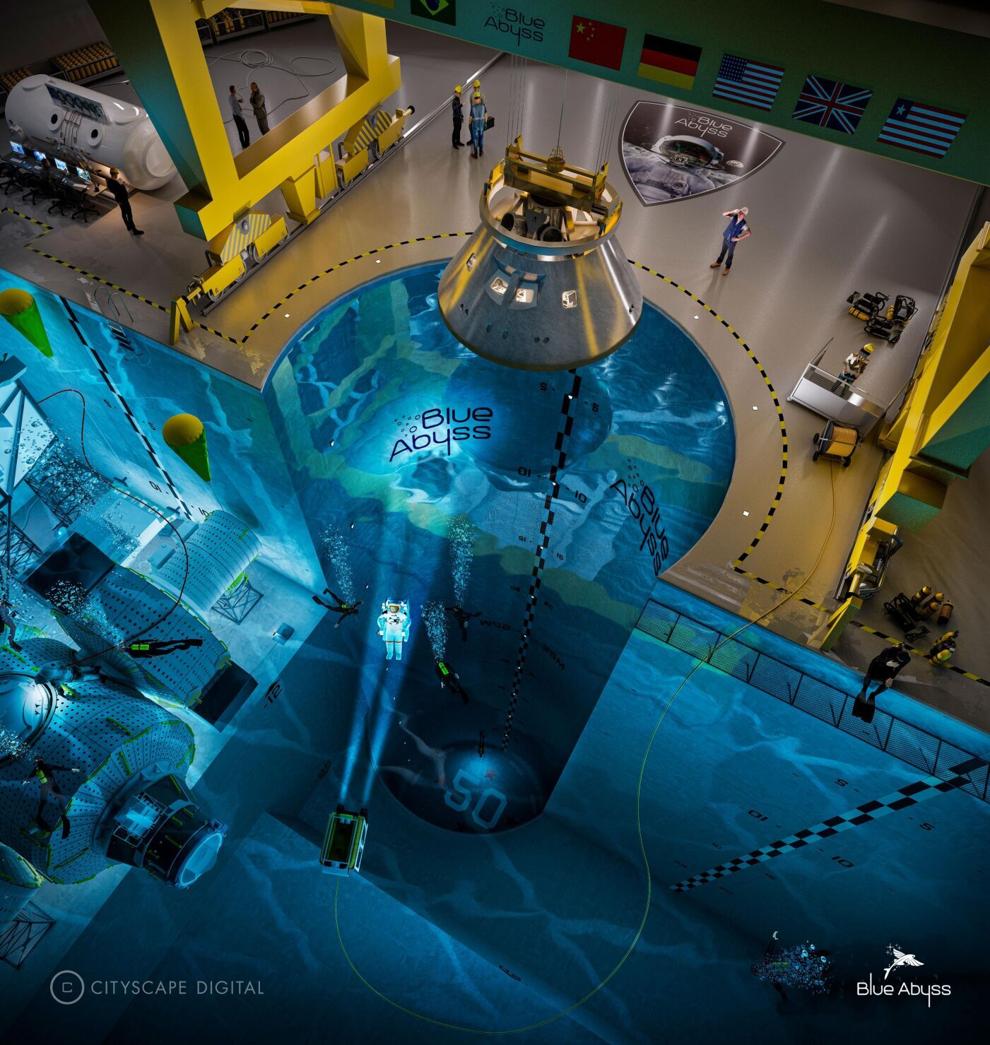 A U.K. company is to build what it says is the world's biggest and deepest pool, in a new project backed by British astronaut Tim Peake.
The aptly named Blue Abyss pool will be built in Cornwall, southwest England, and will hold 42 million liters of water — equivalent to that of 17 Olympic size swimming pools, or 168 million cups of tea, the company said.
It will be 164 feet (50 meters) deep, 164 feet long, and 131 feet (40 meters) wide.
Keen swimmers hoping to test out the £150 million ($211 million) pool may be disappointed, however, as the Blue Abyss is designed to simulate "extreme environments."
It will be set up for testing the latest underwater technology, including subsea robotics and mini submersibles.
The pool will also be used to help train astronauts and deep sea divers, with hypobaric and hyperbaric chambers and a microgravity suite on site.
John Vickers, chief executive of Blue Abyss, said in a statement the pool would be a "huge research asset for aerospace, offshore energy, underwater robotics, human physiology, defense, leisure and marine industries, and a fantastic education center for children and university students."
Tim Peake, who was the first British astronaut to board the International Space Station in 2015 and spent six months in space — and ran a marathon on a treadmill while there — sits on the Blue Abyss board.
He said in a statement he was "proud" to be part of its development, adding that Blue Abyss would "widen our knowledge of how humans and technology can function in extreme environments, for the benefit of people and the planet."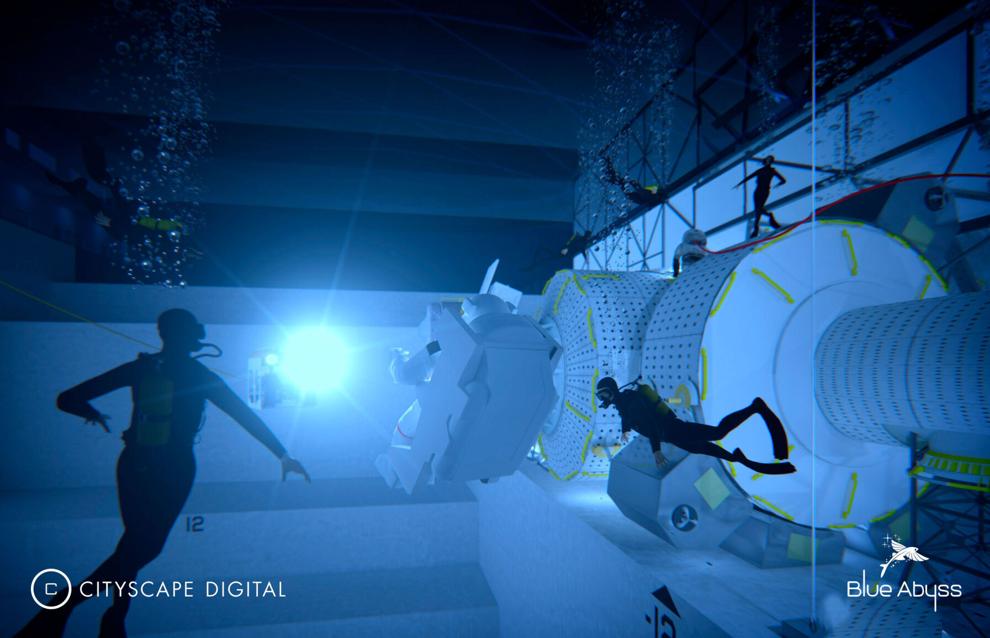 Underwater film sets
The facility has been designed by British architect Robin Partington, who led the design team for The Gherkin, which is based in London's financial district and is one of the city's most famous buildings.
It will be built with a sliding roof large enough for a crane to lower large objects into the pool for testing — including "simulated sections of the International Space Station," underwater cave systems that can put remote operated vehicles to the test, and even underwater film sets.
The pool's salinity, currents, lighting and temperature will also be controlled at different levels in order to simulate various underwater conditions.
Applications for planning permission are ongoing but Blue Abyss said in a press release it aimed to open the site in 2023.
In December, Poland opened what it said at the time was the world's deepest pool — with a depth of 148 feet and enough space for 8,000 cubic meters of water.
The Deepspot pool, a practice site for divers, has a simulated "blue hole" running down to its deepest point, and contains a small shipwreck, artificial underwater caves and mock Mayan ruins.
UK drug dealer caught out by cheese pic, and more of this week's weirdest news
Big cheese no more: UK drug dealer caught out by cheese pic
LONDON (AP) — A drug dealer in the English city of Liverpool thought he was the big cheese — until police got all the evidence they needed to arrest him from a picture he shared of himself holding a small block of creamy Stilton.
Carl Stewart, 39, was sentenced to 13 years and six months in prison at Liverpool Crown Court last week after he pleaded guilty to conspiracy to supply cocaine, conspiracy to supply heroin, MDMA and ketamine and transferring criminal property.
Were it not for a photo he shared of himself holding the cheese block from the reputable British retailer, Marks & Spencer, he could still very well be supplying large amounts of drugs.
Stewart was arrested after he posted the photo on the encrypted messaging service EncroChat, via his handle "Toffeeforce." Unbeknownst to him, the service had been cracked by police in Europe. From that, his palm and fingerprints were analyzed and police had their man.
Merseyside Police Detective Inspector Lee Wilkinson said Stewart had been "caught out by his love of Stilton cheese."
Stewart isn't alone in having his criminal activities brought to a premature end by his activities on EncroChat. Merseyside Police say around 60,000 users have now been identified worldwide, with about 10,000 of them in the U.K. alone. All are said to be involved in coordinating and planning the supply and distribution of drugs and weapons, money laundering and other criminal activity
Merseyside Police has arrested more than 60 people as part of Operation Venetic, and three more criminals were sentenced to long-term prison terms on Wednesday. Three more are due for sentencing Thursday.
Shaun Harrison, 33, was one of those, sentenced to 10 years eight months in prison after pleading guilty to conspiracy to supply cocaine and cannabis. Harrison was caught out after he revealed personal details of himself on EncroChat, on which he went by the handle "Scantbee and Sandferret."
"Merseyside Police, along with law enforcement agencies across the world, will leave no stone unturned in our pursuit of those people who think they are above the law, and we will continue to target anyone involved in serious organized crime to keep this positive momentum going," Wilkinson said.
Germany: Large cocaine haul thrown in garbage bins
BERLIN (AP) — Staff at a logistics company in Germany threw cocaine with a street value of up to 1 million euros ($1.2 million) in the trash, not realizing that the packages they'd found inside banana crates were drugs, customs officials said Tuesday.
Authorities said that a fruit logistics company in Erding, near Munich, called police on May 10 to report that workers had discovered at least 4.5 kilograms (almost 10 pounds) of cocaine in organic waste bins on their premises.
Police determined that the drugs had been dumped there a day earlier by subcontractors who gave no thought to the "foreign objects" they found wrapped in tape inside the banana crates before discarding them.
The Munich customs office said the crates had been shipped from Ecuador via the Netherlands. No further packets of the high-grade cocaine were found.
Louisiana gator swaps swamp life for Texas beach getaway
PADRE ISLAND NATIONAL SEASHORE, Texas (AP) — A young alligator traced to the Louisiana bayous traded swamp scum for a sandy Padre Island beach in South Texas.
In an unusual spin from "Jaws," the gator showed up Monday on Malaquite Beach, about 25 miles (40.23 kilometers) southeast of Corpus Christi, Padre Island National Seashore officials said in a Facebook post.
National Park Service rangers found it and checked its tail notch and tags on its rear feet to determine it had come from Louisiana.
How it got to South Texas remains a mystery, but its spring break ended abruptly as rangers took it to a rehabilitation center to recover from its journey.
While alligators can tolerate saltwater for a few hours or even days, they are primarily freshwater reptiles living in swampy areas, rivers, streams, lakes, and ponds, according to a National Oceanic and Atmospheric Administration website.
The-CNN-Wire™ & © 2021 Cable News Network, Inc., a WarnerMedia Company. All rights reserved.