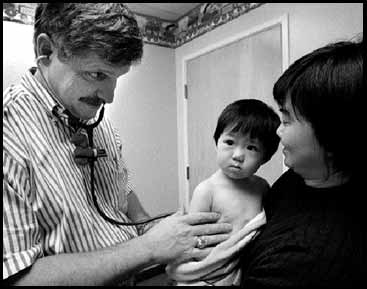 Mystery solved: Forest Service firefighter captured tragedy with digital camera
It's a jaw-dropping shot. A pair of cow elk stand in river water, backlit by a ball of flame and a hillside engulfed in forest fire. If you've got e-mail, you may have seen it in the past couple of days, as the photo spreads across the Internet faster than the wildfire it depicts.
Unfortunately, the photographer's name and details of the image got lost along the way. The rumors began swirling. "This was taken by a friend of a friend near Hamilton," one e-mail caption read. "Thought you would like this," read another.
It was taken with a disposable camera by a firefighter, or maybe a tourist. It was a shot of elk in the Firehole River during the 1988 Yellowstone National Park fires. It was digitally faked.
The public usually isn't allowed that close to that kind of inferno, so the best bet was that some kind of firefighter took the photo.
Most of the fires that close to water this summer occurred in the Bitterroot.
The Bitterroot National Forest information office had heard of the picture, but wasn't sure of the photographer. Someone in the office had heard it was taken by someone attached to Incident Commander Joe Stam's Type 1 team.
Stam is based in Alaska, and a call to the Tongass National Forest office there determined he and his team were now stationed at the Clear Creek Complex of fires near Challis, Idaho. Information officer Ann Jeffries had seen the photo, and found someone who knew it was taken by John McColgan, a fire behavior analyst.
But McColgan wasn't there anymore. He'd left a week ago for Fairbanks to be present for the birth of a new son. A co-worker at the Alaska Fire Service office in Fairbanks tracked him down to his doctor's office, where first son Jack was getting a checkup.
"That's a once-in-a-lifetime look there," McColgan said Thursday from Fairbanks. "I just happened to be in the right place at the right time. I've been doing this for 20 years and it ranks in the top three days of fire behavior I've seen."
The day was Aug. 6, the Sunday when several forest fires converged near Sula into a firestorm that overran 100,000 acres and destroyed 10 homes. Temperatures in the flame front were estimated at more than 800 degrees. Nevertheless, McColgan said, the wildlife appeared to be taking the crisis in stride, gathering near the East Fork of the Bitterroot River where it crosses under U.S. Highway 93.
"They know where to go, where their safe zones are," McColgan said. "A lot of wildlife did get driven down there to the river. There were some bighorn sheep there. A small deer was standing right underneath me, under the bridge."
McColgan snapped the photo with a Kodak DC280 digital camera. Since he was working as a Forest Service firefighter, the shot is public property and cannot be sold or used for commercial purposes. The Rocky Mountain Elk Foundation has made arrangements to use it on one of its magazine covers, and it's been posted on the National Interagency Fire Center's photo gallery, www.nifc.gov/gallery.
McColgan said sometime last week, a friend innocently found the image in an office computer and e-mailed a copy to another friend.
"On Sunday and Monday it really flooded on the e-mail," he said. "I've got a stack of eight phone messages today asking about it. I couldn't have profited from it, so I guess I'm glad so many people are enjoying it."