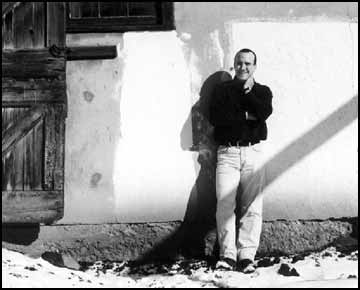 Allen Morris Jones offers 'primer for relationships'
She ordered champagne at lunch, regaled him with stories from her travels and coyly presented him with an artist's photograph of her in the nude.
"This was a very cool lady," Allen Morris Jones says, telling the tale five years later. "If she had been 50 years younger, I would have fallen in love with her."
What he did instead was write about her - or about the 17-year-old he imagined her to be, the privileged New Yorker coming West, alone, and never leaving. Virginia, he named her, and gave her the seed of a child in her womb in post-World War I America, when to be single and pregnant - even if you'd been raped - was a devastation, a disgrace.
"Last Year's River" is Jones's first published novel, a risk for which he quit his day job and that seems, so far, to be paying off. Set on a Wyoming ranch, in upper-crust New York society and among the trenches of war, the book explores parent-child relationships, women's rights - or lack of them - and love in precise, vivid prose.
"I knew I wanted to write a love story," says Jones. Love stories sell, he says, but, more than that, he wanted to fashion a yarn to which readers could relate. Only a few basic themes exist for a writer, he says, and quotes the poet William Butler Yeats as insisting there are only two: sex and death.
"I wanted to create a primer for relationships," says Jones, 31, who is unmarried, yet apparently, understands the nuances of developing love, the bob-and-weave, the words spoken in haste and then regretted, the words unspoken and regretted, too, for their silence.
"For some reason, people, no matter how compatible, never totally connect," Jones says. The original, working title of his book: "The Unfrozen North," a metaphor, he says, for love.
In telling Virginia's story - raped on a date, impregnated, sent off by her mortified mother to hide her growing belly in Wyoming, loving the child forming inside her even as she knows she'll be forced to give it up, pursued by the child's father, desperately in love with the half-breed cowboy she meets on the ranch - Jones casts in high relief the narrowness of options available to women at the time, and the insistence of men on holding, and often abusing, power over them.
How he's managed to tell the female story so effectively is a mystery even to Jones, he says. "I didn't approach it intentionally trying to see it through a woman's eyes. Maybe it's a reflection of where we all come from."
Delineating the character of Henry, Virginia's love interest, was more difficult, he says.
"It's very hard to write about a strong cowboy figure without the whole thing falling apart into cliche. I tried to create in some sense a strong, silent type and make it fresh and original."
For all its emphasis on relationships, "Last Year's River" is anything but a slow read. Besides the rape, the book teems with action and conflict: an abusive step-father, a forest fire, the war, hunting and trapping, a pulled gun, a bloody birth.
"Kurt Vonnegut said that a writer has to be a sadist. No matter how much you enjoy and like your characters, you have to do all sorts of things to them," Jones says. "It's only when you put them through the most extreme trials that you can see the stuff they're made of."
A Missoula resident these past six months, Jones is just beginning to promote his book while working on another, an escaped-slave story set in antebellum Appalachia. He's got to work fast, he says, for he has only enough money on hand to support him for another year or two; he quit his five-year job as editor of Big Sky Journal to try his hand at fiction.
To do so must have taken some courage, for, he says, only one teacher - his eighth-grade English teacher in Livingston - has ever given him any encouragement to write. But then, Jones, who graduated from the University of Montana with a degree in liberal studies, has taken only one, sophomore-level, creative writing class and attended a couple of writers' workshops, neither of which he benefited from, he says.
He does have one other book to his credit: "A Quiet Place of Violence: Hunting and Ethics in the Missouri River Breaks" was published in 1997 by Spring Creek Publishing in Bozeman.
"Hunting is one of my passions," says Jones, who was certified as a Professional Hunter in Africa. "The book is my attempt to rationalize it."
Be the first to know
Get local news delivered to your inbox!