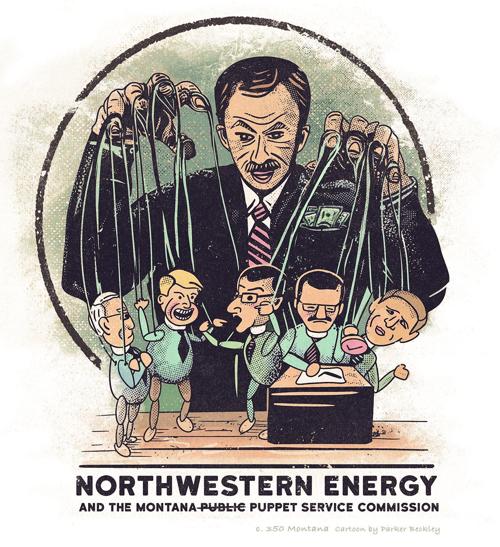 Executives of NorthWestern Energy apparently found an incredible bargain at The Dollar Store in Seattle: A 25% share in the rapidly declining southeast Montana Colstrip 4 plant sold by Puget Sound Energy. The one-dollar purchase would give NorthWestern Energy ownership of the Colstrip plant.
Puget Sound can't believe its good fortune. Puget Sound, like all the other partners, is abandoning investments in Colstrip by 2025. They know the Colstrip 4 plant's fire box is shot, with a $20 million repair. In 2018, it had failed to meet pollution standards for three months, costing NorthWestern Energy $23.8 million. And the game changer is the fact that electricity from wind and solar is so cheap, every American utility executive in his/her right mind is shunning greenhouse-gas-intensive coal.
Everyone in Montana, not least our legislators and consumer advocates, is hot to see the small print. But NorthWestern Energy is pulling strings to keep details secret. Like The Great and Powerful Oz, the company threatens thunder and lightning, blackouts and chaos if it can't get its purchase to the cash register in The Dollar Store.
So that brings us to Montana's Public Service Commission, the PSC, empowered by law to regulate monopolies like NorthWestern Energy. The PSC has granted, so far, a veil of secrecy. Commissioners have asked NorthWestern Energy for more, secret information. Excuse me for being the party pooper here, but I don't have a high degree of confidence that the PSC can chew gum (keep details secret) and walk (process those details for the benefit of ratepayers) without independent scrutiny.
In recent months the PSC has been acting strange. I'm not sure whether commissioners have a martini bubbler going in the back room or what, but it is not a crisp, sober decision-making body if press reports and leaked emails are to be believed. Climate deniers all, they seem disinterested or frightened by the public process, show up intermittently for meetings, and resent the increasing multitude of Montanans who don't want NorthWestern Energy to double down on an expensive, outmoded, polluting energy source.
Flush with $200 million in profits last year, NorthWestern Energy could buy Puget Sound Energy's 25% share and assume the liabilities of Colstrip 4 — without PSC oversight.
But company executives don't want that. Apparently, even at $1, this investment is too risky for the company's stockholders. NorthWestern Energy wants to keep the gravy train going.
Company executives want the PSC to guarantee that NorthWestern Energy's 374,000 Montana ratepayers pay whatever bills and pollution cleanup come from running the Colstrip 4 plant for the next 20-plus years.
This farce has to stop. How much will we be on the hook for? How much does NorthWestern Energy's new contract for coal cost? How much for repairs and maintenance for the aging plant now and in the future? How does Colstrip electricity compare to electricity from new wind and solar (backed by modern storage technologies) and from electricity purchased on the open market?
We want an independent, trusted analysis, not NorthWestern Energy's "proprietary modeling," which always seems to give the answer the company wants.
Will the PSC make Montanans sign this blank check? Not yet. The PSC needs more information. Good. Let's make these details public.
In light of recent reports concerning the PSC's internal jealousies and rancor and its history of giving NorthWestern Energy what it wants, we need to see the details. The PSC should lay the cards on the table. Let the bright light of day improve this process.
Jeff Smith of Missoula is one of the co-chairs of 350 Montana, a climate activist group.
Catch the latest in Opinion
Get opinion pieces, letters and editorials sent directly to your inbox weekly!