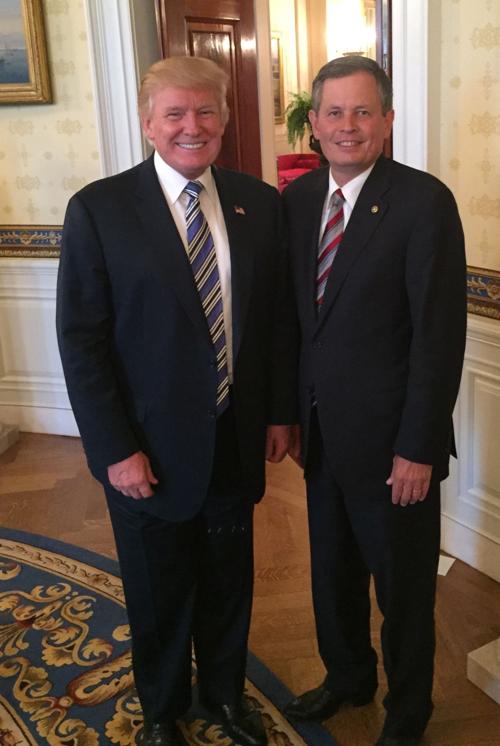 It's time for U.S. Sen. Steve Daines to come home to face his constituents – and the music.
While holding face-to-face public meetings will undoubtedly be an uncomfortable experience for Montana's Republican senator at times, it is increasingly necessary.
It's no exaggeration to say that many Montanans have been in a near-panic about health care reform. Notwithstanding the lack of action in the Senate so far, there is good reason to worry about the future of health care in America, and the likelihood that rural states like Montana will be hit hardest by rollbacks. The current climate of uncertainty surrounding Medicaid and other vital programs is already having an effect on the nation's health industries, with hospital networks planning drastic cuts and insurers planning rate hikes.
The organization that oversees St. Patrick Hospital in Missoula and other clinics in western Montana, Providence Health & Services, recently announced an "aggressive cost-cutting campaign that will include layoffs," according to The Oregonian newspaper.
And Montana's largest provider of health insurance, Blue Cross and Blue Shield, is proposing an average rate increase of more than 23 percent next year for nearly 32,000 individual market enrollees.
Amid these troubling developments, many Montanans have been left feeling that our most powerful member of Congress has all but abandoned us.
Instead of returning to Montana frequently and attending town halls in person, Daines has chosen to stay in Washington, D.C., for the most part and host "tele-town halls" instead. Tele-town halls certainly have their advantages: they allow many more Montanans, from anywhere in the state, to call in and listen to a public dialogue that is likely to cover at least the most pressing issues.
But they should never replace face-to-face meetings between Montanans and our elected officials. Indeed, such meetings are one of the key benefits of living in a large state with a relatively small population; we enjoy unparalleled access to our federal representatives.
Yet instead of leveraging that access and showing Montanans he cares enough about their concerns to look us in the eye, he called for the Senate to cancel its August recess.
Daines' reasoning was that the Senate still had a lot of work to do, and not many days left to do it. Yet there is no guarantee the nation's senators would use their extra time wisely. Indeed, there is a raft of evidence to suggest they would squander it.
Senate Majority Leader Mitch McConnell did not cancel the recess, but he did agree to delay its start until the third week of August. Senators should certainly make the best possible use of these additional weeks – and then return to their home states ready to spend some real quality time with their constituents.
Of course, the looming recess shouldn't preclude any of them from visiting their home states beforehand – or Daines from arranging in-person town halls immediately.
The stories shared at these town halls are often hard to hear. They offer Montanans a chance to face their representatives and talk about their most personal problems. Often, they will pointedly blame those representatives for causing, or not fixing, their problems. And such stories provide plenty of fodder for opposition parties to use in the next campaign season.
But they also provide elected officials the opportunity to defend their actions and explain how they are working behalf of their constituents. Every face-to-face meeting is a chance to show Montanans they are not just politicians, but people too.
As a senator and a member of the majority party, Daines is in a unique position to influence legislation in a way that ensures Montana's interests are represented. We can't help but recall when former U.S. Sen. Max Baucus, a Democrat from Montana, was in a similar position less than a decade ago – and used it to become one of the chief architects of the Patient Protection and Affordable Care Act.
Daines made headlines last week for his attendance at an exclusive dinner with President Trump and seven Republican senators. The dinner was billed as an effort by Trump to shore up support for his health reform bill, although Daines told Washington Post reporters that the discussion wandered to other topics, such as the president's recent trip to Paris.
How frustrating that Daines did not use this moment to press the president and fellow senators on the need to craft effective legislation that allows rural health providers in Montana to continue serving their patients, a sizable number of whom are veterans, Native Americans and people with disabilities.
That same day, other Republican senators announced they would not vote for the latest version of the Senate health bill, the Better Care Reconciliation Act, effectively shelving it. That same week, other Republican senators announced they would not support efforts to repeal the Affordable Care Act without a replacement.
Last month, Daines expressed frustration with the "lack of transparency and the lack of visibility" with the Senate health reform process. He has been a staunch proponent of repealing the ACA, but a less decisive advocate of any replacement proposals.
So it's no wonder if he is reluctant to come to Montana and meet personally with Kalispell's Ben Long, whose 13-year-old son suffers from seizures and whose family would be medically bankrupt if the current Senate health bill becomes law. Or speak with Missoula's Mark Boatman, who has life-threatening muscular dystrophy but is able to receive care at home thanks to Medicaid. Or face the dozens of protesters who regularly gather outside his offices in Missoula and elsewhere.
But he needs to. The lives of untold numbers of Montanans will be directly affected by Daines' actions, or lack of action, in the Senate. He ought to meet with them directly too.