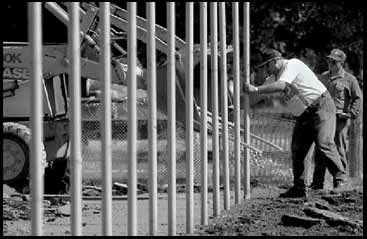 SALEM, Ore. - Oregonians have voted on more initiative measures than residents of any other state - a legacy of an individualism dating to the days of the Oregon Trail.
But the state's initiative system is coming under scrutiny because of one man who makes his primary source of income by promoting and writing ballot measures.
That man is Bill Sizemore, an anti-tax crusader who made an unsuccessful run for governor in 1998 and now operates a measure-pushing machine that is funded in large part by a small group of wealthy Republican businessmen.
The 49-year-old, conservative Republican placed six of the 26 measures that are on Oregon's Nov. 7 ballot. One would cut state income taxes by $1 billion a year, but critics say upper-income residents would see most of the savings.
Sizemore's opponents say he is exploiting Oregon's initiative system - created in 1902 to give citizens a greater voice in government - to financially enrich himself and to help his backers use the petition process to put self-serving measures on the ballot.
But Sizemore says his activism is aimed at rolling back taxes, limiting the size of government, and protecting the voters' right to pass laws when they think the Legislature isn't doing its job.
"The single largest threat to freedom in this country is the ever-expanding size and cost of government," he said.
For a man who failed to win political office two years ago, Sizemore wields a lot of clout. His ballot measures have dominated political debate for the past few months.
One of the measures would limit public employee unions' ability to raise political money. Another would tie teacher pay raises to performance, not seniority. A third mandates voter approval for most increases in taxes and fees. Another would prohibit the Legislature from restricting the initiative process.
In a recent editorial cartoon in the Oregonian newspaper, a teacher points to the three branches of state government written on a chalkboard: "Executive. Legislative. Sizemore."
The man who trounced Sizemore in the 1998 gubernatorial race - Democrat John Kitzhaber - is campaigning against his measures, saying they would force steep budget cuts that would adversely affect schools and other state services.
"I think he's found a way to make a living," the governor said.
"He hasn't been dramatically successful in a long list of other endeavors," said Kitzhaber, alluding to a failed toy company venture in which investors lost several hundred thousand dollars in the 1980s.
Sizemore has succeeded as a promoter and writer of ballot measures largely because of Oregonians' fondness for their initiative system - they have voted on more than 300 initiative measures since 1902.
"People don't see Sizemore as a potential governor or as someone who should hold office," Portland pollster Tim Hibbitts said. "But they do view him as a useful agent to poke and prod at government and to help rein in the size of government."
"He's become the most aggressive, best-funded and most clever user of the initiative system in Oregon," Tim Nesbitt, president of the Oregon AFL-CIO.
Sizemore is head of Oregon Taxpayers United, which lobbies for tax cuts and less government, and gets a $70,000 annual salary from OTU.