The Montana Fish and Wildlife Commission on Tuesday rejected multiple petitions from interest groups seeking to address overcrowding on the Madison River, opting instead to direct Montana Fish, Wildlife & Parks to draft multiple options for further public review.
The issue of overcrowding, whether real or perceived, has long been a challenging and at times contentious issue on the river. Communities like Ennis thrive off of the seasonal tourism that pumps tens of millions of dollars into the economy. Promotional campaigns including those developed by the state of Montana largely promote angling on the Madison as well, encouraging out-of-state anglers to come to Montana and try to tease a trout with a fly rod.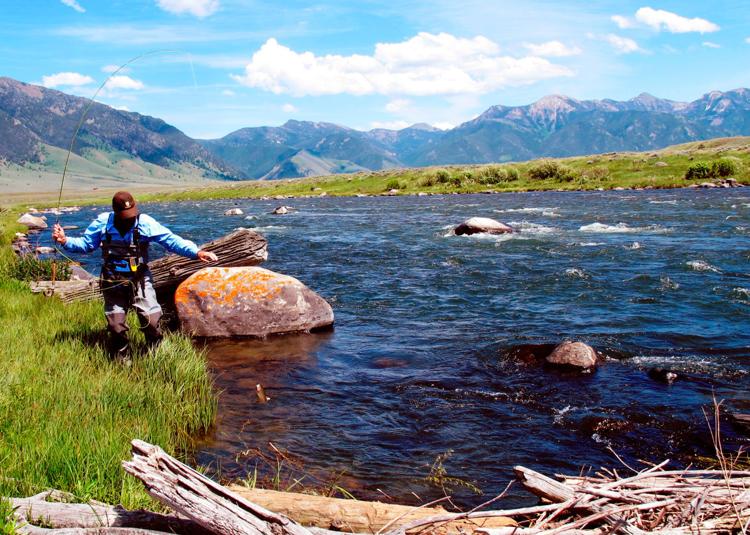 Concerns that increasing pressure will continue to erode the experience and eventually the fishery have led to multiple pushes to address the issue. Most recently, a group convened by FWP to make recommendations on the Madison disbanded after failing to reach agreements on ideas such as capping outfitter use and closing stretches to boat angling.
In response to the group's disbanding, three different citizen petitions came forward with the aim of addressing the overcrowding issue. On Tuesday during a meeting that featured a crowd overflowing into the lobby of FWP headquarters in Helena, the commission heard those proposals.
The Madison River Foundation's petition proposed the most regulation on outfitters and river use in general. The petition called for capping the number of permits for outfitters and setting daily launch limits, creating stretches of river free from outfitting year-round and prohibiting vessels in wade-only stretches of the river.
"We understand one day all use will need to be capped, but starting with those that profit from a public resource is the right first step," Quincey Johnson with the foundation told the commission.
If nothing is done, the state will eventually put limits on river usage for all as social conflicts become more and more prevalent, she said.
Steve Luebeck, representing a coalition of sporting groups that brought their own petition, believed a hybrid of multiple petitions could see support. The George Grant Chapter of Trout Unlimited, Skyline Sportsmen Association, Anaconda Sportsmen Association and Public Lands and Waters Access Association supported capping outfitter permits and daily launches, but opposed limiting boat use for the upper stretches of the river.
Regardless of the decision, Luebeck felt it was time for the commission to act.
"Every past decision point on the Madison, FWP has chosen to kick the can down the tracks," he said. " … The time for studies and scoping has come to an end. Today is a decision point."
You have free articles remaining.
The third official petition came from the Fishing Outfitters Association of Montana. Executive Director Mike Bias argued that closing sections of river would only exacerbate crowing elsewhere. The association opposes limiting boat traffic and proposes capping outfitter trips at 2019 levels. Those trips would be allocated on a tiered system split between established outfitters and new outfitters. The plan also called for a commercial use working group and education and etiquette programs.
Bias pointed out that less than 20% of angling on the Madison comes from outfitting and felt that any plan should address overall use.
Finally, Mac Minard with the Montana Outfitters and Guides Association made an unofficial proposal to the commission. Minard's plan called for a two-year moratorium on new outfitters, as well as a directive to FWP to create a fishing access site ambassador program. Because the majority of dissatisfied river users said in surveys that conflicts occurred while putting in or taking out boats, the ambassador could do things like direct traffic and diffuse conflicts, he said.
Minard also suggested that FWP adopt fishery management objectives, such as fish per mile and catch rate, to ensure the river remains a healthy fishery. It is important, despite resistance from some, that outfitters have a voice in the development of any plan for the Madison, he said.
As has been the case throughout discussions of the Madison River, Tuesday's meeting featured a mix of support and opposition for varying petitions. Many who traveled from Ennis to Helena to speak felt that limiting the outfitting industry will hurt the local economy.
"The town of Ennis has been under attack and we need time to coalesce and write our future," said John Way, an outfitter and fly-shop owner from Ennis. "Our future is dependent on that river and we need a chance to put it together and write a positive future for Ennis."
Danica Lewis, president of the Ennis Chamber of Commerce, said it was key to get people to work together on the issue before making any changes that could hurt the economy.
"To totally stifle the ability for our residents to provide for themselves is really disheartening," she told the commission. "I have to ask the commission, please give us the time to stop the defensive and work with everyone to be on the offensive."
Jim Wilson came out in support of the Madison River Foundation's petition to the commission, believing the outfitters had not done enough to push for regulations to address overcrowding.
"The most vocal noteworthy blowback to any regulations has been the fishing outfitters, and I've seen that this morning," he said. "It's understandable, they're the ones that directly profit from the river and exploit its resources, but they too must realize this river does not belong to them, it belongs to all Montanans, all of us. Many recreationists have been forced off the river and the social conflicts have only gotten worse."
Rather than move forward with one of the petitions and amend it, the commission decided to vote each petition down. They ordered FWP staff to launch a "scoping" session, which will put forward multiple alternatives for the Madison River. During scoping, the commission will continue to take public comment for consideration likely early next year.