A yearly ritual is taking place as rainbow trout are cruising the shorelines of many lakes and reservoirs.  
Anglers are having success catching these fish from shore by casting lures, sinking bait and presenting flies. Boat anglers are also targeting the trout. 
For river anglers flows are starting to increase so it's the perfect time to fish before runoff kicks in. The Bighorn, Boulder and Gallatin rivers all present a good opportunity for fly anglers.
On the Missouri River, upstream from Fort Peck Dam to Fort Benton, paddlefish season begins on May 1.
Here's The Gazette's weekly fishing report:
Top picks
Bighorn River — Water temps are slowly climbing with the recent spout of warmer weather. We've seen a few more fish up on Baetis on the cloudy days and in the evenings. Flows were climbing to 3,500 cfs on Wednesday, an increase of 250 cfs. Nymphing has been solid with Cotton Candy (14-16), Pete's Carpet Bug (tan 14-16), Soft Hackle Rays (tan, light pink 16-18), Jellybean Sowbugs (14-16), Eddie Vedders (tan 16-18), Wondernymphs, JuJu Baetis, LBF, Zebra Midges and Olive PTs. — Bighorn Angler, Fort Smith. 
Canyon Ferry Reservoir — Rainbow trout are being caught from shore using leech flies or beadhead nymphs on the north end and at Confederate and White Earth. Walleye action is good around Duck Creek and Ponds 1 & 2 in 4 to 12 feet of water on jigs or bottom bouncers with crawler rigs. — FWP, Helena.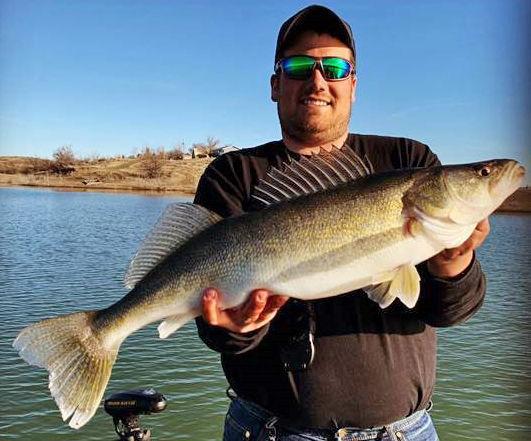 Fort Peck Reservoir, dam area — Anglers are catching lake trout in 10 to 30 feet of water at Haxby Point and Bear Creek. The Pines area is another place to target for lake trout. Action has slowed down at the face of the dam. For walleye, jig a minnow in the bays and on the points. Try pitching jigs with a minnow or plastic from 15 feet to shore. The water temp is up to 44 degrees in some bays. A few northern pike and smallmouth are being caught by walleye anglers. — Lakeridge Lodging & Bait Shop.
Hauser Reservoir — Rainbow fishing is very good while trolling cowbells around White Sandy, the Causeway and York Bridge. Shore fishing is producing rainbows at the Causeway Bridge on streamer flies or egg sacks and York Bridge on leech flies or egg patterns. Walleye and perch fishing is slow. — FWP, Helena.
Holter Reservoir — Shore fishing for rainbows is very good at Gates of the Mountains, Holter Lake Ramp and Log Gulch while using Woolly Buggers, Leech flies or Prince Nymphs. Boat anglers are finding rainbows near the surface while trolling cowbells or spoons. — FWP, Helena. 
Montana
Ackley Lake — It fished really well last week for trout. Fish from shore with half a worm and a marshmallow, or try spinners. The trout are cruising the shorelines. A fly with a bubble would also work. — Sport Center, Lewistown.
Beaverhead River — From Pipe Organ to Grasshopper is the only clean water. There are some BWOs coming off. Look for BWO nymphs. One could try black and olive streamers. Midges, Sowbugs and San Juan Worms are good options. Poindexter Slough is fishing well on Worms, Midges, Sowbugs and BWOs. — Frontier Anglers, Dillon.
Big Hole River — The river jumped in flow over the weekend and the flow was 4,090 cfs at Melrose on Monday. Expect flows to be volatile with warming temperatures. — Frontier Anglers, Dillon.
Bighorn Lake, Barry's Landing — Fishing was slow. At the Montana state line the water was dirty. The water temp was between 39 and 44 degrees. — Pryor Creek Bait Co., Laurel.
Boulder River — It's fishing well. Most fish are being caught on nymphs and streamers. Golden Stone nymphs, small dark mayfly nymphs and aquatic annelids have been most productive. We like a double bead Golden Stone (6-8), a beadhead Pheasant Tail (16-18) or a red or pink San Juan Worm. The brown trout on the lower river have shown interest in small black, olive and brown streamers fished across the river. We suggest brown, black and olive Woolly Buggers. We are waiting on the spring hatches, which could happen any day. In the upcoming days we expect to see March Browns and BWOs in both the upper reaches as well as the lower river below Natural Bridge. Recent rains have caused the West Boulder and the lower river to blow out; one should fish above the West Boulder when this is an issue, as the upper Boulder has yet to get off-color. — Sweetcast Angler, Big Timber.
Clark Canyon Reservoir — Most of the ice is gone now and the shorelines are open all the way around. There are some fish cruising the shorelines. Use Chironomids, Leeches or streamers. — Frontier Anglers, Dillon.
Cooney Reservoir — The bite is good. People are catching walleye and trout using night crawlers and spoon jigs. — Cooney State Park.
Deadman's Basin — It is open, but fishing hasn't heated up yet. With the Easter holiday fishing pressure was light over the weekend. — Cozy Corner Bar, Lavina.
Fort Peck Reservoir, Big Dry Arm — People are catching lake trout from the bank using cut herring from shore or bottom bouncing minnows from the boat. Anglers are also having some success for northerns from shore. Bottom bounce by McGuire Creek with minnows for walleyes. — Rock Creek Marina.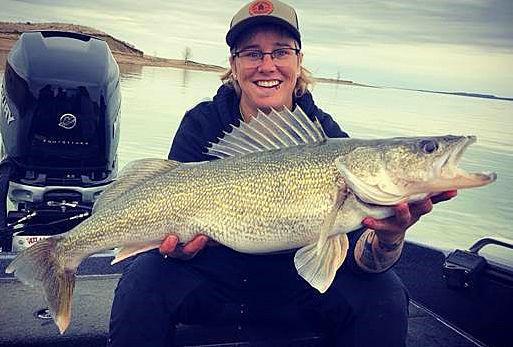 Fort Peck Reservoir, Crooked Creek — Bank anglers did well on catfish and pike. Present smelt or minnows on the bottom. The walleye bite remains slow as the water is cold and muddy. The marina opens full time on April 26. — Sport Center, Lewistown.
Fort Peck Reservoir, Fourchette Bay — The water was pretty stained last week, but water clarity should improve over time. — Westside Sports, Malta.
Fort Peck Reservoir, Hell Creek — Lake trout fishing is good. Pull cranks at 20 to 25 feet in the Crooked Creek and Gilbert Creek areas. Walleye fishing is not bad if you are in the right spot. For walleye, pitch your presentation shallow as they are in the spawning beds. Fish west toward Timber Creek or east toward Duck Creek and the Pines for walleye. Northerns are starting to hit. Pitch a jig or crankbait into the weeds toward the bank. For bass, pitch jigs into the shallow brush and rock piles. — Hell Creek Marina.
You have free articles remaining.
Gallatin River — The flow has dropped back down to a perfect level for wade fishing. The canyon has been on fire lately. We have had some fantastic reports from the area around Storm Castle. More fish are beginning to be caught in spots besides their winter holding places. Try putting some bugs along the soft edge of a riffle tail-out. Nymphing is good all day long after about 10 a.m. The water is in the green shade, which means it's time to have a worm or two with you. Mayflies are crawling around in the rocks getting more active. Big Hare's Ears and Pheasant Tails rolling along the bottom have been working very well in tandem with a Worm or a Stonefly. Get some wading in before the big runoff begins. A lot of the feeder streams are pumping mud and it's only going to get worse with warm weather. — Montana Troutfitters, Bozeman.
Madison River, Lower — The flow is normal as of Monday. Flows have been holding steady for the better part of a week. Get out there now if you can as this steady flow will not last. Hebgen Reservoir is almost at full capacity and a release will need to be made soon. When there is a release up top you can bet there will be a release out of Ennis, as well. If you are out this way the fish are getting active and fishing is good. In the afternoons, there are solid hatches of baetis and midges. The wind is the wild card for these hatches, but if it stays calm dry fly fishing can be really good. When the bugs are not out and about nymphing has been the most productive method. Crayfish, worms, and smaller mayfly nymphs have been getting the job done. The streamer bite out here has been OK. Pounding the banks has been producing some really nice fish. — Montana Troutfitters, Bozeman.
Madison River, Upper — The river conditions have been holding steady except for a small drop in the water temp. You don't need to rush to the river first thing in the morning. Mayflies and midges are the two nymphs to fish. Keep an eye on this river as Hebgen Reservoir is full. We expect a large bump sometime in the next week or so. — Montana Troutfitters, Bozeman.
Martinsdale Reservoir — It is open and anglers are fishing. Use a Wedding Ring and a crawler or cowbells. Try bait and marshmallows from shore. PowerBait and worms are good choices. Action is average for this time of year. The Musselshell River is blown out. — Ray's Sport and Western Wear, Harlowton.
Missouri River, below Holter — For nymphs, pink is a good color. The flow was 10,000 cfs on Monday. It is fishing alright. Wire worms, Rainbow Scuds, Tailwater Scuds and Zebra Midges are working. There is a little bit of dry fly activity on midges. Streamers are working OK in slow water. — Montana Fly Goods, Helena.
Missouri River, Fred Robinson Bridge — There is still a lot of ice on the banks. The water is really dirty due to the ice melting. When the water warms catfish action will take off. — Sport Center, Lewistown.
Nelson Reservoir — A few walleye, perch and bass were caught, along with quite a few small northerns. As water temps warm action should improve. — Westside Sports, Malta.
Rock Creek — With recent rain Rock Creek flows bumped up making it slightly tougher to wade and cross while also making the lower sections of the fishery off-color. There is only a few weeks (if that) until the start of runoff and then Rock Creek will be off-limits for two months. Though there have been some topwater insect reports over the last week, a fly anglers best bet continues to be fishing nymphs and streamers. However, should you want to throw some dry flies recommended patterns include a tan Caddis or a March Brown in 14, as well as a Midge Cluster like a Griffith's Gnat in a 16-18 or a Parachute BWO in a 16-18. Recommended nymph patterns to fish include a tan Caddis Pupa in 14, Zebra Midges in red or black in sizes 16-18 as well as red or brown San Juan Worms in a 8-10. Attractor nymphs like Lightning Bugs in silver or red, Copper Johns in red or chartreuse as well as Batmans or Montana Princes in blue, all in sizes 12-16, can be effective. Stonefly nymph patterns like Rubber Legs, North Fork Specials in black or tan as well as Red Fox Squirrel Nymphs in sizes 8-12 and don't forget fishing a Hare's Ear, Pheasant Tail, or standard Prince Nymph in sizes 12-16. The streamer fishing is where it's at on Rock Creek. Throw some Sparkle Minnows, Krystal Flash Buggers, Grinches or Slump Busters in black or olive and find out what's it's like to draw a trout out of its holding water and truly "whack" a fly. — East Rosebud Fly Shop, Billings.
Ruby River — There have been good reports. Baetis have shown up in full force and dry fly action has made this little river well worth the trip. Baetis Sparkle Duns (18-20) along with Zelon Midges (20) should have you covered. For nymphing, small 18-20 Pheasant Tails, Zebra Midges and Juju Baetis will keep you occupied until the hatch starts. — Blue Ribbon Flies, West Yellowstone.
Spring Creek — It is clear and anglers should be able to do well. Streamers would work. A beadhead Prince Nymph would work. Black is a good color. — Sport Center, Lewistown.
Stillwater River — Flows bumped up with the warmer weather and heavy localized rains, but should stabilize and regain clarity. If the lower river is a little off-color consider wade fishing the upper river above Absarokee, which usually stays clearer. The overcast and/or rainy days are perfect conditions for BWOs to come off by late morning. A few March Browns were showing up before the rain. Look for them to appear in greater numbers. The No. 1 dry fly pattern for the March Brown hatch is the Trina's Carnage Drake March Brown (14). Nymphing is always a good bet with mayfly nymph patterns like a Hare's Ear, Pheasant Tail, or red Copper John. Black, brown and coffee rubber leg patterns like Girdle Bugs and Pat's Rubber Legs, similar colored stonefly patterns along with a beadhead trailer is a good option. As flows continue to climb and get off-color, a San Juan Worm, rubber leg, or black Bugger on the edge is a good pattern. For dry fly action to rising fish try a smaller Purple Haze or Parachute Adams. A larger Purple Haze or Parachute Adams with a Zebra Midge or Pheasant Tail on a short dropper is a good tactic. In off-color water use a color contrast of darker patterns like black Buggers or the Grinch, either dead drifted or stripped. It remains to be seen whether or not the major caddis hatch will occur before runoff commences. — Stillwater Anglers, Columbus.
Tongue River Reservoir — Fishing was slow, but a 7.67-pound largemouth bass was caught by Mike Courts, 13, of Columbus throwing crankbaits in 10 feet of water. A big crappie, estimated at 16 inches, was caught and released. Crappie are biting at 20-feet plus. Try vertical jigging from the boat and tip the jigs with a fathead minnow. The water temperatures are creeping up. — Tongue River Marina.
Yellowstone River, Columbus — As is typical this time of year water clarity has fluctuated and been inconsistent. We likely won't get the prime blue-green tinted water this spring, but if there's at least a foot or two of visibility it's fishable. There have been midges and BWOs coming off once the day starts to warm up and the sun gets on the water. March Browns have begun to appear, and should do so in larger numbers this week. If the water is clear enough fish beadhead mayfly nymphs like a Hare's Ear, Pheasant Tail, or red Copper John. Otherwise, nymphing with black, brown and coffee rubber leg patterns like Girdle Bugs and Pat's Rubber Legs, or similar colored stonefly patterns, is likely the best way to go unless there are actively feeding fish. Black and darker streamer patterns like the Grinch or a black Bugger as well as a San Juan Worm are good options in off-color water. For dry fly action to rising fish try a smaller Purple Haze or Parachute Adams. With more consistent warmer weather, runoff will likely be here to stay soon. — Stillwater Anglers, Columbus.
Yellowstone River, Huntley — The river flow nearly doubled over the weekend, making all fishing below Billings more difficult. Walleyes and some sauger are starting to feed pre-spawn. Channel catfish are grouping up around the riffles where the best bet for anglers is chunk bait. The water is still too cold and murky for much action on bass. — FWP, Billings.
Yellowstone River, Livingston — Runoff has started. As of Monday, the Lamar River flows are 994 cfs vs. a normal of 574. The Yellowstone River at Carter's Bridge was 3,600 cfs vs. a normal of 2,000. The Shields River was at 2,640 cfs vs. 412. We had a lot of moisture over the weekend and there is a lot of low elevation snow. Fishing will be limited in this area for some time. The spring creeks will be fine. — Dan Bailey's Fly Shop, Livingston.
Yellowstone River, Miles City — Anglers are fishing for catfish. Before the rains the river was clearing. When the water clears the walleye and smallmouth bite should improve. There could be a short window for walleye, sauger and smallmouth before runoff starts. — Red Rock Sporting Goods, Miles City.
Wyoming
Bighorn River, Thermopolis — The flow was at 1,000 cfs on Monday. The water is clear. Use beads with droppers. San Juan Worms with a nymph dropper will work. There is a little bit of action on streamers. — White Horse Country Store & Canyon Sporting Goods, Thermopolis.
Boysen Reservoir — Fishing has been slow. — White Horse Country Store & Canyon Sporting Goods, Thermopolis.
Buffalo Bill Reservoir — All the ice is gone, but no reports on the fishing. At Beck Lake, pink is a good color for trout and crappie. Try waxworms on an eighth-ounce pink jig 2 feet below a bobber for trout and crappie. — Rocky Mountain Discount Sports, Cody.
Clarks Fork — The flow is 810 cfs and the water is murky. — North Fork Anglers, Cody.
Cody-area lakes — East Newton Lake is fishing fairly well on Chironomids, Ice Cream Cones and Buggers. Upper Sunshine Reservoir still has ice, but Lower Sunshine Reservoir is open. At Upper Sunshine the water has backed off the bank and there is some water to be fished. — North Fork Anglers, Cody.
Lake DeSmet — The ice is gone. One could try crawlers. — The Lake Stop, Buffalo.  
Lower Shoshone — The flow was 1,400 cfs on Monday and visibility is 1.5 to 2 feet. Basic nymphs and streamers will entice trout. There are chunks of moss floating on the river due to the flows. On warmer days there may be BWO hatches. — North Fork Anglers, Cody.
North Fork of the Shoshone — Runoff has started as the flow was over 1,000 cfs on Monday. Fishing is slow. — North Fork Anglers, Cody.
South Fork of the Shoshone —The flow is 283 cfs. Use a nymph in the morning. There may be a BWO hatch in the afternoon. Small midges would work. — North Fork Anglers, Cody.