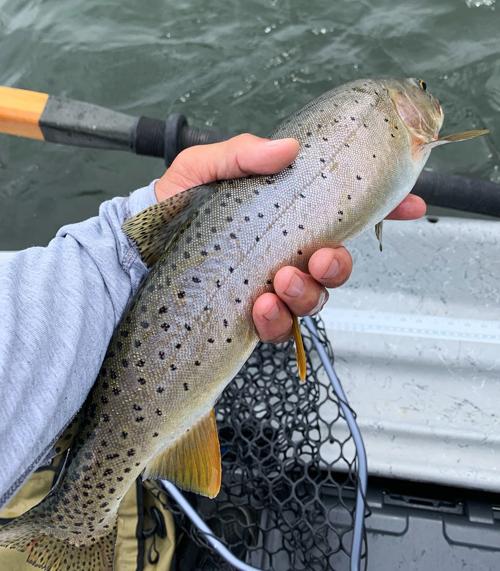 When Alex Falder reeled in a 15-inch trout on the Bighorn River on July 17, his guide was a bit surprised.
"Man, that looks exactly like a cutthroat trout," said Andy Elser of On The Fly Guiding, a Billings-based guide service.
Because his other angler also had a fish on at the same time, Elser quickly snapped a photo of the fish and released it back into the river.
"Later that night it was bugging me," Elser said
So he called Montana Fish, Wildlife & Parks.
"You're going to think I'm crazy," he remembered telling the FWP employee, "but I think my client caught a cutthroat on the Bighorn."
He texted the agency a copy of the photo. After passing it around to biologists, they agreed it was a Yellowstone cutthroat trout.
Ken Frazer, former FWP fisheries manager in Billings, said he saw the photo and speculated that it traveled downstream from a Bighorn Reservoir tributary, over Yellowtail and Afterbay dams before working its way down to the Last Chance Hole just before the Bighorn fishing access site. But he admitted it's hard to say for sure.
You have free articles remaining.
He said cutthroat trout live in the Big Bull, Little Bull and Dryhead creeks that empty into the 70-mile long reservoir.
With high water levels in recent years Yellowtail Dam has flushed a lot of water, and no doubt quite a few fish, downstream.
"We have seen rainbows (in the Bighorn River) off and on for years that had pretty orange slashes on their throats," he said, but can't recall a cutthroat trout ever being caught on the stream known for its brown trout and rainbows — both introduced, nonnative species.
"It's one of those mysteries," Frazer said.
Other theories Elser heard included that the fish migrated up from the Yellowstone River, which he found hard to believe given all of the diversion dams on the Bighorn River. Another thought was that it may have come down Soap Creek, a tributary to the Bighorn, but Frazer said his crews only ever found brook trout in that stream.
Elser questioned the dam-flushing fish story since the trout had no scars indicating a wild trip downstream.
Falder caught the trout on a San Juan Worm. A couple of days before that, Elser said a client reeled in a 25 ½-inch rainbow trout.
"The fish we are catching — we caught 25 to 30 yesterday — are fighting really hard," Elser said.
What's more, with the trout numbers down on the river and the water levels running high later into the summer, traffic on the normally bumper-to-boat-bow river has eased up. Hatches of black caddis and pale morning duns have allowed some dry fly fishing, along with the chance to throw hopper patterns along the banks.
The cutthroat trout may be the most unusual fish caught recently, but back in 2015 Missouri angler Nathan Diesel hooked a 38-inch, 16-pound northern pike in the Bighorn River. Maybe that's why trout numbers are down.