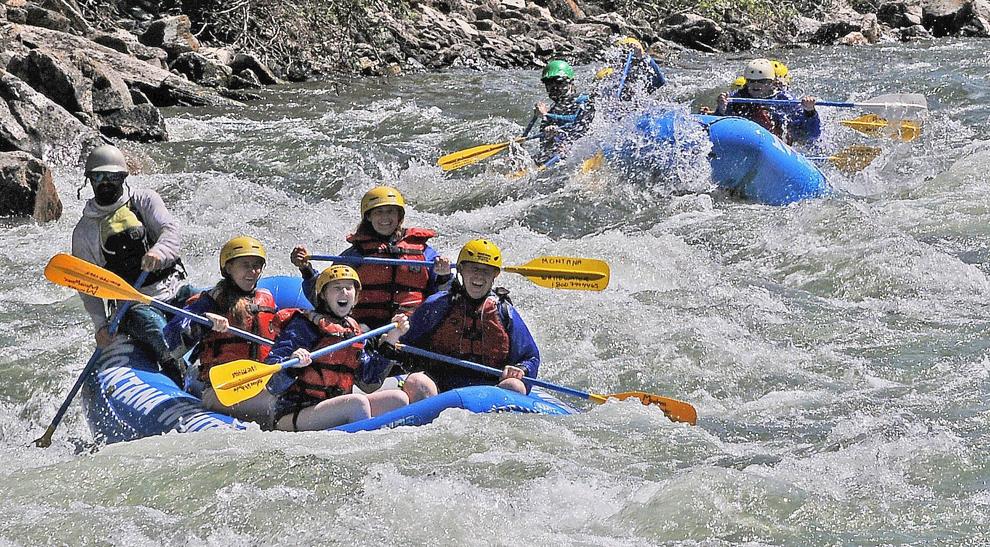 Whitewater season for skilled boaters has arrived as flows on many of the state's top wavy rivers have hit perfect flows for wet, chilly thrills.
Perhaps nowhere is the psych higher than on the Stillwater River, a tributary to the Yellowstone River.
Last June, the stream hit a record high, blowing out new channels, bridges and houses and dousing the floating season. This year, thankfully, it's much tamer with flows at 4,150 cubic feet per second compared to an average of 2,030 cfs.
"People want to play this summer because there's no flooding," said Merek Rosin, owner of Adventure Whitewater outside Absarokee, noting reservations were solid.
Last year at this time, the river was running low because of an unusually cool spring before rain on snow and warm temperatures rapidly changed the dynamics. Right now, it's a good level for experienced boaters with the right gear — including lifejackets, self-bailing rafts and dry suits on cool days. A dry suit can help ward off the chill of the 48-degree water, which feels fresh off a snow field.
Tim Hedin, owner of Boat Werx, ran the upper Stillwater last weekend and said it was perfect. The only strainer now is the Trout Creek Ranch bridge, which sits low on the right side, he said. Hedin encouraged boaters to stay left.
On the lower river, last year's flood wiped out Beartooth Drop, a notorious plunge just upstream from a bridge known for trapping unsuspecting newbies. But there's now an upstream wave train that has been known to flip unprepared boaters.
"The lower river has changed so much," Rosin said.
Hedin said the river should be good for skilled boaters at flows under 5,000 cfs.
Yellowstone
The Yellowstone River also saw a historic flood last year that overlapped the highway through Yankee Jim Canyon. Right now, the river is at 18,600 cfs in Livingston, about twice what it normally is at this time of the year but trending downward from a couple of days ago thanks to cooler weather.
The Boulder River, outside of Big Timber, was also running higher than usual. At 2,670 cfs, the rocky river is floatable for skilled boaters below Natural Bridge. The window to float the stream is typically narrow because once it drops too much, it is too rocky to negotiate.
Downstream farther, the Yellowstone River at Billings was running about twice its normal volume, although also declining a bit thanks to cooler temps. Flood stage near Billings is 13.5 feet and the river on Friday was at 9.6 feet.
The river is getting a big boost from the Clarks Fork Yellowstone River, which hit 5,430 cfs on Friday, down a bit from a day earlier. The Clarks Fork Valley was also hammered by flooding last June. The river has about 2 more feet to climb to reach flood stage in the valley. Last year by mid-June it had climbed to 4 feet above flood stage.
Elsewhere
Other whitewater attractions in the state include the Gallatin, the Blackfoot, Middle Fork Flathead and Clark Fork River's Alberton Gorge.
Veteran river-runner Mike Johnston, of Montana River Guides, visited the Gallatin last week for a whitewater rescue course and riverboarded the Mad Mile. It was only 3,500 cfs the day he went, but he's done it at levels as high as 6,000 cfs. The river was running at 4,190 cfs on Friday.
Johnston's company has been running rafting trips on the Blackfoot River recently, where flows were at 5,800 cfs on Friday, below average for this time of the year.
"It's going to be a good year for the Blackfoot," Johnston said, even though flows seem to have peaked early, as did the Clark Fork River.
As soon as the flows through the Alberton Gorge drop to the low 20s, as in 20,000 cfs, Johnston's crew typically shifts their focus to that area, which is closer to his shop. On Friday the Clark Fork below Missoula had quickly dropped to 19,800 cfs compared to 27,400 cfs on Tuesday.
Johnston used to launch at higher flows but has become more cautious after encountering unprepared floaters in bad situations — cold, wet, using substandard equipment and too often drunk.
Reservoirs
Higher water on some rivers, bolstered by recent rainfall, has pushed some reservoir levels up, although it can also add a lot of floating branches and logs to lakes.
Fort Peck Reservoir had climbed to an elevation of 2,225 feet by Friday, up about 5 feet since the beginning of March. Last year at this time, the reservoir was trending downward. The lake is fed by the Missouri River, which was running higher than normal for this time of year at 16,900 cfs near Landusky.
The Missouri also feeds Canyon Ferry Reservoir, which was at an elevation of 3,789 feet. That's good enough to wet down all of the boat ramps around the lake for the Memorial Day weekend.
The Missouri River at Toston, upstream from the lake, was also flowing at higher-than-normal flows for this time of year — 17,300 cfs compared to the average of 9,600 cfs.
Weather
According to the National Weather Service, there is a flood watch for Montana east of Billings in poor drainage and urban areas.
"Heavy rainfall the last few days has saturated the soil in many locations across the watch area," the Weather Service advised. "The risk of thunderstorms with torrential rainfall rates, over ground that is already saturated, will increase the risk of flash flood issues through at least this evening. This watch may need to be extended into the weekend as well for some areas."
A reader's video of a flash flood in Golden Valley County on Thursday showed a torrent of water and hail running down a gulley into the Musselshell River.
The agency also issued a flood advisory for portions of southwest Montana along the Jefferson River from Twin Bridges to Three Forks. The Jefferson at Twin Bridges was running at an elevation of 7.4 feet. Flood stage is 10 feet.
Despite all of the moisture, about 68% of the state remains abnormally dry, according to the U.S. Drought Monitor. About 30% of the state is in a moderate state of drought with only 3% of Montana — all in the northwest — in severe drought.
That's an improvement from a year ago when 94% of the state was abnormally dry and 16% was in extreme drought.