Two otters born at ZooMontana last year will be on loan to the Grizzly and Wolf Discovery Center in West Yellowstone for a new riparian exhibit.
"Banks of the Yellowstone: A riparian habitat" will be housed in a 22,000-square-foot building. The facility will include an aquarium for five otters, a separate aquarium for Yellowstone cutthroat trout and arctic grayling, an indoor children's play stream, and an aquarium with native reptiles and amphibians.
"It will highlight some animals within Yellowstone that use wetland habitat," said John Heine, executive director of the not-for-profit center. "We'll talk about Yellowstone cutthroat trout and how they are interrelated with grizzly bears and gray wolves … how they impact other species."
That discussion will include the downfall of the Yellowstone Lake cutthroat trout population following the illegal introduction of lake trout in the early 1990s.
Wolves living in an adjoining portion of the center will have a window into the aquariums, emphasizing the interrelatedness of the species, Heine said. The center is already home to four gray wolves, seven grizzly bears, a colony of ground squirrels and a wide assortment of raptors including three bald eagles, a golden eagle, and two great-horned owls.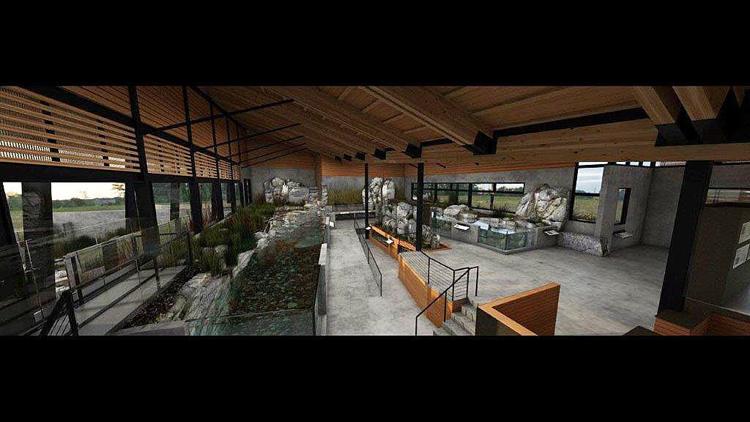 Brand new
The new facility cost $8 million to build and is set to open in late spring or early summer. A "state of the art" filtration system will allow the aquariums to recycle water so there's no strain on the community of West Yellowstone's limited water system.
The M.J. Murdock Charitable Trust pitched in $250,000 for the project.
"Our founder Jack Murdock loved the beauty of the Northwest and was an avid outdoorsman," said Dr. Steve Moore, executive director of the Murdock Trust, in a press release. "The Murdock Trust supports conservation work throughout the Northwest, but it's even more exciting when we can marry that work with our support for education, science and youth."
Murdock co-founded Tektronix in Portland, Oregon, just after World War II. The company manufactures equipment for testing and measurement, like oscilloscopes.
Heine said the new building, located to the southwest of the existing facilities, which are all spread across 14 acres, has been on the drawing board for 15 years. Funded by a loan, grants and individual donations, the center broke ground three years ago.
"We're really excited to bring this out there so that people can immerse themselves in what's going on," Heine said, "When you see them in front of you, it's a whole different story."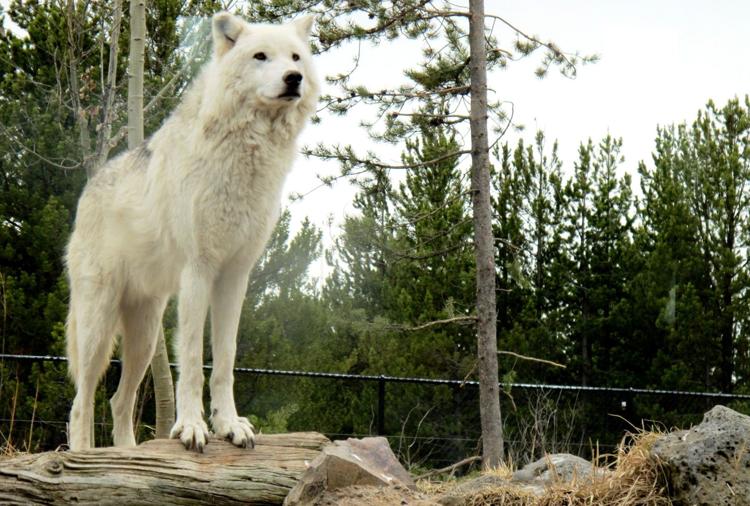 Visiting
The center is in a prime location for visitors seeking to learn more about the Yellowstone ecosystem. It's close to the West Entrance of Yellowstone National Park, which has averaged more than 4 million visitors the past four years with about 600,000 vehicles passing by mostly in the summer.
The center opened in 1993 and went nonprofit in 1999. Visitation to the bears, wolves and birds has gone up from about 70,000 in the early years to about 160,000 now, Heine said. Those visitors and the animals are cared for by a year-round staff of 26, which balloons to about 40 in the summer.
Yellowstone Park naturalists also interact with the center, providing programs in the facility's outdoor amphitheater during the summer.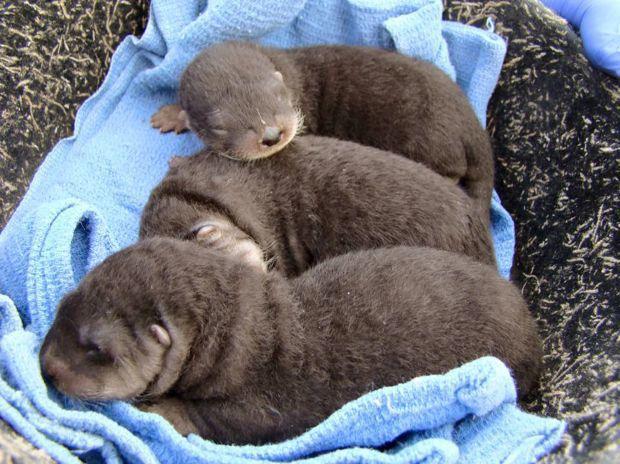 Otters
The Grizzly and Wolf Discovery Center took delivery of the two otters — Francis and Wade — from ZooMontana last month. The two are part of the zoo's fab four litter born almost a year ago that were abandoned by their mother. Zookeepers found the pups and raised them by hand. One pup, Frodo, died from kidney issues.
"I couldn't think of a better place for them to go," said Jeff Ewelt, executive director of ZooMontana.
Having them close by will allow zookeepers, who helped raise the pups and developed a bit of an emotional attachment, to go visit them. Plus, the facility where they will live is brand new.
The Grizzly and Wolf Discovery Center is open year-round. Summer hours, from May through Labor Day, are 8:30 a.m. to 8:30 p.m. Admission costs $13 for adults, $8 for children 5 to 12, and is likely to go up by $2 when the new riparian display opens. Admission is good for two days.