At her prenatal visits in 2016, Marie Aripa didn't mention the feverish cold sweats, body aches, and opioid cravings that made it difficult to get out of bed in the morning.
She was afraid to tell her doctor she was taking as many as 50 pain pills a week and was struggling to quit. If she asked for help, would the state take away her three kids? Would she lose her baby after she gave birth?
Rather than risk it, Aripa, who lives in Polson on the Flathead Indian Reservation, kept her addiction to herself, hoping if she quit on her own her baby would be fine.
Aripa, now 24, knew the withdrawals were tough. She'd quit twice during two earlier pregnancies. Both times, she was prescribed opiate painkillers after the births and fell back into addiction.
This time, quitting was even harder. During the first five months of her pregnancy, she relapsed several times, eventually relying on Suboxone, a prescription medication used to treat addicts that helps relieve opiate withdrawals and cravings. Aripa bought the pills from a friend and broke them into small pieces, which kept her from using for the last four months of her pregnancy.
As the opioid crisis tightens its grip on Montana, Native American communities have been hit hard. And pregnant women like Aripa, who have a greater incentive to quit, are hit hardest of all.
Montana's reservations are geographically isolated, and the Indian Health Service, which provides health care on most reservations, has been underfunded for decades. Native Americans often must travel farther than other Montanans to access treatment centers and quality medical care. And many say they are hesitant to go to hospitals because of discrimination, previous bad experiences, or tribal laws that ban drug users.
The statistics are daunting.
In Browning, on the Blackfeet Indian Reservation, 44 percent of pregnant women tested positive for opioid use, according to a 2017 health assessment by the Blackfeet Tribal Health Department and Boston Medical Center.
In 2016, nearly half of infants born in Lake County, which includes the Flathead Indian Reservation, were at risk for neonatal abstinence syndrome, the medical term for a dangerous set of withdrawal symptoms in drug-dependent infants including tremors, convulsions and high-pitched crying.
Public health experts say the best way to protect mothers and their children is through addiction treatment and social services.
But for many Native women, who often lack even prenatal care, it takes hours to drive to the closest inpatient centers that admit pregnant women. Aripa lives 90 minutes from the nearest inpatient center in Missoula. Proven outpatient services, like those that provide counseling and a prescription for Suboxone to aid with recovery, are often full or far away. Nicole Callahan, a mother on the Flathead reservation, had to drive three hours one way for Suboxone treatment in Helena.
"Even though we're in 2017 and we have the science, our treatment hasn't caught up," said Kathy Ross, an addictions counselor on the Flathead reservation.
Instead, Ross said, women are expected to quit by themselves and suffer through withdrawals, which rarely works.
"It's insane. It's unethical. It's just bad practice."
A missed window of opportunity
Addiction treatment experts say pregnancy is a perfect "window of opportunity." Pregnant women are more likely to want to quit, knowing drug use can affect their children. While women rarely develop addictions during pregnancy, it is often the first time they're diagnosed.
In 2011, however, only half of Native American mothers in Montana received prenatal care during the first trimester, compared to three-quarters of white women, according to the Montana Department of Public Health and Human Services.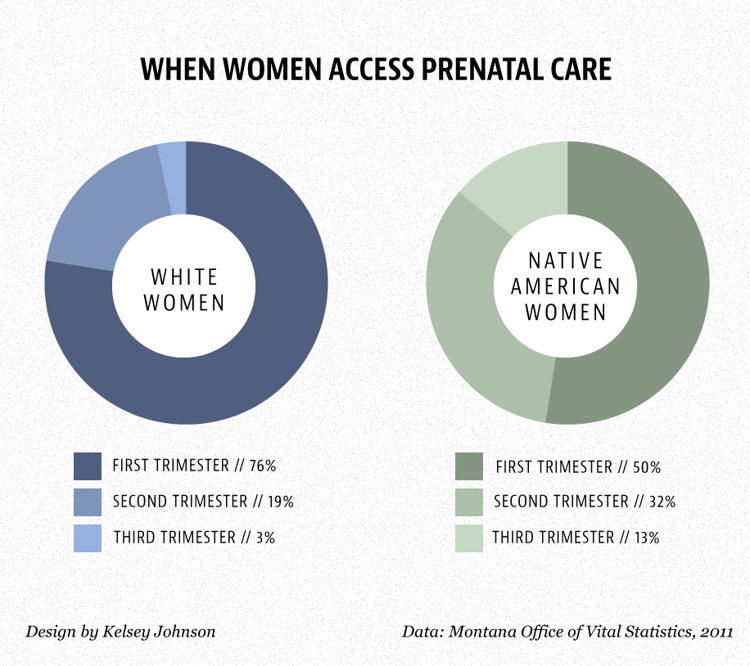 Of the seven reservations in the state, only three have health centers that provide prenatal care. On the others, women are sent to the nearest hospitals outside reservation borders, which are on average more than an hour away. 
St. Vincent Hospital in Billings hopes to remove distance as a barrier, using a temporary grant to launch a trial partnership with tribal counseling programs. With the money, the hospital started sending midwives to the neighboring reservations once a week to provide prenatal care, encouraging women who need it to start treatment. The effort is not the norm.
More often, women who are using drugs arrive at the hospital for the first time already in labor, said Andrea Ruhman, a nurse who works with pregnant women with addictions at St. Luke Community Hospital on the Flathead reservation. At that point, newborns are likely already harmed by drug use, and initiating treatment is significantly more difficult.
"Those moms are afraid of judgment and persecution," Ruhman said. "They're embarrassed by their addiction, and they know people are mad, so they hide."
Native women who do seek drug treatment for opioids have few options.
Only two inpatient treatment centers, in Billings and Missoula, regularly admit pregnant women. A treatment center run by the Blackfeet Tribe in Browning has two beds for pregnant women, but it is primarily equipped for alcohol addiction. Mothers using opiates are sent two hours away to Great Falls to detox, a system that director Louella Heavy Runner said often results in the mothers dropping out of treatment.
Among reservations, only Flathead has an outpatient program that combines behavioral therapy with a prescription for buprenorphine, which the American Congress of Obstetricians and Gynecologists suggests as the safest and most effective way to treat pregnant mothers with addictions. The Blackfeet Tribe is currently studying how best to offer those services.
The Flathead outpatient program often has a six-month waiting list, and pregnant women are not given priority, despite the urgency of their situation. The long wait is due in part to a severe shortage of doctors in the state who prescribe buprenorphine: Only one doctor in the 120 miles between Kalispell and Missoula is certified.
Women are referred to Kalispell or Missoula when the Flathead program is full, but even there, they may not find treatment. Some programs do not accept patients who live far away over fears they won't show up for daily or weekly appointments.
Ross, the addictions counselor, said there is a desperate need for more doctors in the area to prescribe Suboxone, which would allow the Flathead program to treat more people in their community.
"Their whole life doesn't have to be disrupted," Ross said. "Their children don't have to stay somewhere else for 30 days because mom's gone. They can stay involved with their culture and tribe with some dignity."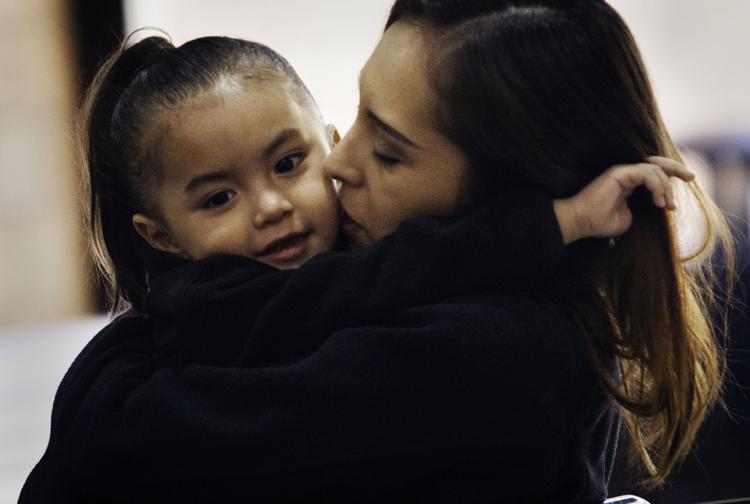 By the time Aripa gave birth, she had been sober for four months, but her experience in the hospital was traumatic.
Doctors found evidence of opioid use in her umbilical cord, which retains information from an entire pregnancy, but does not show how long ago a woman stopped using. Even though she passed a drug test after giving birth, Aripa said doctors wrote a note on her son's incubator saying nurses should not allow her to breast-feed.
Her son, who was born with respiratory problems, was flown to Kalispell Regional Medical Center's neonatal intensive care unit before Aripa had held him.
"That made me really upset, because I had breast-fed all my kids," Aripa said.
Professional medical associations encourage women with substance use disorders who have stopped using — often even those prescribed anti-opiates like methadone or buprenorphine — to breastfeed their children, as it supports recovery and bonding. Studies also show that skin-to-skin contact reduces the severity and length of an infant's drug withdrawal.
Child and Family Services was called to the Kalispell hospital. Aripa said that a social worker told her she should have sought help earlier in her pregnancy. Aripa replied that she was afraid of losing her baby, afraid of being judged, afraid of all that she was now facing.
Carma Corcoran, the Indian law program coordinator at Lewis and Clark College in Portland, Oregon, and a Chippewa Cree tribal member, said historical trauma and discrimination makes it especially difficult for Native pregnant women to seek help at hospitals.
Fifteen percent of Native Americans have avoided going to a doctor out of concern they would be discriminated against or treated poorly, according to a national study by Harvard University and the nonprofit Robert Wood Johnson Foundation. Some studies of maternal care have shown that people from minority groups may be screened for drugs more often than white parents at some hospitals.
"It's important that people realize that many Native people are born into trauma. So it's not something that is of their own making," Corcoran said.  "So when you're at that place that you can ask for help, and you're treated badly because of the color of your skin and that you're Indian, it is painful. Who is going to go back to that place?"
Andrea Ruhman, a nurse on the Flathead reservation, said she is trying to teach fellow health professionals to speak to mothers like Aripa in hopeful terms and without judgement, but it's a struggle.
"That's hard for a lot of people because they've seen the kids left behind," Ruhman said. "They're bitter. But it's not going to make things better with that judgmental dogma."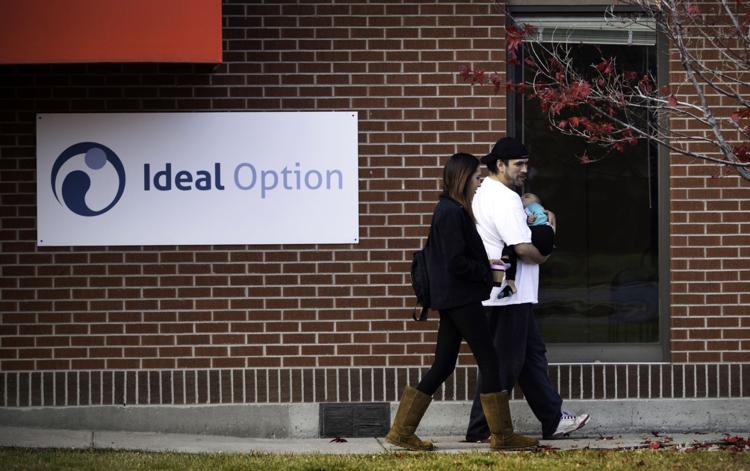 Every three weeks, Aripa travels to Missoula with her fiance and their two children to pick up her Suboxone prescription. After her appointment, they often take their kids to Southgate Mall to play on the train.
Her youngest son is 1, and he's healthy, though he sometimes uses a nebulizer for breathing troubles when he has a cold.
Aripa is also doing well, though she's anxious to move her family away from the people and places that remind her of her addiction. Her recovery requires daily effort.
"People think it's just as easy as stopping, and you're just done. Like nothing happens, you just go on with life and everything's all good," Aripa said. "But they don't realize how hard that really is. I think even now, it's something that I'm going to fight against for the rest of my life."