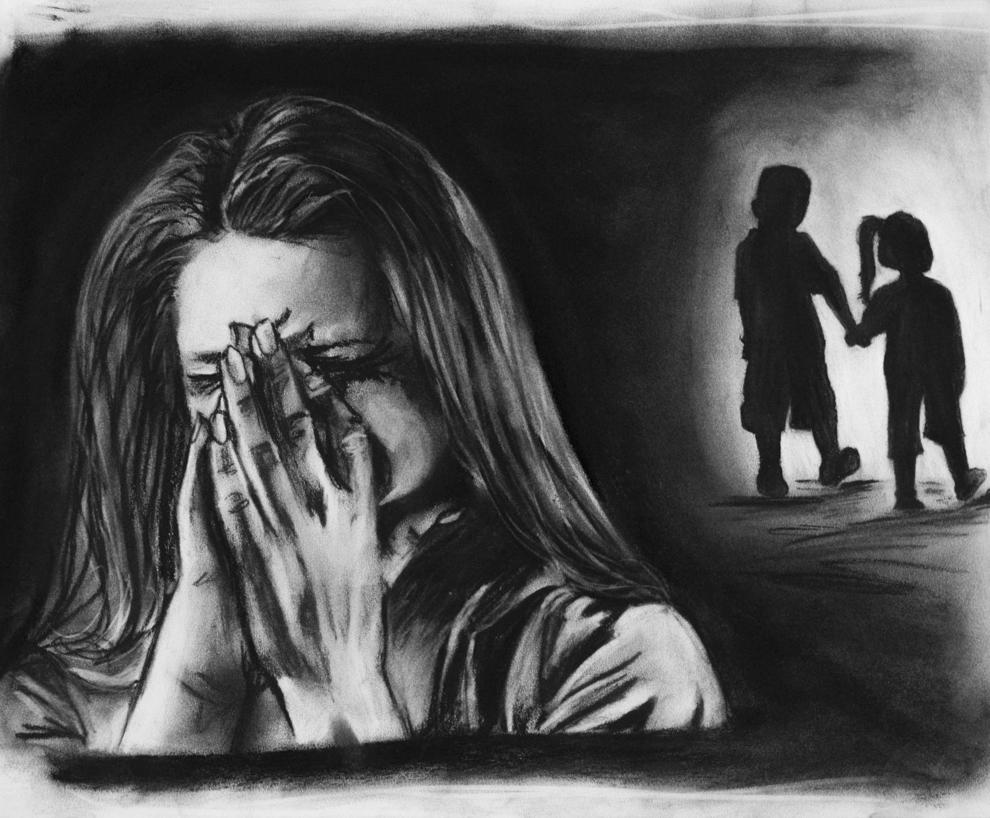 Jacqui Crisp returned home from a family dinner after her infant daughter's bedtime, but did not put her down right away. Her roommates, Miriam Vogel and her infant son, had waited for them so they could decorate the Christmas tree.
The little ones, born three weeks apart, stared at the lights, and Vogel's son grabbed at ornaments she hung on the tree. Soon, the children became too fussy and the women had to stop, waiting until later in the week to string the garland and install a shelf for stockings.
It was their first Christmas since meeting at a Flathead Valley Christian support group for single mothers. Both used opioids, legal or illegal, during their pregnancies, but gave birth to healthy children earlier this year. They became roommates because each understands the struggles the other faces to build a sober life while navigating motherhood.
"I don't have cravings to use at all, which is so weird because it's the first time," Crisp said as her daughter, who has two top teeth coming in, chewed on a teething blanket in her lap. "I don't know if it's the methadone or if it's her."
Vogel said recovery is tenuous, reflecting on the multiple times she has relapsed.
"There are times when I still want to get high," she said, holding her son. "But then I look at him and realize it's just not worth it."
The success of Crisp and Vogel is unusual in Montana.
The state has largely fallen short in providing treatment for pregnant women who use drugs, often leaving them without options for help even when they seek it. The barriers they face can be found around the country.
But the crisis of drug-exposed births is worse in Montana than most states by several measures. And few of Montana's elected leaders have discussed the issue, let alone proposed solutions.
Experts said many fixes are relatively simple and cheap compared to the skyrocketing bills for a growing prison population, overcrowded jails, a strained foster care system and the medical care of withdrawing infants.
The few Montana doctors, social workers and addiction experts who have helped pregnant women described a broken or underfunded system. They said they have fought for years, with little success, to make more people care.
For the last three months, the Missoulian partnered with the University of Montana School of Journalism to examine why the state has been slow to act and at what cost to taxpayers, families and future generations. We found:
The drug crisis hits newborns in Montana harder than in most states because there are so few resources to help pregnant women recover from addiction. The number of babies diagnosed with opioid withdrawal after birth has grown tenfold since 2000, one of the fastest growth rates in the nation.
Montana places more children into foster care and does so more often because of parental drug use than most other states.
Montana has an extreme shortage of physicians licensed to prescribe buprenorphine, an inexpensive alternative to inpatient treatment that is shown to more than triple the success of recovery if paired with counseling. Only Alaskans must travel farther to access this care.
Only a sliver of pregnant Montanans who seek drug treatment receive it because most inpatient and residential programs will not admit them or their kids.
Nonprofit recovery professionals say inadequate reimbursement rates and federal rules keep them from expanding services even as Montanans wait months for an opening. The strains on the overall system leave little money to create programs specialized for women with families. It could get worse as Montana leaders make repeated budget cuts to manage a decline in revenues.
Addiction treatment and prenatal care is scarce on Montana reservations. Pregnant Native Americans often need to travel hours to access services and have few sober living supports to help them stay clean once they return home.  
State leaders are concerned with the rising number of infants born drug- dependent and the link to foster care, but few are focusing on how to help their mothers, creating a gap in state policy that fuels the problem.
The barriers add up to one stark fact for pregnant drug users.
"Women know they don't have anywhere to go," Dr. Aaron Wernham, the director of the Montana Healthcare Foundation said.
More than a dozen women told their stories to the Missoulian. They include a nurse, a military wife, a social worker, a retail manager and a college student, living in towns from Billings to Browning. The women share the experience of drug addiction during pregnancy, and their frustration at finding inadequate help when they tried to stop. Some have been clean for years. Others battle against recent relapse.
The four women highlighted in this story hope to encourage change, fight stigma and spark action from community leaders. Vogel said too many Montanans "just don't want to see" how widespread drug use is, let alone work to solve it.
"They think if we don't have treatment centers, if we don't have services, it doesn't exist," she said. "No, it just means there is no help for anybody who needs it."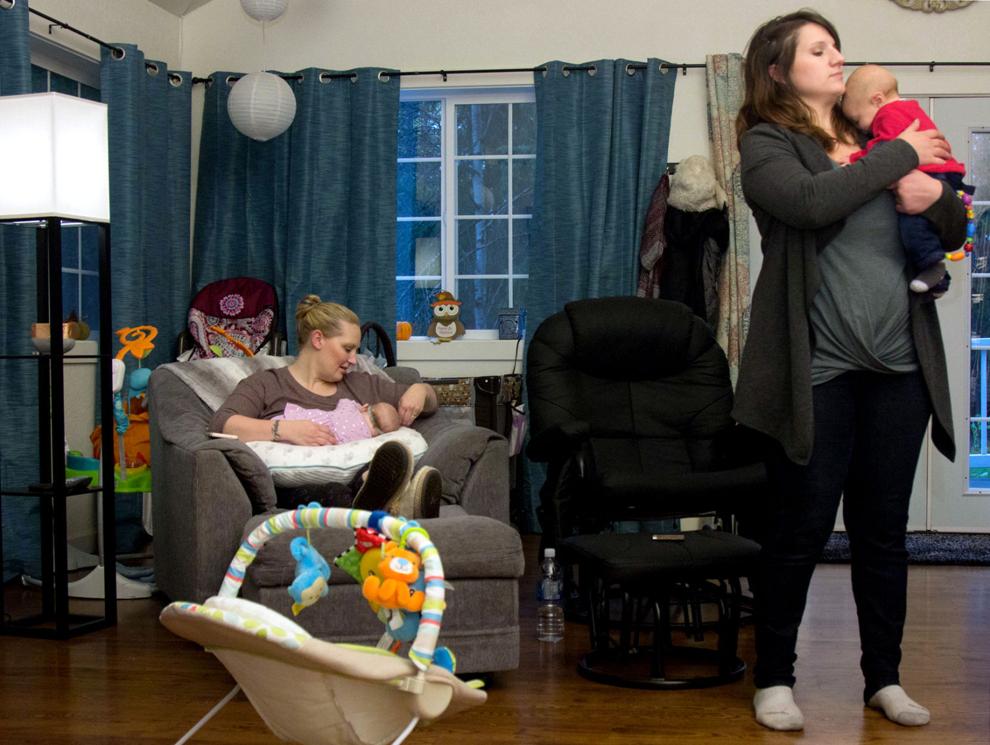 It's not as simple as stopping
In high school, Vogel drank often and began snorting painkillers. Out of shame, the Libby teen hid her drug use and the reasons she cited for it — sexual and physical abuse — from those closest to her.
At the peak of her use, about age 20, Vogel considered herself "a functioning addict." She worked in retail, passed Montana Tech courses to become a radiology technician, and returned home for holiday feasts, making handmade ravioli with her large Sicilian family.
She used almost 4 grams, or $400 worth, of heroin every day. She shoplifted TVs, laptops and other valuables to support her habit until she was arrested in 2011 and sentenced to 10 years of intensive, supervised probation.
Vogel said job interviews would go well but she was never hired after disclosing her conviction. Despite a good rental history and character references, landlords did not call her back.
She became pregnant during a brief relapse. Ultimately, it became her best motivation to push forward. She does not understand people who say sobriety is "all sunshine and rainbows." She manages a cleaning business around doctor appointments, navigates the dramas of her 10 siblings, and her son grows out of clothes faster than he can wear them.
As she hung glass ornaments and blingy baby booties on the Christmas tree, Vogel said she probably would be using heroin if not for her son.
 "I honestly never thought that I could feel this way about somebody. It really makes me want to be a better person."
Some hospitals push them away 
Crisp said she started using drugs at the University of South Florida, eventually forced into prostitution and held against her will until she was able to run away.
She became sober, started a cleaning company, and got married. A few days later, she and her husband decided to "have a little fun."
Within two months, she was using heroin every day.
When Crisp was pregnant with her first daughter, she asked doctors what she could do to keep her child safe. She said they gave her little advice and did not seem interested in treating her addiction. She felt they focused on delivering her daughter just to take her away. And that's what happened.
The loss of her daughter gutted Crisp, a new pain she numbed by returning to heroin. She became pregnant a second time just as her husband was sentenced to federal prison for robbery with a deadly weapon and two counts of grand theft, according to Florida records.
Determined not to lose another child, Crisp moved to Montana to live with her father-in-law and to get clean.
The Kalispell hospital where she started prenatal care five months into her pregnancy had recently undergone a cultural transformation. Doctors celebrated her decision to seek care, connected her to support services and gave her a list of specific tasks. Crisp read to her daughter, attended parenting classes and held her girl against her skin as much as she could.
Even though Crisp, now 32 years old, had used several grams of heroin daily through most of her pregnancy, her daughter was born healthy and spent no time in the intensive care unit.
"I never thought this was going to be my life. I never wanted it to stay like this. I never wanted to lose my first daughter, and I definitely wasn't going to lose her," she said, cradling her youngest child. "Anything it took, I was going to do."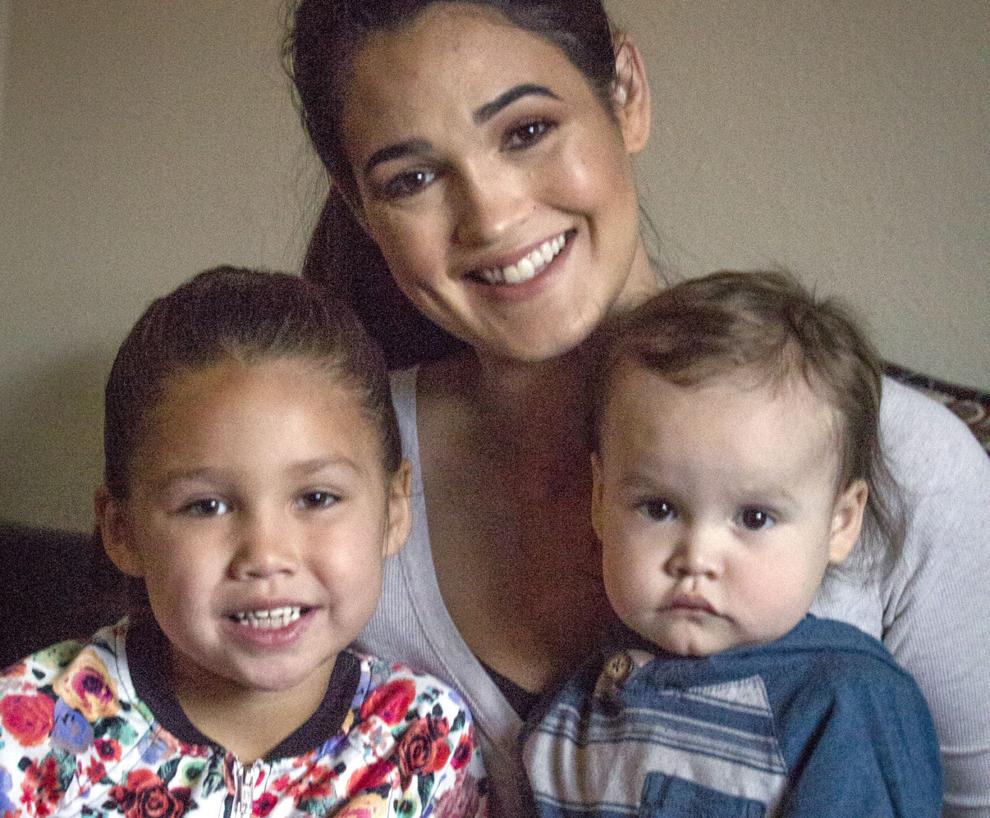 Stigma even after success
Nicole Callahan, 29, remembers lying in bed after she had decided to try quitting painkillers again. She lay awake all night with restless legs, a fever, and cold sweats, like an exaggerated version of the flu.
She knew she would be too sick to take care of her 1-year-old daughter in the morning. "And I felt so terrible. I felt so guilty that I was putting my daughter through that."
She tried numerous times to quit. The cycle was always the same: After a few days of debilitating withdrawals, she'd return to the drugs. It became clear she wouldn't succeed without medical help.
Callahan spent a month calling treatment centers before she found a Suboxone clinic three hours away with an opening. 
The medicine took away her cravings and helped her feel normal for the first time in years. It also forced her to finally face the pain she'd been dulling with opioids: losing her first son in a custody battle and never seeing him again.
Callahan is five years sober and works for social services on the Flathead Indian Reservation, helping families through similar struggles. She has kept details of her recovery private, fearing she'll be judged. Some see Suboxone as a legal high rather than a tool for true recovery, a view that does not match the science.
Nobody understands it, she said.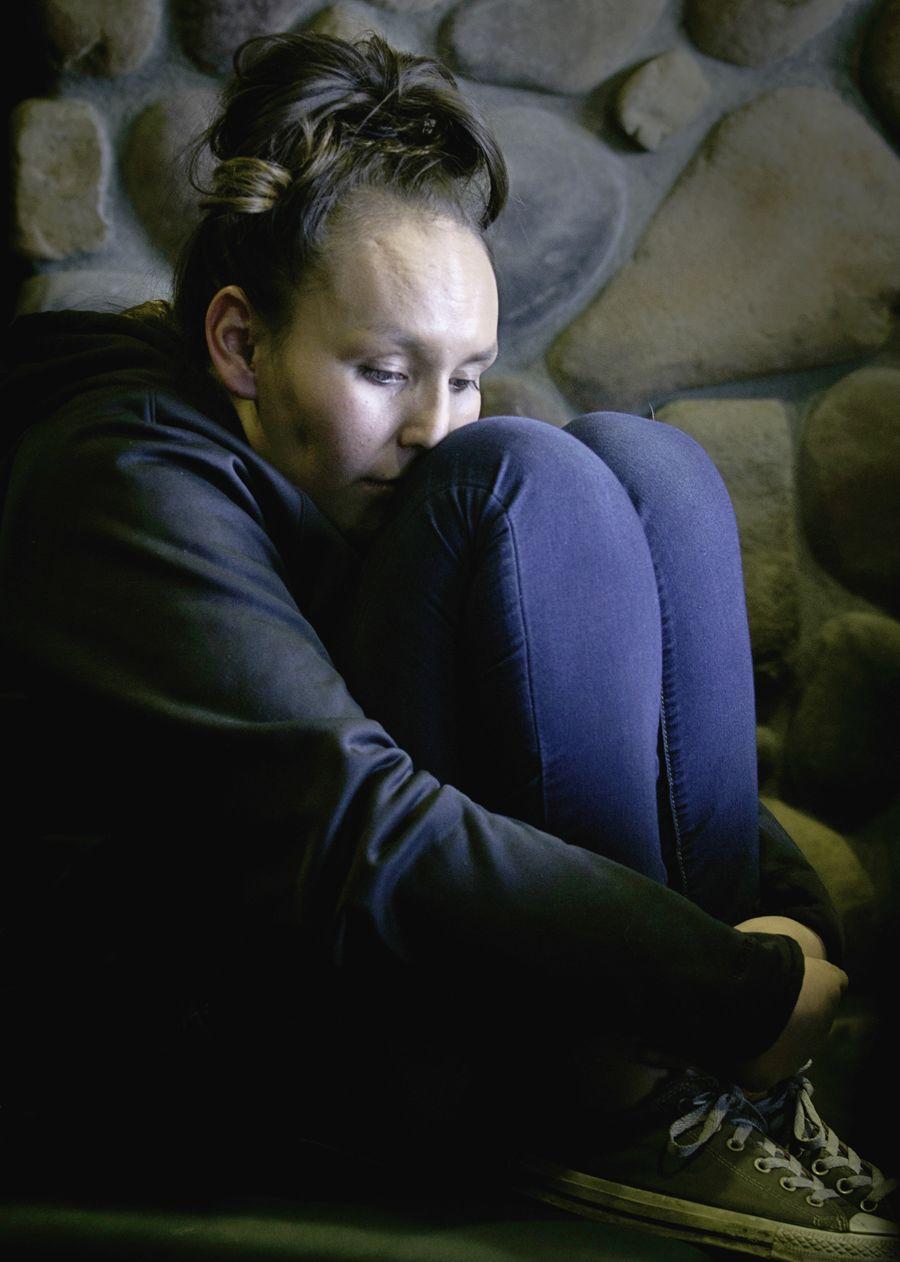 Seeking recovery, but few community services
Jonel Goings, 24, began planning a family with her boyfriend after she became pregnant at 16. Two days before she went into labor, he died in a car accident.
"That was the first time I loved somebody," she said. "I just lost it there."
After Goings gave birth to her daughter, now 8, she began using drugs and drinking, and hardly came home — coping behaviors she learned from her mother who had used methamphetamine for years.
"Every addict is hurting from something," Goings said. "I know why I use. It's because I don't like to feel when things hurt me, stuff that I went through, and I've carried that for years and years."
Her mother, Windy Cross Guns, now sober, adopted Goings' first child. She watches her daughter fight to break the cycle of addiction with few treatment resources or sober living supports in Browning.
"Whatever flows through me, flows through my kids," Cross Guns said. "And we live it and they learn it, and then it just carries on and on."
Goings' second child was born with neonatal abstinence syndrome. The set of opioid withdrawal symptoms includes high-pitched crying, trouble eating, and restlessness.
Her son was flown to a neonatal intensive care unit in Great Falls, where he stayed for 30 days. Goings visited him there, in a dark, quiet room full of other babies experiencing the same thing. Most were alone, Goings said. Their mothers had left.
Doctors came in and out, checking his symptoms and scoring him for their severity. She listened to babies crying through the night as her withdrawal symptoms made her sicker and sicker.
She knew Child and Family Services planned to take her son. How could she take care of him, she thought, when she couldn't even take care of herself?
After two weeks, Goings left her baby in the hospital and went to find drugs to alleviate her withdrawals and bury her newest source of shame. Her aunt and uncle adopted her son, whom she seldom visits so as not to disrupt his stable life.
Goings and her boyfriend had a baby girl together five months ago. She is seeking treatment, recognizing her pattern. She doesn't want to keep losing her children to her addiction.
Thinking back on the Great Falls NICU, she said more moms like her might be able to stay with their children if they had enough support.
"I think people will probably judge me, and it makes me cry," Goings said, bringing her hands to her face. "Like, they think I don't love my kid, and I love him so much. At least they're with family and they're taken care of.
"They're loved like I would love them."